Making the Temporary Permanent: Digitising 50 years of Public Art Archives
30 October 2019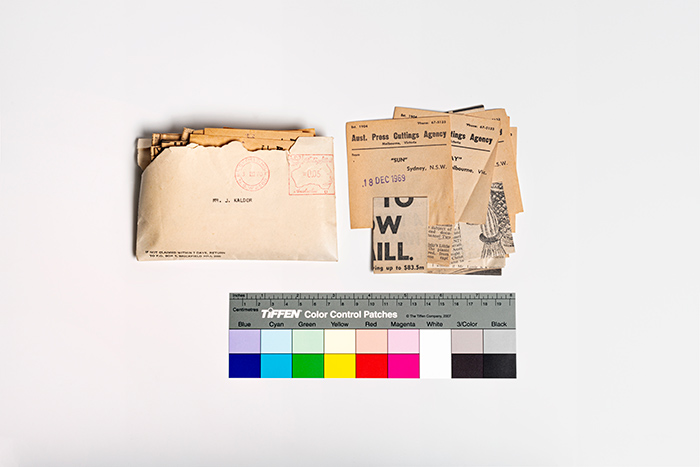 Behind the scenes at Kaldor Public Art Projects, in a small room at the back of our office, is an abundance of folders and boxes reaching from the floor to the ceiling. Inside the boxes are thousands of items that have been collected through our 50-year history of creating groundbreaking projects with Australian and international artists in public spaces.
Each item sparks joy through its connection to a moment in the life of a project—from the proposal of an idea through to realising a large-scale public art project—and documents its path toward the last footfall of its audience and beyond.
We've shown you many of the interesting photographs, letters, artist sketches and objects that tell the story of Kaldor Public Art Projects' 50-year history through our exhibition Making Art Public. There are thousands more intriguing and unseen objects sitting silently on our shelves. This year, in celebration of 50 years of taking art outside the gallery walls, our archive is transforming into a digital resource that will allow global audiences to access our collection from their desktops.
Digitising the archives allows us to highlight the ideas and themes that connect across projects, and makes available this physically large collection to a wide audience, beyond our office. The archives can be discovered through searchable content tags, enabling site users to browse our archive by themes, project titles and their creators.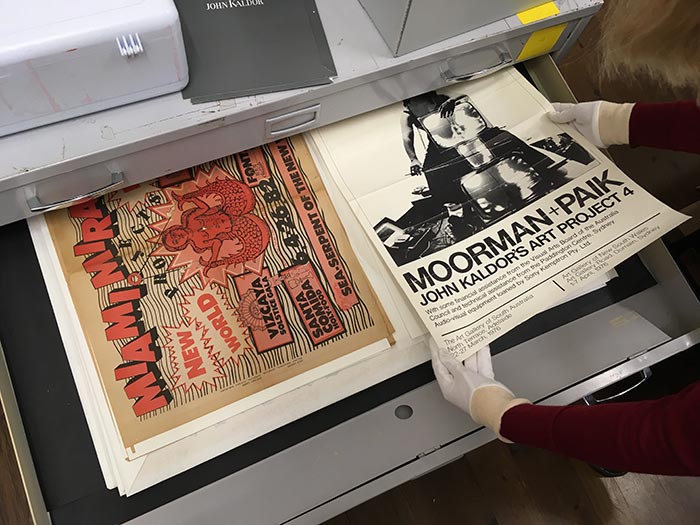 The significance of our archive collection and its transformation to a digital resource for researchers was recognised through the award of an Australian Research Council Linkage grant in 2018. The grant, awarded to a research team led by Professor John Potts from Macquarie University, has made possible the digitisation of our archive material and the creation of a digital repository to house these digital assets.
The archive has been central to our entire 50th anniversary program. Not only have we worked with Michael Landy and the Kaldor Studio artists to display, reproduce and reimagine some of the treasures of the archive in the Making Art Public exhibition, our team has delved deep into our records to reconnect with all sorts of people who have contributed to our projects over the last 50 years for our Living Archives project, and for Alicia Frankovich's performance, The Work.
While utilising the archives across so many projects has presented logistical challenges for us, it is exciting to see some of the creative ways people engage with our archives, and to know that many more people will be inspired by the collection when we share it online.
To celebrate the launch of the Kaldor Public Art Projects Digital Archive, a public symposium Archives in the Digital Age is being held to explore the cultural impact of digital archives on 20 November 2019. Speaking at the symposium will be experts Katrina Sedgwick (ACMI), John Potts (Macquarie University), Alice Desmond (Kaldor Public Art Projects) and Steven Miller (Art Gallery of NSW).
This project has been made possible through the support of our university partnership with Macquarie University and the University of New South Wales, with recognition of the ARC Linkage Grant LP170101175. Special thanks and gratitude to our academic partners Professors John Potts and Ross Harley, and Nicole Anderson and Dr Scott East. Our gratitude to Peter Heery from Inzen Digital Agency and the team at State Archives and Records Authority of New South Wales for their enthusiasm and support in making the digital repository a reality.
The digitisation of our archive has been championed and carefully executed by Kaldor Public Art Projects staff: Alice Desmond, Archive Collection Curator; Eliza Ormsby, Archive Assistant; and Roslyn Walker, Research Intern, Macquarie University.
---
References
Australian Research Council, Digitising the Kaldor Public Art Projects Archive, 29 June 2018, retrieved from www.arc.gov.au/news-publications/media/research-highlights/digitising-kaldor-public-art-projects-archive.
ARC Linkage Grant Application, LP170101175. Making the Temporary Permanent: Digitising the Kaldor Public Art Projects Archive https://researchdata.ands.org.au/linkage-projects-grant-id-lp170101175/1344179