A multichannel installation of sound and sculpture, inhabiting the Observatory Hill Rotunda on what was once Sydney's highest point, The Last Resort by celebrated French-Albanian artist Anri Sala was a beguiling and resonant reflection on history, nature, sound, place and perspective.
Born in Tirana, Albania, Sala grew up under a repressive communist regime before moving to Paris in 1996, and soon drew attention for his intriguing and audacious work. Encompassing video, live performance, musical recordings and installations, his practice brings together music, sculpture, space and architecture to explore themes of loss, language, dislocation and disruption.
In this storied Sydney Harbour site, the audience stepped beneath a gravity-defying ensemble of custom-built snare drums suspended upside down from the ceiling of the rotunda. There they experienced a rhythmic, live response to Mozart's Clarinet Concerto in A Major, a seminal musical expression of the Enlightenment.
While the Enlightenment gave rise to democratic ideals, it triggered the dispossession and destruction of Indigenous cultures across the world. Seeking to "compose with corruption", Sala displaced the adagio tempo of the concerto's second movement with wind conditions described by sailor James Bell in his Private Journal of a Voyage to Australia, 1838–39.
Mozart's score was upended, as if it were a message in a bottle carried across the ocean to Australia, weathered by wind and waves as it drifted across time and space, echoing the way that shifts of location, time and perspective alter intent and meaning. "Upside down in the Observatory Hill Rotunda," wrote Australian academic Ross Gibson, "here is a western cultural treasure that has been troubled by its new location so that it cannot sound sure and enlightened".
Writing in the Sydney Morning Herald, John McDonald described how the installation "invites us to appreciate the beauties of the harbour and of Mozart's Concerto, but also prompts more critical reflections … If ever this city manages to have an open and honest discussion about the role of public art, Sala's ingenious Kaldor project would be an ideal place to start".
The Last Resort was later presented at Marian Goodman Gallery, New York, 2018, Garage Museum of Contemporary Art, Moscow, 2018, and Mudam Luxembourg—Musée d'Art Moderne Grand-Duc Jean, in 2020.
Anri Sala
born 1974 in Tirana, Albania
lives and works in Berlin, Germany
The Last Resort
13 October – 5 November 2017
Observatory Hill, Sydney
This artwork was co-commissioned with international partners Esther Schipper, Berlin, and Marian Goodman Gallery.
Anri Sala: The Last Resort
Kaldor Public Art Projects, 2017
This soft-cover, 44-page catalogue with thread-sewn spine was produced to accompany Kaldor Public Art Project 33: Anri Sala, The Last Resort.
Edited by Genevieve O'Callaghan, the publication features a foreword by John Kaldor and original essays by leading academics Peter Szendy (David Herlihy Professor of Comparative Literature and Humanities at Brown University) and Ross Gibson (Centenary Professor of Creative and Cultural Research at the University of Canberra). The publication also contains conceptual imagery of the "corrupted" musical score, as performed by the Munich Chamber Orchestra, and full-colour photographs of the installation.
Anri Sala's works of film, sculpture and installation create poetic analogies that reflect on life and culture from different frames of experience. Past works have traversed European contexts, from his hometown, Tirana, Albania, to Germany and France where he has spent much of his adult life. His films balance allegorical and symbolic subjects, presented as simple narratives that often creatively pair image with sound, and explore the choreographic potential of musical instruments and their performers.
Sala has represented France in the Venice Biennale, participated in documenta 13, Kassel, and has presented solo exhibitions at Centre Pompidou, Paris, and New Museum, New York. He was recently commissioned to create an immersive installation for the Seawall House on Teshima Island, Japan.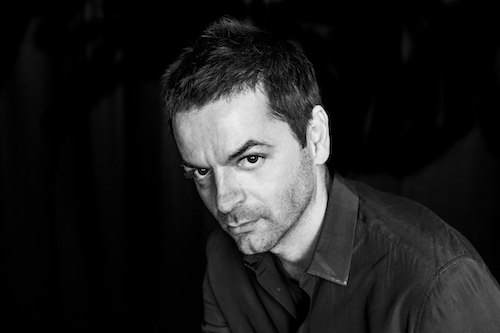 Experience Anri Sala's The Last Resort in an interactive 360–degree video, produced in partnership with the NSW Department of Education.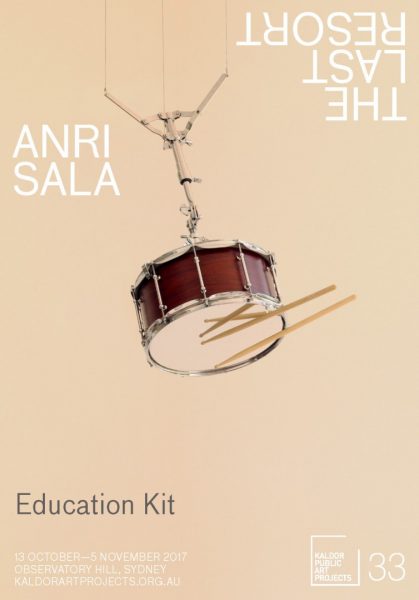 This Education Kit is designed to help students and educators understand and engage with the themes and concepts of Anri Sala'sThe Last Resort.
CONTENTS: Project overview | Artist's practice | The European Enlightenment and Colonialism | Mozart and the Enlightenment | 'Sound in art' by Pia van Gelder | Observatory Hill | In the classroom | Glossary of key terms | References
ARCHIVE for Project 33 - Anri Sala
The Kaldor Public Art Projects archive has been collected over more than 50 years, and features rare and original documentation on the process of realising large-scale, temporary art projects. With thousands of items accessible online through the Digital Archive, it serves as a valuable resource for artists, students, teachers and researchers.
The Project 33 archive traces the development of Anri Sala's multichannel sound installation The Last Resort, presented in 2017. Archival material includes emails, transcribed conversations, design drafts, invitations, press clippings and photographs, along with architectural plans and renderings, and diagrams and specifications for audio equipment. Through 503 objects, the archive covers Sala's past works, the planning and realisation of The Last Resort in the heritage Rotunda on Observatory Hill, Sydney, and the re-presentation of the work in New York, Moscow and Luxembourg. Highlights include a signed copy of the limited edition vinyl recording of Anri Sala's composition, a unique reworking of Mozart's Clarinet Concerto in A major, K622.
John Kaldor shares his personal recollections of working with artist Anri Sala to realise the 33rd Kaldor Public Art Project at Observatory Hill, Sydney, in 2017. (05:52, Kaldor Public Art Projects, 2021)
Presenting Partner

Major Program Partner

Lead Patrons


Lead Corporate Partner

Corporate Partner

Philanthropic Partner

Government Partners


Cultural Partners


Architecture & Construction Partners
HARRY SEIDLER & ASSOCIATES 

HERITAGE ADVISOR

PUBLIC PROGRAM PARTNER


LEAD TERTIARY PARTNER

PROGRAM PARTNER

ACCESS PARTNER

MEDIA PARTNERS


EVENT FURNITURE PARTNER

AIRLINE PARTNER

IN KIND SUPPORTERS







PROJECT PATRONS
Geoff Ainsworth AM and Johanna Featherstone
Jillian Broadbent AO and Olev Rahn
Paul and Roslyn Espie
Danny Goldberg OAM and Lisa Goldberg
David Gonski AC and Prof Orli Wargon OAM
Leslie and Ginny Green
Lizanne Knights and Julian Knights AO
Mark and Louise Nelson
Penelope Seidler AM
Peter and Jenny Wohl