With over one hundred performers presenting new and reimagined works by some of the world's best-known contemporary artists, 13 Rooms ran for eleven days at Pier 2/3 in Sydney's Walsh Bay to great acclaim and attendance. 13 Rooms included previous and future Kaldor project artists Marina Abramović, Allora & Calzadilla, John Baldessari, Xavier Le Roy, Roman Ondak, Tino Sehgal and Santiago Sierra, alongside major international artists Joan Jonas, Damien Hirst, Simon Fujiwara, Laura Lima and Xu Zhen, and emerging Australian artist duo Clark Beaumont.
The project was conceptualised by Klaus Biesenbach, then-director of MoMA PS1, New York, and Hans Ulrich Obrist, then co-director of London's Serpentine Galleries, as an innovative group exhibition of "living sculptures" in purpose-built rooms. 13 Rooms was originally commissioned by the Manchester International Festival in 2011 as 11 Rooms, and grew to 12 Rooms at the 2012 International Arts Festival Ruhrtriennale in Germany.
13 Rooms featured a range of artists who incorporate performance into their practice, including iconic forerunners of performance art and younger artists working exclusively with live art. Simon Fujiwara's Future/Perfect, 2012, enlists athletic-bodied men to lie on tanning beds as they learn a foreign language via headphones; a kind of educational entertainment in which the viewer witnesses interior and exterior transformation. Damien Hirst's Twins, 1992, consists of identical twins in front of two of his iconic spot paintings, the work continually altered with a rotating cast of twins. Joan Jonas' 1970 work Mirror Check, in which a woman examines her own naked body via a handheld mirror, explores issues of spectatorship, gender and identity. In Laura Lima's Man=flesh/Woman=flesh—FLAT, 1997, viewers had to crouch or lie down to see a performer with disability lit by a lamp, beneath a ceiling only 45 centimetres high. In Xu Zhen's In Just a Blink of an Eye, 2005, a body floats mysteriously, as if defying physics, testing the limits of physical and cognitive possibilities. Explicitly positioning themselves as the artwork in Coexisting, 2013, Clark Beaumont spent the exhibition on a plinth slightly too small for two people to comfortably occupy, reflecting the challenges of navigating a collaborative artistic practice.
Writing in the Sydney Morning Herald, John McDonald described the works of 13 Rooms as "a celebration of performance art that conceives the human body as a portable sculpture".
Klaus Biesenbach
born 1967 in Bergisch Gladbach, Germany
lives and works in Los Angeles, US

Hans Ulrich Obrist
born 1968 in Zurich, Switzerland
lives and works in London, England
13 Rooms
11 – 21 April 2013
Pier 2/3, Walsh Bay, Sydney
EXHIBITING ARTISTS
Marina Abramović, Allora & Calzadilla, John Baldessari, Clark Beaumont, Simon Fujiwara, Joan Jonas, Xavier Le Roy, Laura Lima, Roman Ondak, Tino Sehgal, Santiago Sierra, Xu Zhen
HANS ULRICH OBRIST
Swiss curator Hans Ulrich Obrist is Co-director of Exhibitions and Programs and Director of International Projects at the Serpentine Gallery, London. He has previously served as curator of the Musée d'Art Moderne de la Ville de Paris and Museum in Progress, Vienna. The first exhibition Obrist curated was in his student apartment in 1991. In the decades since, he has become one of the most recognised and prolific curators in the world.

KLAUS BIESENBACH
Klaus Biesenbach is Director of MoMA PS1 in New York and a Chief Curator at Large at the Museum of Modern Art, New York. He was the Founding Director of both the Kunst-Werke Institute of Contemporary Art in Berlin and the Berlin Biennale. Key international exhibitions Biesenbach has organised include MoMA's landmark show Marina Abramović: The Artist is Present, 2010, Hybrid Workspace at documenta X, Kassel, 1997, and Shanghai Biennale, 2002.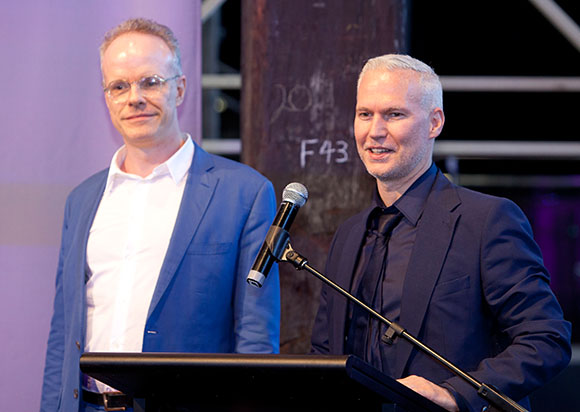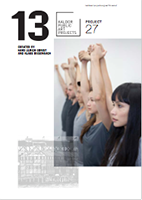 This Education Kit discusses the groundbreaking exhibition 13 Rooms, with information on the curators and the practice of the participating artists. The Kit includes classroom activities and questions for secondary and tertiary students, on themes such as endurance, participation, the gaze, the object, social relations and the body.  
LEARNING STAGES: Secondary (Stages 4-6) | Tertiary 
CONTENTS: Introduction | The curators | The artists | Performance and visual art | Participation and the audience | The human body in visual art | The venue | 13 Rooms | In the classroom | References
ARCHIVE FOR PROJECT 27 - 13 Rooms
The Kaldor Public Art Projects archive has been collected over more than 50 years, and features rare and original documentation on the process of realising large-scale, temporary art projects. With thousands of items accessible online through the Digital Archive, it serves as a valuable resource for artists, students, teachers and researchers.
The Project 27 archive traces the development of the groundbreaking exhibition 13 Rooms, co-curated by Klaus Biesenbach and Hans Ulrich Obrist, and presented in Sydney in 2013. Emails, contracts, performer biographies, schedules and floorplans are complemented by press clippings, draft programming ideas and photographs. Spanning an extraordinary 694 objects, the archive details the planning and realisation of the Project, including negotiations with participating artists, the recruitment and training of performers, the design and build of a custom exhibition space at Pier 2/3, Walsh Bay, and the enthusiastic media response.
John Kaldor shares his personal recollections of working with curators Klaus Biesenbach and Hans Ulrich Obrist to realise the 27th Kaldor Public Art Project at Pier 2/3, Walsh Bay, Sydney, in 2013. (07:00, Kaldor Public Art Projects, 2021)