CHRISTO AND JEANNE-CLAUDE
Twenty-one years after Christo and Jeanne-Claude created Wrapped Coast—One Million Square Feet, Little Bay, Sydney, Australia, 1968–69 for the first Kaldor project, a survey exhibition, Christo, was staged at the Art Gallery of New South Wales (AGNSW), Sydney, and the Art Gallery of Western Australia, Perth. Featuring more than 150 works, many from the artists' private collection, the exhibition traced Christo and Jeanne-Claude's trajectory, from the earliest packages to the wrapped buildings and vast environmental projects for which they had become famous. In 1990 it was the largest exhibition of their work to date and the first survey of a contemporary international artist curated by an Australian institution. A new installation, Wrapped Vestibule, was created for Sydney.
Documentation and plans for ten projects were shown, including the first wrapped public building, Wrapped Kunsthalle, Bern, 1967–68. Commemorating Christo and Jeanne-Claude's first major environmental work, Wrapped Coast, a mural-sized photograph of the 2.4-kilometre installation was displayed, together with models, drawings and collages. Wrapped Trees, two wrapped eucalypts made during that visit, were also displayed.
Included were photographs and designs for the celebrated Valley Curtain, Rifle, Colorado, 1970–72, the 18,600-square-metre veil of orange fabric that adorned a valley for twenty-eight hours; and the 39.4 kilometres of fabric stretched across two counties for Running Fence, Sonoma and Marin Counties, California, 1972–76.
By 1990, working with a professional team including several engineers, Christo and Jeanne-Claude had refined their process, pursuing permissions for different projects simultaneously while developing works over many years, or even decades. Still in development was The Gates, Central Park, New York City, 1979–2005, and the exhibition traced plans for that extraordinary winding walkway punctuated by saffron-coloured fabric.
In addition to works-in-progress, the exhibition presented ideas for unrealised projects. These included plans for wrapping sites such as Paris's Arc de Triomphe (realised posthumously in 2021), and collages dated 1968–69 that envisioned wrapping the Sydney Harbour Bridge, Sydney Opera House and Australia Square.
These were shown alongside the drawings for Wrapped Vestibule, which shrouded the sculptures, mosaics and marble of the AGNSW's entrance in white cloth, bound with rope. After seeing Wrapped Vestibule realised, John McDonald commented in the Sydney Morning Herald, "At first it looks as though a team of workers has placed a huge drop cloth over everything. Yet none of Christo's sites is arbitrarily chosen, and the vestibule is an appropriate and typical project inasmuch as it draws attention to a space that thousands of people pass through every week without really seeing it".
As Christo and Jeanne-Claude explained, "Whether we create art in urban or rural space, our works of art—of joy and beauty—always inherit what is inherent to each specific space".
CHRISTO AND JEANNE-CLAUDE
Christo Vladimirov Javacheff
born 13 June 1935, in Gabrovo, Bulgaria
died 2020 in New York, US
Jeanne-Claude Denat de Guillebon
born 13 June 1935, in Casablanca, Morocco
died 2009 in New York, US
Wrapped Vestibule
12 September – 25 November 1990
Art Gallery of New South Wales, Sydney
Christo
12 September – 25 November 1990
Art Gallery of New South Wales, Sydney
2 March – 14 April 1991
Art Gallery of Western Australia, Perth
TateShots: Christo and Jeanne-Claude
Christo and Jeanne-Claude
Husband-and-wife team Christo and Jeanne-Claude are widely known for their public art projects. From 1961, they proposed ambitious alterations of public places. The duo created temporary large-scale environmental works (in both urban and rural settings), often wrapping buildings and landscapes in fabric. In doing so the artists faced resistance from governments and the public alike. However their ability to build a constituency of supporters allowed them to maintain artistic freedom. Following the death of Jeanne-Claude in 2009, Christo continued to make work under the name of both artists, until his death in 2020.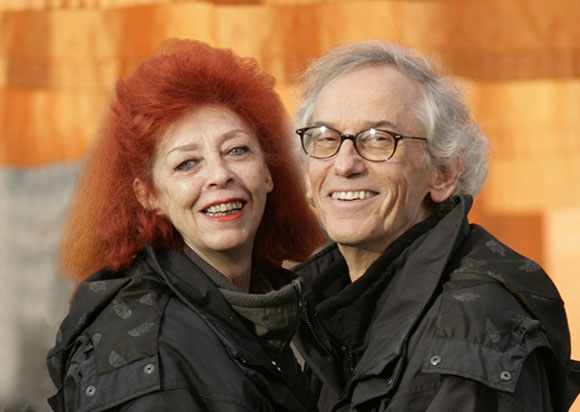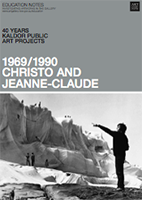 Designed for both the 1st and 9th Kaldor Public Art Projects, this Education Kit includes information about Christo and Jeanne-Claude's collaborative practice and the creation and photo documentation of large-scale environmental artworks.
LEARNING STAGES: Senior secondary (Stages 5-6) | Tertiary
CONTENTS: Introduction | Artists' bio | Project: 1969 | Project: 1990 | World events 1969 | World events 1990 | Theme: Photo documentation | Art Gallery of NSW Collection connections | Selected references | Issues for discussion
ARCHIVE for Project 09 - Christo & Jeanne Claude
The Kaldor Public Art Projects archive has been collected over more than 50 years, and features rare and original documentation on the process of realising large-scale, temporary art projects. With thousands of items accessible through the Digital Archive, it serves as a valuable online resource for artists, students, teachers and researchers.
Spanning 268 objects, the Project 9 archive offers insights into Christo and Jeanne-Claude's major survey exhibition in 1990. Through press clippings, flyers, postcards, photographs and original artworks, the archive covers Christo and Jeanne-Claude's past works and the wrapping of the vestibule at the Art Gallery of New South Wales. Featured items include a range of drawings and collages by Christo of proposed works, such as Wrapped Sydney Opera House and Wrapped Sydney Harbour Bridge.
John Kaldor shares his personal recollections of working with artists Christo and Jeanne-Claude to realise the 9th Kaldor Public Art Project at the Art Gallery of NSW, Sydney, in 1990. (3:25, Kaldor Public Art Projects, 2021)