Scottish artist Martin Boyce's project featured a group of sculptures, all developed from the same basic shapes, manipulated and reconfigured into different combinations. The crisp, linear forms of We are Shipwrecked and Landlocked collided with the nineteenth-century architecture of the adjacent Old Melbourne Gaol, casting incongruous shadows of isolation and containment. Part urban parkland, part desert island landscape, the project created an environment at once familiar and surreal.
Sampling from the vocabulary of twentieth-century architecture and design, Boyce creates unique new environments and landscapes. His large-scale sculptures and installations draw from fragments that surround and shape contemporary experience, evoking past visions of the city. As Boyce explained, "We live with a kind of residue of those ideas, whether it be motorways, or office buildings, or carparks; a kind of unauthored modernism".
Menace pervades much of Boyce's work. Their original meanings eroded, the twisted and remodelled forms in his desolate spaces haunt, like cityscape phantoms, the slippage between the ideal image of cosmopolitanism and the experience of urban life. Echoing di Chirico's dreamscapes or film noir thrillers, Boyce's installations extend beyond the built environment to a psychological space, some recalling Francis Ford Coppola's 1974 film about urban paranoia, The Conversation, which Boyce cites as an inspiration.
Boyce has created a series of installations that draw on the sculptural concrete tree forms designed by Jan and Joël Martel for the 1925 Paris Exposition Internationale des Arts Décoratifs. These original Martel tree forms combine art deco, constructivist and cubist elements, and Boyce has transformed and repeated their shapes, from three-dimensional structures to flattened grids and decorative patterns, including a typeface.
This reinvention is the basis of We are Shipwrecked and Landlocked. At the time, it was Boyce's largest and most ambitious work, created at the RMIT University Alumni Courtyard, next to the Old Melbourne Gaol and near where legendary bushranger Ned Kelly was hanged. Boyce paved the ground with gravel in a clay matrix, transforming the space into a dusty desert landscape, an oasis for three Martel palm trees. Winding across the centre of the space, a black metal fence was patterned with the geometric design of the Martel tree. A yellow hosepipe looped through the fence without function, a forlorn reminder of water in this barren landscape. Skewed wire-mesh rubbish bins, marking either side of the fence, were shaped in the form of the concrete leaves; an embedded square drain echoed the trees' silhouettes.
For critic and curator Max Delany, We are Shipwrecked and Landlocked was one of the best shows of the year, "encompassing the real world of assemblage sculpture, allied to the fictive, psychological space of cinematic mise en scène".
We are Shipwrecked and Landlocked was later gifted by Kaldor Public Art Projects and Boyce, with assistance from the Queensland Government and Arts Queensland, to the Queensland Art Gallery | Gallery of Modern Art, Brisbane.
Martin Boyce
born 1967 in Hamilton, Scotland
lives and works in Glasgow, Scotland
We are Shipwrecked and Landlocked
22 October – 30 November 2008
Old Melbourne Gaol, Melbourne
Martin Boyce creates unique environments, sampling from the vocabulary of 20th-century architecture and design, built spaces and constructed experiences of contemporary life. Using familiar designs, architectural styles, ambient lighting and poetic phrases from song lyrics and literature, Boyce creates a staged setting for the viewer. In 2011, Boyce won the prestigious Turner Prize, recognised for his outstanding contribution to contemporary art in Britain.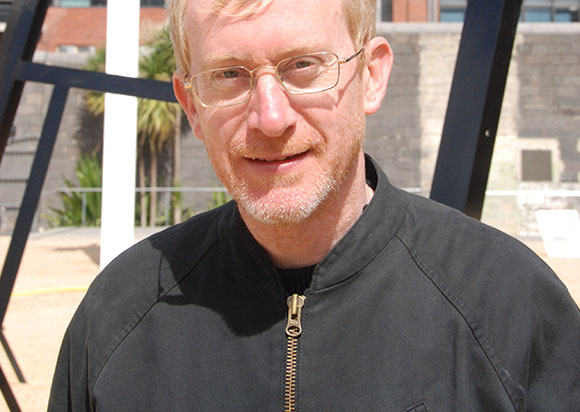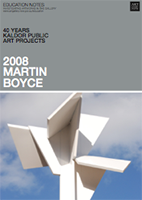 This Education Kit includes notes on the practice of Martin Boyce, who creates large-scale sculptural installations and environments at the intersection of architecture, nature and sculpture.
LEARNING STAGES: Senior secondary (Stages 5-6) | Tertiary
CONTENTS: Introduction | Artist bio | Project outline | World events 2008 | Theme: Installation art | Art Gallery of NSW Collection connections | Selected references | Issues for discussion
ARCHIVE for Project 18 - Martin Boyce
The Kaldor Public Art Projects archive has been collected over more than 50 years, and features rare and original documentation on the process of realising large-scale, temporary art projects. With thousands of items accessible online through the Digital Archive, it serves as a valuable resource for artists, students, teachers and researchers.
The Project 18 archive traces the development of Martin Boyce's 2008 work, We are Shipwrecked and Landlocked. The archive includes a range of emails, press clippings and notes, along with technical drawings and photographs, documenting the process of planning, fabrication and installation of the work in the courtyard of the Old Melbourne Gaol. Featured items include architectural drawings for Boyce's large-scale structures, along with photographs of the "trees" installed in their permanent home at the Queensland Art Gallery | Gallery of Modern Art, Brisbane.
John Kaldor shares his personal recollections of working with artist Martin Boyce to realise the 18th Kaldor Public Art Project at the Old Melbourne Gaol, Melbourne, in 2008. (3:21, Kaldor Public Art Projects, 2021)