The relationship with place is vital to Richard Long's work, and his Kaldor project was the first of several visits and projects connected to the Australian landscape. Throughout the English artist's practice, he has evoked nature's vast terrain, its energy and flux, his work often erased by time and the elements, reflecting the evanescence of human presence and action.
Long studied at St Martin's School of Art, London, with Gilbert & George, and was similarly inspired to challenge sculpture's formal constraints. After rolling a snowball across the Bristol Downs in 1964, Long began to make journeys and walks as a form of sculpture. This became the basis of his interaction with the changing landscapes around him, and the focus of his artistic practice. From 1969, he began to undertake walks in Peru, Japan, Tanzania and Alaska, leaving arrangements in the landscape as traces of his passage. Each work is constructed with natural material from or near its location, reflecting the site's geological histories. Long does not prefabricate or alter the natural fragments he uses, just as he does not cut into the land when making works. The considered process of placement and arrangement transforms the raw materials into artworks.
In 1976, after representing Britain at the 37th Venice Biennale, Long was invited by John Kaldor to make new works at the Art Gallery of New South Wales (AGNSW), Sydney, and the National Gallery of Victoria (NGV), Melbourne, as well as a work outside the galleries.
His first work, A straight hundred mile walk in Australia, was unplanned and uncharted, the location chosen intuitively. For eight days outside of Broken Hill, NSW, he walked out and back in a straight line each day for a total of 100 miles; some days later, at a nearby unknown location, Long made A line in Australia, a line of red stones that might remain in some form, or may have eroded over time.
Nine tonnes of blue metal stone were brought to the AGNSW to make the 30-metre-long Stone line, forming a monumental, meditative vista that critic Nancy Borlase praised for its "intuitive awareness and absolute authority". The 9-metre-round Bushwood circle was constructed from gum and tea-tree branches in the NGV's Murdoch Court.
Photography, cartography and poetry are fragments of Long's encounters with the land, with a series of photographs of his Australian project the basis for a 1978 book published by John Kaldor Art Projects. These images were included in the 2009 retrospective Richard Long: Heaven and Earth at the Tate Britain, London.
Richard Long
born 1945 in Bristol, England
lives and works in Bristol, England
A straight hundred mile walk in Australia
December 1977
Near Broken Hill, New South Wales 
A line in Australia
December 1977
Near Broken Hill, New South Wales
Bushwood circle
8 December 1977 – 7 January 1978
National Gallery of Victoria, Melbourne
Stone line
15 December 1977 – 5 February 1978
Art Gallery of New South Wales, Sydney
Richard Long: Tate Britain
Over the decades, Richard Long's work has developed a language of simple geometric forms, from natural materials such as stones, water, dust, mud or snow. Stemming from Long's love of nature, his relationship with place is vital to his practice. Long's works often take the form of long solitary walks in rural and remote areas of Britain, North and South America, Asia and Australia—"walking as art, as sculpture". Long responds to these environments by manipulating or altering the landscape in some subtle way: by making simple marks to leave a trace on the ground or by creating sculptures from natural features such as stone lines and circle sculptures or crosses of beheaded daisies.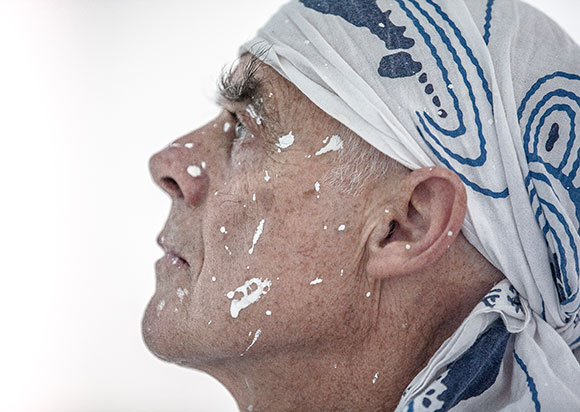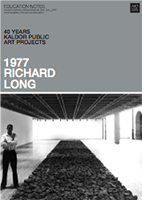 This Education Kit discusses the work of British artist Richard Long, the idea of walking as art, and the role of documentation in land art.
LEARNING STAGES: Senior secondary (Stages 5-6) | Tertiary
CONTENTS: Introduction | Artist bio | Project outline | World events 1977 | Theme: Land art and site-specific art | Art Gallery of NSW Collection connections | Selected references | Issues for discussion
ARCHIVE for Project 07 - Richard Long
The Kaldor Public Art Projects archive has been collected over more than 50 years, and features rare and original documentation on the process of realising large-scale, temporary art projects. With thousands of items accessible through the Digital Archive, it serves as a valuable online resource for artists, students, teachers and researchers.
The Project 7 archive includes correspondence, press clippings, draft publications and photos, which offer insights into Richard Long's 1977 visit to Australia, and the development of his Project across sites near Broken Hill, in Sydney and in Melbourne. Original archival material includes a range of handwritten letters and postcards, spanning several decades of Long's friendship with John Kaldor.
John Kaldor shares his personal recollections of working with artist Richard Long to realise the 7th Kaldor Public Art Project in 1977. (6:27, Kaldor Public Art Projects, 2021)