Nobody in Australia, including John Kaldor, had seen Gilbert & George's Singing Sculpture before it opened at the Art Gallery of New South Wales on 16 August 1973. The media and public were not sure what to expect from these two Londoners who had declared themselves artists and "living sculptures".
Gilbert & George are now among our most famous living artists; their show Gilbert & George: Major Exhibition was, in 2007, the Tate Modern's largest-ever retrospective. While they are renowned for their signature neon-coloured, billboard-sized pictures, showing them together among a kaleidoscope of images and symbols, The Singing Sculpture is recognised as having launched their career, embodying their idiosyncratic personae and the concept of "living sculpture" that has informed their art for over fifty years.
Meeting as students at St Martin's School of Art in the sixties, Gilbert & George rejected their lecturers' focus on sculptural form, shape and weight. In 1969 they removed the mediation of the art object entirely, shifting focus to the rituals of their daily lives. Wearing identical tailored suits and neckties, Gilbert & George adopted a posture of genteel decorum, enacted through a flow of polite interactions and formal modes of correspondence. They invited audiences to Lecture Sculpture and Meal Sculpture, or to view Walking Sculpture and Magazine Sculpture. They set themselves outside of conventional modes: "We think of ourselves as two funny tramps, rather than artists according to the popular idea".
The Singing Sculpture visualised Gilbert & George in their new role as an art object. With faces and hands painted with multicoloured metallised powder, they sang along to the Depression-era tramps' ditty, "Underneath the Arches" – part monument and part Pierrot, a droll interstice between "high culture" and vaudeville. Repeating a series of gestures and circling mechanically like music-box figurines, one held a clownish, striped plastic cane, the other a rubber glove. First exhibiting early versions of The Singing Sculpture at London art schools, music events and festivals, Gilbert & George were invited to present it overseas. Over 1969–72, the work was exhibited across Europe, and in New York, before arriving in Australia in 1973.
Sydney crowds flocked to see The Singing Sculpture, which ran for five hours each day over six days, and then again over five days at Melbourne's National Gallery of Victoria. Alongside the performance were The Shrubberies Number 1, 1972, and The Shrubberies Number 2, 1972, a large "charcoal-on-paper sculpture". "People were mesmerised", John Kaldor recalled. "You went along thinking you'd spend five minutes and would end up spending several hours".
GILBERT & GEORGE
Gilbert Prousch
born 1943 in the Dolomites, Italy
George Passmore
born 1942 in Devon, England
live and work in London, England
The Singing Sculpture
The Shrubberies Number 1
The Shrubberies Number 2
16 – 21 August 1973
Art Gallery of New South Wales, Sydney
29 August – 2 September 1973
National Gallery of Victoria, Melbourne
Over four decades ago, Gilbert & George adopted the identity of "living sculptures", becoming not only creators, but the art itself. The duo have worked across a variety of media throughout their career. Underpinned by their core beliefs of "Art for Life's Sake" and "Art for All", they refer to all their work as sculpture. Today Gilbert & George are among the most famous living British artists, known for their signature billboard-sized photomontages which question conventions and taboos.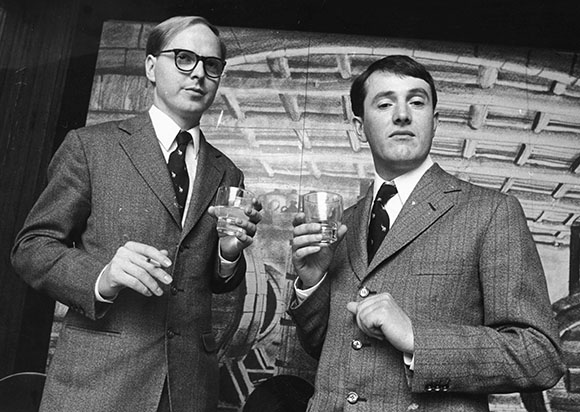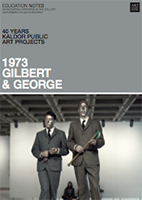 This Education Kit shares insights into the practice of Gilbert & George, the concept of the "living sculpture" and the historical context of performance art.
LEARNING STAGES: Senior secondary (Stages 5-6) | Tertiary
CONTENTS: Introduction | Artists' bio | Project | World events 1973 | Theme: Performance art | Art Gallery of NSW Collection connections | Selected references | Issues for discussion
ARCHIVE for Project 03 - Gilbert & George
The Kaldor Public Art Projects archive has been collected over more than 50 years, and features rare and original documentation on the process of realising large-scale, temporary art projects. With thousands of items accessible through the Digital Archive, it serves as a valuable online resource for artists, students, teachers and researchers.
The Project 3 archive offers insights into Gilbert & George's Project in Australia, and their groundbreaking performances of The Singing Sculpture in Sydney and Melbourne in 1973. Press clippings, invitations, letters and personal notes are complemented by catalogues and artists' books. Photographic documentation covers Gilbert & George's performance and their large "charcoal-on-paper sculpture", The Shrubberies Number 1, 1972, and The Shrubberies Number 2, 1972. Highlights include a Valentine's Day card, specially produced for Gilbert & George's return visit in 2010.
John Kaldor shares his personal recollections of working with artists Gilbert & George to realise the 3rd Kaldor Public Art Project in 1973. (7:17, Kaldor Public Art Projects, 2021)