Ugo Rondinone's languid figures, candy-coloured forms and melancholy landscapes, drawn from the history of art, music, literature and film, are deployed in dreamy, atmospheric installations, where time slows down and purpose seems diffuse. For his Kaldor project, in partnership with Naomi Milgrom, the Swiss artist presented two solo exhibitions Our magic hour, 2003, at the Museum of Contemporary Art (MCA), Sydney, and Clockwork for oracle, 2004, at the Australian Centre for Contemporary Art (ACCA), Melbourne, featuring configurations of works in a variety of media, along with ambitious new sculptures.
From the MCA rooftop, the words "Our magic hour" beamed a rainbow arc over Sydney Harbour. The largest of Rondinone's neon signs, Our magic hour heralded the carnival figures inside the exhibition; but its pronouncement was double-edged, signalling the melancholy ambience of Rondinone's seemingly joyous works.
As visitors entered the exhibition a laughter track was triggered. Pastel-coloured paintings of blurred concentric circles appeared like radiant halos, a hypnotic surface for reflection instead of action. Also included was the 1999 photographic series Sleep, in which a young girl and boy ceaselessly comb a beachside landscape, never seeming to meet.
Two life-sized clown sculptures, recalling Shakespeare's jesters or Beckett's absurd tramps, appeared as if asleep. With miniature bowler hat, hessian suit and Buddha-like belly, If there were anywhere but desert. Saturday looks to be a tramp or shaman; whereas If there were anywhere but desert. Wednesday, wearing a silver lycra suit over yellow and red fishnet fabric, resembles a wrestler or drag queen. Nearby, a large mirrored mosaic wall, What do you want?, 2002, appeared like a fun-park distortion, fragmenting reflections into shattered abstraction.
"I find his work astonishing", art critic Peter Hill wrote in the Sydney Morning Herald of the MCA exhibition. "Like an advertising sign that can display two different messages, his work flips playfully between the modern and the postmodern. But there is more to it—a narcotic feeling, as if you're about to go under anaesthesia".
The following year, during the Midsumma Festival, the exhibition Clockwork for oracle was presented at ACCA in Melbourne, displaying several works shown in Sydney, alongside a new video installation and the monolithic sculpture Twentyfourhours, 2004, a wooden X fitted with speakers that echo breath. On either side of the sculpture, Moonrise, 2004, lined the walls—tribal masks, moulded from wooden reproductions and cast in rubber.
The video installation Clockwork for oracle, 2004, was displayed on three walls of twenty-four monitors each. Across the screens, a man and woman walk alone through a cityscape of intersecting lines and patterns, accompanied by a looped soundscape inspired by Philip Glass' Glassworks. When asked why the figures in this work never meet, Rondinone, playing the clown, chuckled: "We all die alone so we should live alone".
UGO RONDINONE
born 1964 in Brunnen, Switzerland
lives and works in New York, US
Our magic hour 
25 June – 31 August 2003
Museum of Contemporary Art, Sydney
Clockwork for oracle
28 January – 7 March 2004
Australian Centre for Contemporary Art, Melbourne
Swiss artist Ugo Rondinone is based in New York. Over the past decade he has refined a vocabulary of languid figures, candy-coloured forms and melancholy landscapes. Rondinone's diverse practice transforms everyday objects and cultural clichés into works that waver between euphoric and depressed states. His installations integrate trademark elements: fuzzy spray-painted target painting, mandala design, fibreglass sculpture, video environments and sounds that he himself has created out of tape-loops.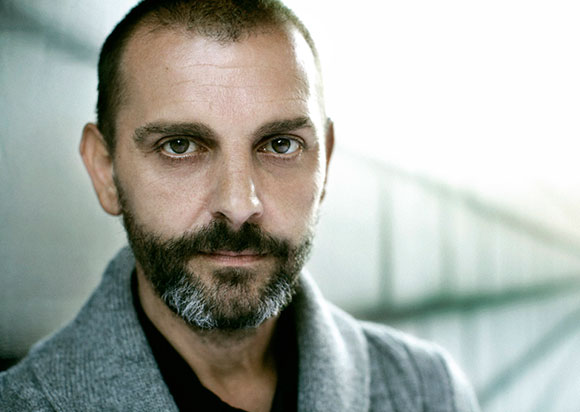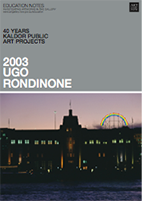 This Education Kit examines the wide-ranging, idiosyncratic work of Swiss artist Ugo Rondinone, and the theme of installation art.
LEARNING STAGES: Senior secondary (Stages 5-6) | Tertiary
CONTENTS: Introduction | Artist bio | Project outline | World events 2003 | Theme: Installation art | Art Gallery of NSW Collection connections | Selected references | Issues for discussion