In Sydney's busy Martin Place and at two hundred locations across the city, Michael Landy's Acts of Kindness, realised in partnership with Art & About Sydney, explored the meaning of kindness in today's fast-paced world, focusing on the simple everyday gestures of compassion and generosity that often go unnoticed as they occur throughout the city streets.
Born in London, Landy is recognised as one of the Young British Artists of the nineties. His work investigates the experience of life in a consumer world, reflecting on contemporary values, from economic worth to the importance of human relationships.
Landy is best known for his monumental 2001 project Break Down, in which he systematically destroyed all of his personal belongings, from his birth certificate to his car, in a former department store on London's Oxford Street. A two-week deconstruction of his life, and a personal and public interrogation of materialism and consumerism, it attracted an estimated 45,000 visitors. It was there that John Kaldor met Landy.
After ten years of discussions, including a proposal to make the Sydney Opera House disappear, Landy brought Acts of Kindness to Sydney in September 2011, two months after its debut in London's Art on the Underground.
A talented draftsman, Landy adapted the visual language of maps, store logos and street signage that characterises Sydney's Central Business District to present his interpretation of the city for Acts of Kindness. More than six hundred stories recounting acts of kindness were collected from Sydneysiders and visitors. Landy created a 13 × 7 metre jigsaw-puzzle map in lower Martin Place, charting the CBD between Market and George streets and Circular Quay. Two hundred selected stories, presented as jigsaw puzzle pieces, were placed throughout the city, as close as possible to where the acts took place. Hanging on street signs, attached to street furniture, the puzzle pieces occupied unexpected and intimate sites.
Connecting the impermanence of his work with the momentary act of kindness, Landy added, "An act of kindness is … something exchanged fleetingly between strangers. You will probably never see that person again".
Michael Landy
born 1963 in London, England
lives and works in London, England
Acts of Kindness
23 September – 23 October 2011
Installation in lower Martin Place and 200 sites across the CBD, Sydney
Michael Landy is one of Britain's best-known artists and is recognised as having created some of the most significant public art projects of the past decade. Landy's practice ranges from the monumental and epic to the intricate and meticulous.
Over the course of his career Landy has offered critiques of society, consumerism and the alienation of self. One of the Young British Artists of the 1990s, Landy became famous for his monumental project Break Down in 2001, in which he systematically destroyed all of his personal belongings, from his birth certificate to his car, in a former department store in London's Oxford Street.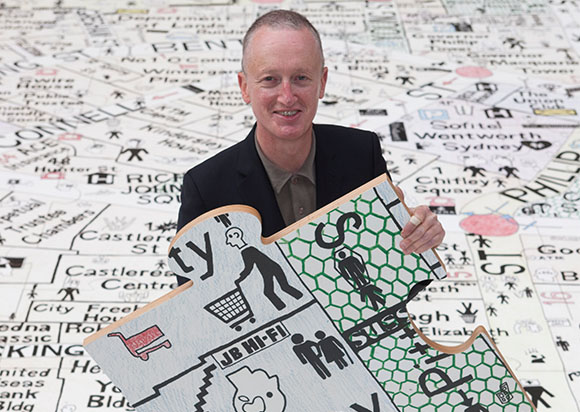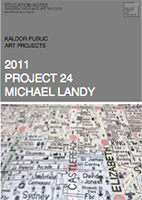 This Education Kit explores Michael Landy's eclectic practice, which includes drawing, collage, installation, performance, etching, sound and video, and reflects on the contemporary values of consumerist society.
LEARNING STAGES: Primary (Stages 2-3) | Secondary (Stages 4-6) | Tertiary
CONTENTS: Project overview | Artist's practice | Works: Drawing and collage; installation and performance; drawing and etching; installation, sound and video | Project 24: Acts of Kindness | World events 2011 | Creative collaborations in the classroom | Essay questions | References
ARCHIVE for Project 24 - Michael Landy
The Kaldor Public Art Projects archive has been collected over more than 50 years, and features rare and original documentation on the process of realising large-scale, temporary art projects. With thousands of items accessible online through the Digital Archive, it serves as a valuable resource for artists, students, teachers and researchers.
Spanning 602 objects, the archive for Project 24 tells the story of Michael Landy's Acts of Kindness, presented in Sydney in 2011. Emails, brochures, maps and press clippings are complemented by Landy's original sketches and postcards. The archive reveals the process of collecting public submissions, the collaboration with Art & About Sydney, and the planning and realisation of the work in Martin Place and at 200 different sites across the city CBD. Highlights include a series of photographs and montages, outlining Landy's proposals for a number of unrealised projects for Sydney and central Australia.
John Kaldor shares his personal recollections of working with artist Michael Landy to realise the 14th Kaldor Public Art Project at Martin Place and Sydney CBD, in 2011. (8:05, Kaldor Public Art Projects, 2021)