CHARLOTTE MOORMAN AND NAM JUNE PAIK
For their acclaimed project, pioneering avant-garde video and performance artists Nam June Paik and Charlotte Moorman collaborated in Adelaide and Sydney on an exhibition and series of more than forty performances, capturing the attention of audiences and the media. The Korean-American artist Paik was hailed as the "father of video art", while the American cellist Moorman was known as the "Jeanne d'Arc of new music". Together they fused music and sculpture, performance and video, challenging conventions and creating new sounds, images and experiences.
Moorman and Paik started collaborating after meeting at the 1964 New York Avant Garde Festival, which Moorman had organised. The Juilliard-trained Moorman had played cello with the American Symphony Orchestra before becoming involved in New York's avant-garde scene. Paik, whose work is now represented in museum collections around the world and the Nam June Paik Art Center in South Korea, studied piano and composition in Japan and Germany before presenting his television monitor sculptures in 1963. It was the first time abstract forms had been created on television screens, transforming the television into a tool for image creation.
Moorman and Paik's exhibition in Australia was shown at the Art Gallery of South Australia in Adelaide and later the Art Gallery of New South Wales (AGNSW) in Sydney, presenting newly created versions of Paik's famous video sculptures TV Buddha and Video Garden and his sculptures created for Moorman, TV cello, TV bed and TV bra for living sculpture.
The exhibition was accompanied by artistically and physically daring performances written by Paik and their contemporaries, including Jim McWilliams, Joseph Beuys, Yoko Ono and John Cage. Ice music for Adelaide, a highlight of the 1976 Adelaide Festival, was repeated at AGNSW the following month as Ice music for Sydney. Moorman wore nothing but a wreath of flowers and played a 90-kilogram ice cello, surrounded by radiators and spotlights, until the instrument melted. It took three hours to disappear.
A daytime performance of Flying cello in Adelaide's Elder Park involved a highwire trapeze act by Moorman. Mieko Shiomi's Cello sonata was another vertiginous performance, with Moorman dangling her cello from a bamboo pole positioned on the rooftops of the Adelaide Festival Theatre and AGNSW.
An Easter performance saw Jim McWilliams' Chocolate cello, 1973, performed at Sydney's Coventry Gallery, with Moorman and her cello smeared in 13 kilograms of chocolate fudge, positioned amid fake grass and colourful Easter eggs.
For the 11 April finale, Moorman performed McWilliams' Sky kiss, 1968, at the Sydney Opera House. Dressed in a black leotard, white satin cape with swansdown trim and a white feather headdress shaped like the Opera House sails, she hovered above 2,000 spectators for more than an hour, suspended by helium balloons, while playing Jimmy Webb's "Up, Up and Away".
Charlotte Moorman
and Nam June Paik
Charlotte Moorman
born 1933 in Little Rock, Arkansas, US
died 1991 in New York, US
Nam June Paik
born 1932 in Seoul, former Korea
died 2006 in Miami, US
Moorman + Paik
Exhibition and performances 
22 – 26 March 1976
Art Gallery of South Australia, Adelaide Festival Theatre plaza, Adelaide Festival Theatre rooftop and Elder Park, Adelaide
1 – 11 April 1976
Art Gallery of New South Wales, Coventry Gallery and Sydney Opera House forecourt, Sydney
Charlotte Moorman and Nam June Paik
Hailed as the "father of video art" and the "Jeanne d'Arc of new music", Paik and Moorman fused music and sculpture, performance and video, challenging conventions and creating new sounds, images and experiences. Through films, performances and installations, Nam June Paik remodelled our ways of seeing the temporal image in contemporary art, transforming museum architecture into energetic audiovisual spaces. Treating video art as performance works, Paik collaborated long term with Moorman, who had a background in classical training and became key figure in "new music" in the 1960s and '70s.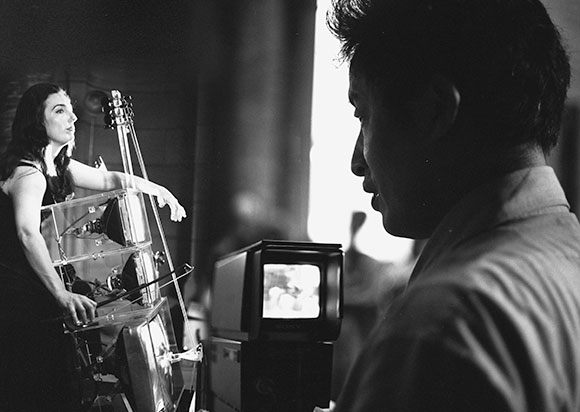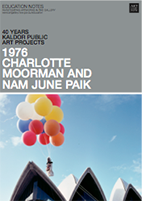 This Education Kit explores the collaborative practice of cellist Charlotte Moorman and video artist Nam June Paik, and the series of performances and exhibitions presented during their 1976 visit to Australia.
LEARNING STAGES: Senior secondary (Stages 5-6) | Tertiary
CONTENTS: Introduction | Artist bio | Project | World events 1976 | Theme: Video art | Art Gallery of NSW Collection connections | Selected references | Issues for discussion
ARCHIVE for Project 05 - Charlotte Moorman and Nam June Paik
The Kaldor Public Art Projects archive has been collected over more than 50 years, and features rare and original documentation on the process of realising large-scale, temporary art projects. With thousands of items accessible through the Digital Archive, it serves as a valuable online resource for artists, students, teachers and researchers.
Spanning 314 objects, the Project 5 archive offers insights into Charlotte Moorman and Nam June Paik's 1976 visit to Australia, and the realisation of their exhibitions and performances in Adelaide and Sydney. Highlights include letters and sketches outlining Moorman and Paik's unique specifications, including requests for student cellos, weather balloons and a practise bomb.
John Kaldor shares his personal recollections of working with artists Charlotte Moorman and Nam June Paik to realise the 5th Kaldor Public Art Project in 1976. (6:06, Kaldor Public Art Projects, 2021)