Stephen Vitiello's project transformed the historic Brickworks at Sydney Park into immersive light- and soundscapes, evoking the dramatic environment of Western Australia's remote Kimberley region. The acclaimed American sound artist's multichannel installation The Sound of Red Earth was the result of extensive recordings made on field trips throughout the Kimberley. In three chapters, The Sound of Red Earth features the echo of dust-filled winds, the roar of waterfalls and tidal flows, and the sounds of native wildlife.
Collecting sounds at different environments across the globe, Vitiello has captured grand and imperceptible aural textures, mixing them to create harmonic reflections. His works are an auditory collage of carefully chosen fragments, a multilayered yet singular interpretation of a place or experience.
John Kaldor commissioned Vitiello after seeing "the grandeur and vastness of the Australian continent" on his first visit to the Kimberley about a decade before. Vitiello made more than thirty hours of recordings over two weeks, creating three 5.1 channel soundscapes of the Kimberley's dominant sounds—wind, water and wildlife—installed for the project in the Brickworks' three red-brick kilns. First built in the 1840s, the site had cast many of the bricks that helped build early Sydney. It was redeveloped in 2004 by the City of Sydney as a community parkland, with The Sound of Red Earth marking the Brickworks' public opening.
In "Wind", Vitiello layers together recordings of dusty Kimberley winds, capturing wild storms, rustling breezes, and the gusts that shook his tent at night. This soundscape was paired in the installation with a crepuscular grey-pink light. "Water", accompanied by green lights on golden sand, represents the ebbing flows of the Kimberley waterways. Sounds of waterfalls, rivers, swimming holes and the open sea coalesce with the extraordinary underwater noises of currents and tides, which were recorded with specialist hydrophone equipment. "Wildlife", set against a red lightscape, features local birdsong at dawn and dusk, played over rich, red Kimberley dirt.
At the entrance to the Art Gallery of New South Wales, a companion piece, The Birds, was inspired by the cacophony of Australian birdlife. Based on Daphne du Maurier's chilling 1952 story, which was adapted by Alfred Hitchcock into his 1963 thriller, Vitiello's soundscape is mixed with a reading of du Maurier's story.
To commemorate the project, Vitiello and Kaldor Public Art Projects released a three-track compact disc with The Sound of Red Earth, Something Like Fireworks, 2010, and Bell Study from the 2010 Creative Time, New York, installation A Bell for Every Minute.
Stephen Vitiello
born 1964 in New York, US
lives and works in Richmond, Virginia, US
The Sound of Red Earth
13 August – 12 September 2010
Sydney Park Brickworks, Sydney
The Birds
11 August – 12 September 2010
Art Gallery of New South Wales, Sydney
Stephen Vitiello: ABC Interview, 2010
Internationally renowned sound and media artist Stephen Vitiello concerns himself with the physicality of sound and its ability to define spatial environments. Vitiello started his career as a punk guitarist, and his practice now revolves around the transformation of incidental atmospheric noise into perceptually challenging soundscapes. Recognised for his ethereal installations, Vitiello's work has been shown extensively across Europe and the Americas.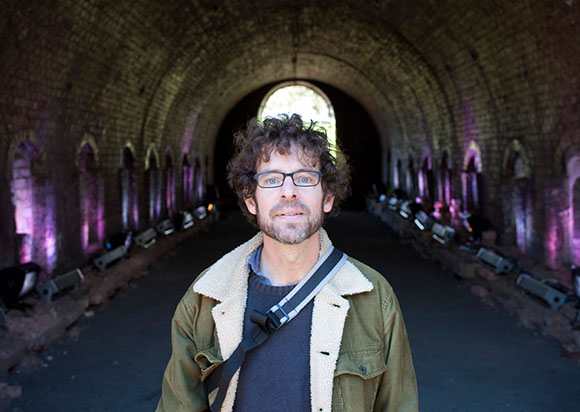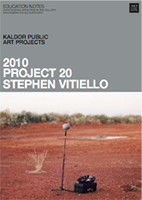 This Education Kit focuses on US sound and media artist Stephen Vitiello, and the two extraordinary installations at the Art Gallery of NSW and former Brickworks at Sydney Park created for the 20th Kaldor Public Art Project.
LEARNING STAGES: Senior secondary (Stages 5-6) | Tertiary
CONTENTS: Project outline | Art Gallery of NSW Collection connections | Selected references | Issues for discussion
ARCHIVE for Project 20 - Stephen Vitiello
The Kaldor Public Art Projects archive has been collected over more than 50 years, and features rare and original documentation on the process of realising large-scale, temporary art projects. With thousands of items accessible online through the Digital Archive, it serves as a valuable resource for artists, students, teachers and researchers.
The Project 20 archive details the planning and realisation of Stephen Vitello's Project in Australia in 2010. Emails, press clippings and itineraries are complemented by design concepts, education resources and photographs, which cover Vitiello's travels in Western Australia, and the installation of his multi-channel sound works in the heritage brick kilns in Sydney Park and at the Art Gallery of New South Wales. Highlights include a series of striking colour photographs, documenting Vitiello's trip to the Kimberley region.
John Kaldor shares his personal recollections of working with artist Stephen Vitiello to realise the 20th Kaldor Public Art Project at Sydney Park Brickworks and the Art Gallery of New South Wales, Sydney, in 2010. (4:24, Kaldor Public Art Projects, 2021)