Twenty-one years after Sol LeWitt's first Kaldor project, the American artist returned with a major exhibition at Sydney's Museum of Contemporary Art (MCA). In stark contrast to Wall drawings, 1977, which had reflected LeWitt's early interest in pared-back variations on form and colour, Wall pieces, 1998, incorporated vast bands of gloss and matt acrylic blacks and undulating wave-like forms painted in bright primary and secondary colours.
LeWitt's prolific forty-year career encompassed more than 1,200 works. His practice ranged in scale from delicate works on paper to concrete monuments, developed from a vocabulary of minimalist geometric forms. The separation between concept and execution was a critical focus of his work. As LeWitt said of his technique in 1970, "It seems more natural to work directly on walls than to make a construction [and] then put the construction on the wall". This simple idea was revolutionary in its context. Fusing the work with its architectural space, each iteration of a design became only as permanent as the site on which it was inscribed, or the period for which it was commissioned, radically reframing the way in which art is sold and collected.
LeWitt's early wall drawings, including those made for his first Kaldor project in 1977, were austere variations on lines in black and white pencil and chalk. In the eighties and nineties, LeWitt extended his exploration by including secondary colours in compositions of stars and continuous forms. In 1997, he shifted to acrylics, with wall-to-wall blocks of colour installed throughout New York's Ace Gallery. John Kaldor saw the exhibition and, "stunned by its strength and exuberance", asked LeWitt to present a selection of works and create a new acrylic wall drawing for the MCA.
The new work, Wall drawing #876, covered the entrance wall of the MCA's ground-floor gallery, transforming it with vibrant waves of colour. Three continuous panels undulated with glossy orange and blue, red and purple, green and yellow, contained by framing lines in matt black.
Along with earlier works from Kaldor's collection, new black-on-black paintings filled entire rooms with sequences of contrasts between gloss and matt blacks in waves and straight lines. Their simple forms, shown in progression, recall LeWitt's earlier chalk and pencil wall drawings, transformed into large, sumptuous explorations of texture and sheen.
The repeated diagonal, vertical and horizontal lines of Wall drawing #821 created a luminous, strobing effect, while works divided by simple waves and straight lines erupted with light as it moved across their glossy surfaces, inspiring art historian Charles Green to declare that "this is, without a doubt, an exquisite exhibition".
Sol LeWitt
born 1928 in Hartford, Connecticut, US
died 2007 in New York, US
Wall pieces
30 July – 29 November 1998
Museum of Contemporary Art, Sydney
Coining the term "conceptual art", Sol LeWitt is considered one of the most influential artists of his time. From 1968 to 2007, LeWitt created 1,200 wall drawings, reducing his art-making process to a bare vocabulary of lines, curves, geometric shapes and primary colours. These works were distinctive for their method which began with a set of instructions or a simple diagram, executed by people other than the artist at different times and places. LeWitt once wrote that "ideas can be works of art", giving greater importance to the idea behind his work rather than its execution.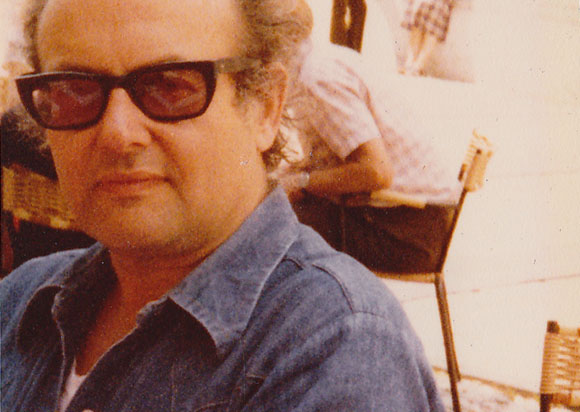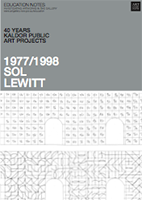 Designed for both the 6th and 11th Kaldor Public Art Projects, this Education Kit examines Sol LeWitt's conceptual artmaking practice and his pioneering influence on the international art world.
LEARNING STAGES: Senior secondary (Stages 5-6) | Tertiary
CONTENTS: Introduction | Artist bio | Project: 1977 | Project: 1998 | World events 1977 | World events 1998 | Theme: Conceptual art | Art Gallery of NSW Collection connections | Selected references | Issues for discussion
ARCHIVE for Project 11 - Sol LeWitt
The Kaldor Public Art Projects archive has been collected over more than 50 years, and features rare and original documentation on the process of realising large-scale, temporary art projects. With thousands of items accessible online through the Digital Archive, it serves as a valuable resource for artists, students, teachers and researchers.
The Project 11 archive offers insights into the second of Sol LeWitt's projects in Australia, and the realisation of the exhibition Wall pieces at the MCA, Sydney, in 1998, through press clippings, catalogues, faxes and posters. Featured items include a series of faxes from LeWitt, detailing his specifications for each wall drawing.
John Kaldor shares his personal recollections of working with artist Sol LeWitt to realise the 11th Kaldor Public Art Project at the Museum of Contemporary Art, Sydney, in 1998. (5:06, Kaldor Public Art Projects, 2021)