Making Art Public was a major exhibition celebrating the 50th anniversary of Kaldor Public Art Projects, presented from 7 September 2019 – 16 February 2020 at the Art Gallery of New South Wales (AGNSW), Sydney.
In 1969, John Kaldor brought artists Christo and Jeanne-Claude to Australia, where they made one of the most ambitious public artworks ever seen. Titled Wrapped Coast—One Million Square Feet, Little Bay, Sydney, Australia, the project enveloped 2.5km of coastline with fabric and rope. Its success captured international attention and initiated what was to become the world's first public art organisation.
Over half a century, the organisation has realised 34 temporary projects in public spaces, which have had a profound and continuing impact on Australians' experience of contemporary art.
The Making Art Public exhibition was created by acclaimed British artist Michael Landy. Rather than a conventional retrospective, it brought an artist's perspective to bear on the Kaldor projects completed from 1969 to 2019.
Landy reimagined each project within an oversized archive box, using archives, documentation and remnant artworks to distil and reincarnate the projects in new and surprising forms. Installed out of chronological sequence, the archive boxes each offered markedly different experiences and revealed diverse approaches to making art public.
To accompany Making Art Public, Kaldor Public Art Projects commissioned four major new works by Australian artists, reprised three iconic Kaldor projects and presented the Kaldor Studio, an experimental artist-led learning space at the heart of the exhibition. The Living Archives project, which animated the organisation's history with firsthand stories of past projects, was presented through online articles and live programs.
A comprehensive series of public programs, including tours, panel discussions, study sessions, film screenings, dedicated Art After Hours evenings and a symposium, offered new perspectives on the impact and legacy of Kaldor Public Art Projects.
MICHAEL LANDY
born 1963 in London, England
lives and works in London, England
Making Art Public:
50 Years of Kaldor Public Art Projects
7 September 2019 – 16 February 2020
Art Gallery of New South Wales, Sydney
EXHIBITING ARTISTS
Marina Abramović; Allora & Calzadilla; John Baldessari; Vanessa Beecroft; Klaus Biesenbach and Hans Ulrich Obrist (curators), and 13 Rooms exhibiting artists; Martin Boyce; Christo and Jeanne-Claude; Thomas Demand; Urs Fischer; Gilbert & George; Jonathan Jones; Jeff Koons; Michael Landy; Xavier Le Roy; Sol LeWitt; Richard Long; Barry McGee; Miralda; Charlotte Moorman and Nam June Paik; Tatzu Nishi; Roman Ondak; Mike Parr, Imants Tillers and Ken Unsworth; Asad Raza; Ugo Rondinone; Anri Sala; Gregor Schneider; Tino Sehgal; Santiago Sierra; Harald Szeemann (curator) and I want to leave a nice well-done child here exhibiting artists; Bill Viola; Stephen Vitiello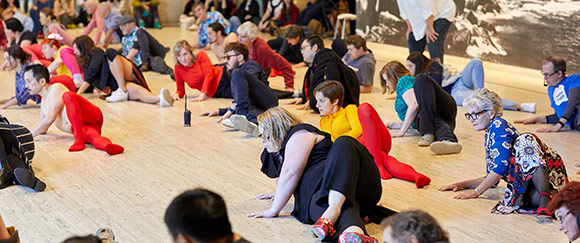 Commissions
Kaldor Public Art Projects commissioned contemporary artists Alicia Frankovich, Agatha Gothe-Snape, Ian Milliss and Imants Tillers to create new works that would transform the AGNSW throughout the anniversary celebrations. Frankovich's large-scale performance featured more than 50 past Kaldor project collaborators; Gothe-Snape's quiet, durational performance saw readers occupy the Gallery every day of the exhibition; Milliss' architectural intervention traversed all levels of the Gallery; and Tillers' painting and canvasboard installation incorporated elements from the artist's own archive, while directly referencing the first Kaldor project.
Reprisals
Three iconic past Kaldor projects were reprised at the AGNSW, as part of Making Art Public. Allora & Calzadilla's performance Stop, Repair, Prepare: Variations on 'Ode to Joy' for a Prepared Piano, Bill Viola's haunting video works Fire Woman and Tristan's Ascension and Tino Sehgal's This is so contemporary were presented throughout the exhibition.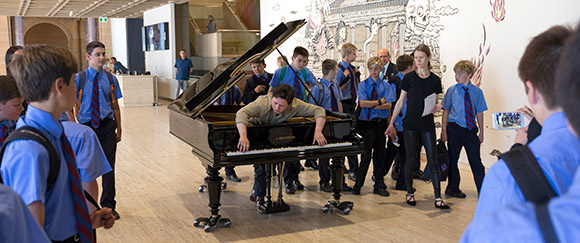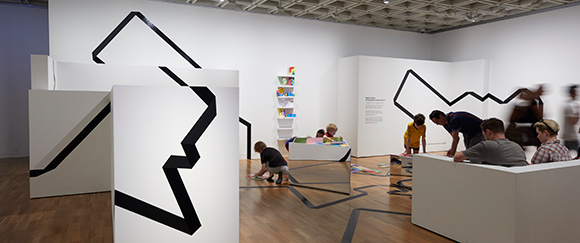 Kaldor Studio
Kaldor Studio was a dynamic artist-led learning space, located at the heart of the Making Art Public exhibition.
Over five months, Kaldor Studio was transformed by three Australian artists and their diverse collaborators—David Capra & Teena, Lucas Ihlein and the Rizzeria, and Nadia Odlum. Each artist brought the history and archives of Kaldor Public Art Projects to life, through newly commissioned installations and programs, including artist-led tours, creative workshops and performances.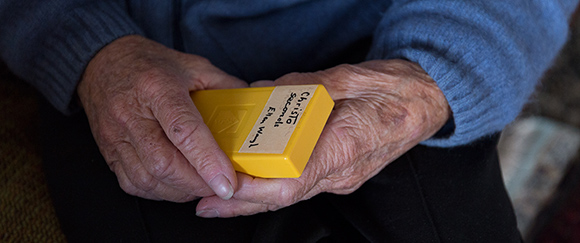 Living Archives
The Living Archives project animated Kaldor Public Art Projects' history with the memories of those who experienced the projects firsthand. These stories provide a rare window into 50 years of history through the eyes of visitors, artists, teachers, art lovers and students alike.
Your Public Art Project
Your Public Art Project was an exciting new school engagement program, launched as part of our 50th anniversary celebrations. Primary and secondary students across NSW were invited to reimagine public spaces within their communities by developing their own collaborative public art works. 235 students from five schools across NSW completed the program, and had the opportunity to share their work at an exciting showcase event at the AGNSW.
The program was documented through a range of video material, using cutting-edge technologies, in partnership with The Arts Unit, NSW Department of Education, and is now available online as a dynamic and adaptable digital resource.
Making Art Public: Kaldor Public Art Projects, 1969–2019
Kaldor Public Art Projects, 2020
Beautifully designed and featuring more than 1000 images, Making Art Public: Kaldor Public Art Projects, 1969–2019 celebrates a milestone anniversary for the world's oldest public art organisation and includes personal stories from a life in art by the founder and director of Kaldor Public Art Projects, John Kaldor.
Making Art Public features fascinating new interviews by acclaimed international curator Hans Ulrich Obrist, who spoke to twenty-seven of Kaldor Public Art Projects' past artists. Christo, Gilbert & George, Jeff Koons, Marina Abramović, Mike Parr and Jonathan Jones are among a host of groundbreaking artists who reveal rich and surprising insights about their projects in Australia.
Edited by Genevieve O'Callaghan and Mark Gowing, Making Art Public includes new essays by Nicholas Baume, Nicholas Chambers, Rebecca Coates, Ross Gibson, Ross Rudesch Harley, Michael Landy, David Malouf, Hans Ulrich Obrist and Emily Sullivan.
ARCHIVE for Project 35 - Making Art Public
The Kaldor Public Art Projects archive has been collected over more than 50 years, and features rare and original documentation on the process of realising large-scale, temporary art projects. With thousands of items accessible online through the Digital Archive, it serves as a valuable resource for artists, students, teachers and researchers.
Spanning an extraordinary 1358 objects, the Project 35 archive tells the story of the exhibition Making Art Public: 50 Years of Kaldor Public Art Projects, which was presented at the Art Gallery of New South Wales from September 2019 – February 2020. The archive covers all aspects of this ambitious anniversary program—from the research, planning and realisation of the exhibition concept created by artist Michael Landy, to the development of newly commissioned works by Australian and international artists, re-presentations of past Projects, the expansive series of related events, and the editing and design of the Project catalogue. Emails, handwritten notes, schedules, exhibition design plans and elevations, marketing drafts, brochures, invitations, material samples, education materials, press clippings and photographs are complemented by Michael Landy's sketches, and messages and books created by visitors. Highlights include samples of colourful edible dyes and objects used in Miralda's commissioned artwork Five Feastables.
John Kaldor shares his personal recollections of working with artist Michael Landy to realise the 35th Kaldor Public Art Project at the Art Gallery of New South Wales, Sydney, in 2019. (13:31, Kaldor Public Art Projects, 2021)
EXHIBITION PARTNER

LEAD PATRONS


Lead Corporate Partner

Corporate Partner

Philanthropic Partners



Major Education Partner

Government Partners


International Gallery Supporter

Construction Partner

Cultural Partners




Lead Tertiary Partner

Lead Creative Partner

Studio Artist Supporter

Supporters


Public Program Supporter

Piano Performance Partner

Digitisation Supporters


Media Partners




Event Furniture Partner

Individual Donors
Geoff Ainsworth AM and Johanna Featherstone
Guido Belgiorno-Nettis AM and Michelle Belgiorno-Nettis
Jillian Broadbent AO and Olev Rahn
Andrew Cameron AM and Cathy Cameron
Alan Conder and Alan Pigott
Barry and Suzi Carp
Patrick Firkin
Danny Goldberg OAM and Lisa Goldberg
David Gonski AC and Prof Orli Wargon OAM
Leslie and Ginny Green
Lizanne Knights and Julian Knights AO
Walter and Liz Lewin
Matty and Trish Lunn
Mark and Louise Nelson
Tony and Roslyn Oxley
Orson Oztop
Andrew and Andrea Roberts
Justine and Damian Roche
Penelope Seidler AM
Michael Snelling and Suhanya Raffel
Throsby Family
Emily and Richard Young
Peter Weiss AO
Peter and Jenny Wohl