In 2016, Wiradjuri and Kamilaroi artist Jonathan Jones presented barrangal dyara (skin and bones), a vast sculptural installation stretching across 20,000 square metres of Sydney's Royal Botanic Garden. Jones had proposed the work two years earlier for Your Very Good Idea, a public call-out to Australian artists for a site-specific project in celebration of forty-five years of Kaldor projects.
barrangal dyara (skin and bones) traced the outline of the grand Garden Palace, where it originally stood on Macquarie Street, facing Sydney Harbour. The Garden Palace was purpose-built for the 1879 Sydney International Exhibition, the first world fair in the Southern Hemisphere. After the exhibition's close, the building held many of the colony's important records, along with countless Aboriginal artefacts and objects taken from the colonial frontier. On 22 September 1882, the Garden Palace went up in flames and all was lost.
barrangal dyara (skin and bones) was Jones' response to the loss of these cultural objects. He had come upon the story twenty years prior, on a visit to the Australian Museum. "When I first went looking for cultural material from where my family is from," Jones remembers, "I found out that much of this material…was destroyed in the Garden Palace fire of 1882. Ever since, I've been struck with the loss of our cultural material, what that loss means for our communities and how you can move forward as a culture when you can't readily point to your cultural heritage in museums".
The title, barrangal dyara, comes from the local Sydney Language—the project took place on Gadigal country with approval from the community—and is translated as "skin" and "bones". The installation featured 15,000 bleached-white gypsum shields, a material used in Aboriginal mourning ceremonies, to mark the extent of the building's footprint and echo the masses of rubble left after the fire. A native meadow of kangaroo grass formed the heart of the work, on the site of the Palace's original dome. Moving through the installation, visitors encountered eight different Aboriginal languages spoken across south-east Australia, through soundscapes created by Jones in collaboration with communities. barrangal dyara (skin and bones) was open to the public for just over two weeks, and each day the site was activated through talks, performances, workshops and special events.
"The Garden Palace has become a symbol for the repercussions of forgetting", Jones said. "Aboriginal communities have often been the victims of Australia's ability to forget… I've also been struck with the way we as Aboriginal communities remember, and through this project I've begun to see Aboriginal communities as the nation's memory holders".
Jonathan Jones
born 1978 in Sydney, Australia
Wiradjuri/Kamilaroi, Southern/Northern Riverine regions
lives and works in Sydney, Australia
barrangal dyara (skin and bones)
17 September – 3 October 2016
Royal Botanic Garden Sydney
Sydney's Forgotten Ancestor
17 September – 3 October 2016
Palm House, Royal Botanic Garden Sydney
Spot Fire Symposia Series
Landscape and language
7 May 2016
State Library of New South Wales, Sydney
Spectacle, manifestation, performance
16 July 2016
Art Gallery of New South Wales, Sydney
Loss and resilience
6 August 2016
Australian Museum, Sydney


Play the audio described tour of barrangal dyara (skin and bones) for the blind and vision impaired here
Sydney's Forgotten Ancestor
As barrangal dyara (skin and bones) was centred on the traditional practice of oral storytelling, no images were displayed on the main project site in the Royal Botanic Garden Sydney. Visitors were instead encouraged to participate in conversations with the dedicated team of Aboriginal and non-Aboriginal invigilators, and reflect on the layered histories of the site.
To accompany the project, a selection of historic photographs was displayed in the nearby Palm House. Designed in 1876 by James Barnet, architect of the Garden Palace, this small greenhouse is a survivor of the devastating fire of 1882.
The photographic exhibition, Sydney's Forgotten Ancestor, included spectacular exterior and interior views of the Garden Palace, along with haunting images of the expansive rubble left in the wake of the fire.
Featured in the exhibition was the sole known photograph of the Ethnological Court, in which Indigenous artefacts were displayed as part of the Sydney International Exhibition. These cultural objects which had been acquired, often in violent circumstances, from across south-east Australia and the Pacific, were tragically lost in the Garden Palace fire.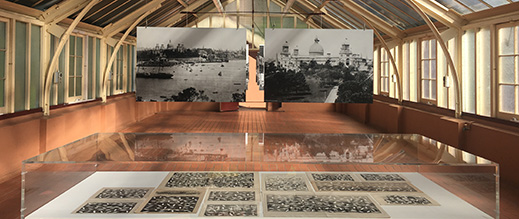 Spot Fire Symposia
The ferocious fire which destroyed the Garden Palace in 1882 ignited spot fires across Sydney, reaching as far as Woolloomooloo and Balmain. In the lead-up to barrangal dyara (skin and bones), a series of three events—the Spot Fire Symposia—was held to discuss themes that emerged from the ashes of the historic fire. The series was developed in collaboration with Ross Gibson, Centenary Professor of Creative & Cultural Research at the University of Canberra, and took place at three major cultural institutions with profound historic connections to the Sydney International Exhibition—the State Library of New South Wales, Art Gallery of New South Wales and Australian Museum.
Spot Fire Symposium 1: Landscape and language
State Library of New South Wales, Sydney
Saturday 7 May 2016
Spot Fire Symposium 2: Spectacle, manifestation, performance
Art Gallery of New South Wales, Sydney
Saturday 16 July 2016
Spot Fire Symposium 3: Loss and resilience
Australian Museum, Sydney
Saturday 6 August 2016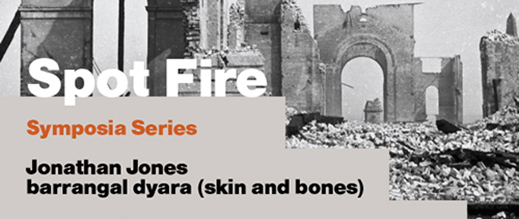 Jonathan Jones: barrangal dyara (skin and bones)
Kaldor Public Art Projects, 2016
This catalogue recovers fragments of the lost story of Sydney's Garden Palace and its intersecting histories through an investigation of ideas around architecture, landscape, collection and display, language and cultural identity. Celebrating the resilience and survival of the world's oldest living cultures, barrangal dyara (skin and bones) is at the forefront of a long-awaited acknowledgement and renaissance of Indigenous culture and language in Australia.
This beautifully designed publication is richly illustrated throughout, featuring over 100 large-scale historical and contemporary images and illustrations. Edited by Genevieve O'Callaghan, it includes original essays and interviews with leading Aboriginal writers including Bruce Pascoe—winner of two 2016 NSW Premier's Literary Awards—Jeanine Leane, Hetti Perkins and Uncle Stan Grant Sr AM, alongside Australian academics Ross Gibson, Peter Kohane, Ilaria Vanni Accarigi and Kaldor Public Art Projects curator Emma Pike.
Sydney-based Aboriginal artist Jonathan Jones, a member of the Wiradjuri and Kamilaroi nations of south-east Australia, works across a range of mediums, from printmaking and drawing to sculpture and film. He creates site-specific installations and interventions into space that use light, subtle shadow and the repetition of shape and materiality to explore Indigenous practices, relationships and ideas. Jones often works with everyday materials, such as fluorescent lights and blue tarpaulin, recycled and repurposed to explore relationships between community and the individual, the personal and public, historical and contemporary. He has worked on several major public art commissions, including the Commonwealth Parliament Offices in Sydney and Wagga Wagga Regional Airport.
In past projects, Jones has sought to represent both the traditional and contemporary by working with the particular site's historical usage and current vision. Often perceived as oppositional, these two frameworks are in fact linked, sharing commonalities and connections; Jones' artworks serve to honour both contexts. At the heart of Jones' practice is the act of collaborating, and many projects have seen him work in conjunction with other artists and communities to develop outcomes that acknowledge local knowledge systems to connect the site with local concerns.
Jones has exhibited both nationally and internationally: in Australia at Sherman Contemporary Art Foundation, Sydney, and the National Gallery of Australia, Canberra, and overseas at the Palazzo delle Papesse Contemporary Art Centre, Siena, Italy, and Plug In Institute of Contemporary Art, Winnipeg, Canada, among others.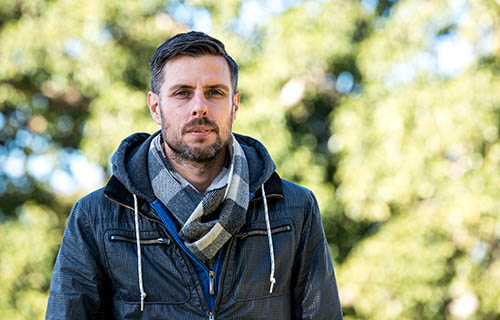 ABORIGINAL ADVISORY BOARD
We are grateful to our Aboriginal Advisory Board who offered valuable advice and support throughout the development and presentation of the Project.

CHRISTINE EVANS, Chief Education Officer, Aboriginal Education, Board of Studies Teaching and Educational Standards (BOSTES)
JASON GLANVILLE, Chairperson of the Australian Institute of Indigenous Governance and Director of the Indigenous Leadership Centre
MICHAEL McDANIEL, Director, Jumbunna Indigenous House of Learning, University of Technology, Sydney
UNCLE CHARLES "CHICKA" MADDEN, Gadigal Elder
HETTI PERKINS, Curator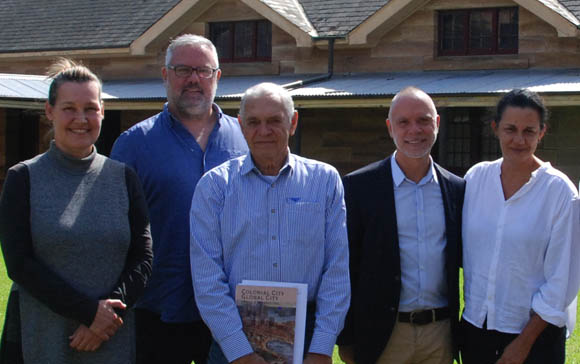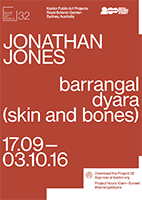 This on-site guide features an exclusive interview with Jonathan Jones.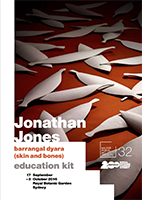 This Education Kit is designed to help students and educators understand and engage with the themes of Jonathan Jones' barrangal dyara (skin and bones). It includes activities and questions designed for Stages 2-6, which can be incorporated into classroom learning in Aboriginal studies, visual arts, history and science, and a comprehensive list of references with online links to additional resources.
LEARNING STAGES: Primary (Stage 2-3) | Secondary (Stage 4-6, Extension)
CONTENTS: Project overview | The Garden Palace and the Sydney International Exhibition | Kangaroo grass | Shields | South-east Aboriginal languages | Resilience and continuity in the south-east | Artist's practice | In the classroom | Glossary of Aboriginal terms | References
ARCHIVE for Project 32 - Jonathan Jones
The Kaldor Public Art Projects archive has been collected over more than 50 years, and features rare and original documentation on the process of realising large-scale, temporary art projects. With thousands of items accessible online through the Digital Archive, it serves as a valuable resource for artists, students, teachers and researchers.
Spanning an extraordinary 917 objects, the Project 32 archive tells the story of Jonathan Jones' groundbreaking barrangal dyara (skin and bones) at the Royal Botanic Garden Sydney in 2016. Featuring timelines, media releases, design drafts, postcards, invitations, education resources, maps, architectural plans and extensive photographic documentation, the archive covers each element of this vast site-specific artwork. It details the research, production and installation of the shields, native grass meadow and Aboriginal language soundscapes, along with the process of invigilator training, editing and design of the Project catalogue, and the development of an ambitious program of talks and events, with contributions from recognised Aboriginal cultural leaders, storytellers, artists, curators and writers. Featured items include samples of kangaroo grass seeds, and a series of special edition prints by Jonathan Jones of the Garden Palace.
John Kaldor shares his personal recollections of working with artist Jonathan Jones to realise the 32nd Kaldor Public Art Project at the Royal Botanic Garden, Sydney, in 2016. (12:04, Kaldor Public Art Projects, 2021)
Presenting Partner

Lead Patrons


Lead Corporate Partner

Corporate Partners


Government Partners





Philanthropic Partners





Language Collaborators
Sydney Aboriginal Language
Uncle Chicka Madden, Summer Loggins, Lille Madden, Madeleine Madden, Miah Madden and Ruby Madden with assistance from Jeremy Steele
Gumbaynggirr
Michael Jarrett, Jenni Farrands, Muurrbay Aboriginal Language and Culture Cooperative, 3rd Space Mob Aboriginal and Torres Strait Islander Corporation, and the children of Bellingen High School, Macksville High School, Nambucca Heads High School and Bowraville Central School:
Lenny Davis-Bull, Tahahni Berge, Dylan Berger, Brendon Brown, Ricky Buchanan, Olivia Bula-Ratuverebukui, Hannah Campbell, Eachan Clarke, Timmy Davis-Bull, McKye Davis-Tucknott, Danielle Dent, Shaina-Lee Donovan, Marcus Duckott, Antoinette Edwards, Paul Evans, Savanah Fraser, Milah Hollinsworth, Martikka Hunter, Isaac Jarrett, Kahtarni Jarrett, Kasharni Jarrett, Shantahla Jarrett-Marks, Lisa Kelly, Lindsay Kingsley, Daryll Lockwood, Conway Marshall, Fiona McAulay, Jessica McEwen, Rowena McGregor, Gloria Mercy, Hayley Mitchell, Kaylah Caroline Naden, Trista Richards, Rosie Stephen, Louie Taverner, Simo Waterboy, Renee Watson-Jarrett, Mark Werner and Michael White with Uncle Martin Ballo
Gamilaraay
Aaron Ellis, and the children of Tamworth Public School and Walhallow Public School:
Chris Brown-Johnson, Ruby Clegg, Jacinta Coe, Sophie Cooper, Baxter Daly, Maddison Dawson, Daniel Dunn, Grace Ellis, Noah Evans, Jalira Hunt, Ziva Jordan, Matthew Kingdom, Klallin Knox, Isabelle Kolesnikoff, Jeremaia Marawa, Amelia McGinty, Connor McLean, Samantha Morgan, Amarni Nean, Briseis Nean, Curtis Nean, Dylan Newman, Stephanie Nnorom, Willow Oldknow, Pavneet Singh, Jackson Solberg-Follington, Callum Steibert, Charlotte Steibert, Grace Storch and Jymaya Waters
Gunditjmara
Joel Wright, Vicki Couzens and Victorian Aboriginal Corporations for Language
Ngarrindjeri
Aunty Verna Koolmatrie and the Raukkan Ngarrindjeri community
Paakantji
Warlpa Thompson, Kayleen Kerwin, William Mitchell and AJ Williams with the Paakantji Language Circle
Woiwurrung
Aunty Joy Murphy Wandin
Wiradjuri
Uncle Stan Grant Sr, Geoff Anderson, Lionel Lovett, Donna Payne, Skye Harris, Lyretta Gilby, Ron Wardrop and the children of Parkes Public School, Parkes East Public School, Middleton Public School, Parkes High School and Holy Family Primary School:
Kieran Baker, Lara Bennett, Kade Crist, Levi Edwards, Nicayden Greenwood, Caitlin Herft, Rebecca Kearney, Bayden Maran, Chelsea McGarrity, Ellynia Redfern, Trudy Richardson, Michael Riley, Samantha Riley, Kyah Turnbull and Ella Ward
Education Partners


Lead tertiary partner

Corporate Supporter

Performance Partner

Public Program Partners






Spot Fire Symposia and Program Partners





Event Styling Partner

Media Partner





Marketing Partners



CINEART










Publication Partners


Publication Supporters





In-Kind Supporters