Leading American artist Bill Viola has been instrumental in the development of video as a major artform, using its fluid, ephemeral nature as a means to explore the reach and limitations of perception and cognition.
Since his first artistic experimentations in the early seventies, assisting Nam June Paik, Viola was similarly inspired by Zen Buddhism and, later, Christian mysticism and Islamic Sufism. Exploring universal spiritual themes, his works echo medieval and Renaissance painting, wavering between figurative scenes and flickering shadows and abstractions, contemporary and timeless meditations on the human experience.
Water is a vital symbol in Viola's work. Like video, water can appear as a fine, fluid membrane between this world and another. The element is a touchstone for Viola, who at age six fell into a lake and nearly drowned.
For Viola's Kaldor project, two works from The Tristan Project, 2005, Fire Woman and Tristan's Ascension (The Sound of a Mountain Under a Waterfall), were presented at St Saviour's Church in Redfern, Sydney. Another work, The Fall into Paradise, 2005, was screened concurrently at the Art Gallery of New South Wales.
Built in 1885 in a Romanesque revival style, St Saviour's is unique in its architecture and for its connection to the local Aboriginal community. The darkened church was lit with larger-than-life projections of Fire Woman and Tristan's Ascension. Shown at night on a 6 × 3 metre screen beneath the soaring arched ceiling, and accompanied by a multichannel soundtrack, the installation was breathtakingly dramatic.
Created for the Los Angeles Philharmonic production of Wagner's 1865 opera Tristan und Isolde, these works feature in the opera's final act, in which the two lovers are united by death. Viola also drew on the elemental transformations described in the Bardo Thodol (Tibetan Book of the Dead). Fire Woman depicts "an image seen in the mind's eye of a dying man". A dark-robed silhouette approaches, raising her arms slowly, as she falls into her reflection and dissolves like a mirage. Tristan's Ascension projects "the ascent of the soul in the space after death". The image of a man's body, white-robed against a grey tomb, lies in cloudy, painterly light. The whisper of falling droplets of water gradually becomes louder, until it forms a streaming torrent, like a waterfall in reverse, crashing upwards as the figure ascends, accompanied by a deafening, climactic roar.
In the night-time setting of St Saviour's, these arresting images and sounds created a meditative state, an experience of contemplation and discovery shared by art-world visitors, the local congregation and passers-by. For Viola, it was "one of the most personally meaningful exhibitions of my career".
BILL VIOLA
born 1951 in New York, US
lives and works in Long Beach, California, US

Fire Woman
Tristan's Ascension (The Sound of a Mountain Under a Waterfall)
9 April – 30 May, 2008
St Saviour's Church, Redfern, Sydney
Bill Viola: Design Boom Interview
Bill Viola has been experimenting with video art since the early 1970s, and has been instrumental in its development as a major contemporary artform. Viola's unique style and imagery, expressed through his extraordinary range of works, has defined a new language for the moving image, using its fluid, ephemeral nature as a means to explore life and death, the reach and limitations of perception and cognition. In exploring universal elements of spiritual themes, his works often echo medieval and Renaissance paintings, seeming at once contemporary and timeless, meditations on the human experience.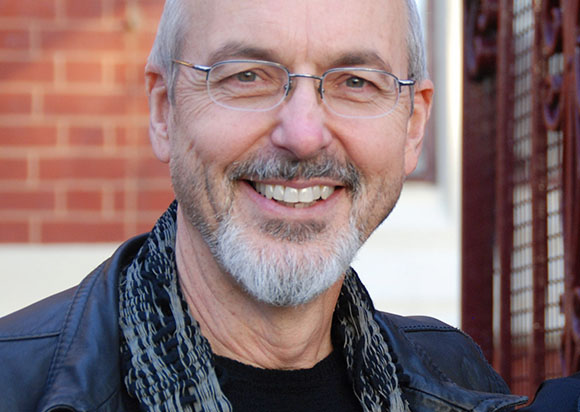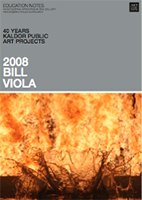 This Education Kit discusses the practice of Bill Viola, renowned as one of the pioneers of video art.
LEARNING STAGES: Senior secondary (Stages 5-6) | Tertiary
CONTENTS: Introduction | Artist bio | Project outline | World events 2008 | Theme: Video art | Art Gallery of NSW Collection connections | Selected references | Issues for discussion
ARCHIVE for Project 17 - Bill Viola
The Kaldor Public Art Projects archive has been collected over more than 50 years, and features rare and original documentation on the process of realising large-scale, temporary art projects. With thousands of items accessible online through the Digital Archive, it serves as a valuable resource for artists, students, teachers and researchers.
The Project 17 archive offers insights into the first of Bill Viola's projects in Australia, and the realisation of his video installation at St Saviour's Church in Redfern, Sydney, in 2008. Through letters, emails, planning documents, diagrams and photographs, the archive details the process of installing the Project inside the heritage building, with the enthusiastic approval of the church. Highlights include a series of behind-the-scenes photographs by Kira Perov, revealing the process of filming Viola's dramatic works in California.
John Kaldor shares his personal recollections of working with artist Bill Viola to realise the 17th and 21st Kaldor Public Art Projects in Sydney and Melbourne, in 2008 and 2010. (4:48, Kaldor Public Art Projects, 2021)