Following the success of Marina Abramović's ambitious work Luminosity, 1997, in 13 Rooms, John Kaldor invited the pioneering Serbian performance artist to Sydney for a solo project. Two years later, at the historic Pier 2/3 in the Walsh Bay artistic precinct, Marina Abramović: In Residence offered audiences an innovative experience at the forefront of contemporary art.
Abramović is one of the world's pre-eminent performance artists, with a practice spanning four decades. She was awarded the prestigious Golden Lion at the 47th Venice Biennale in 1997 and named one of Time Magazine's one hundred most influential people in 2014.
Abramović studied fine arts in Belgrade, before immigrating to Amsterdam, where she continued to develop her practice. Reflecting her childhood fascination with ritual, Abramović's early Rhythm series of performances pushed the limits of physical and emotional endurance. In 1976, Abramović began her decade-long collaboration with German performance artist Ulay, creating some of her most famous works, such as Relation in Time, 1977, which saw them sit back to back for sixteen hours, tied together by their ponytails.
In The Artist is Present, 2010, her major retrospective at New York's Museum of Modern Art, Abramović sat opposite 1,545 visitors, with more than 850,000 spectators, in a powerful performance of endurance over twenty weeks.
As Abramović wrote in her artist's statement for In Residence, "My relationship to the public is changing. It used to be very simple: the public was sitting in the audience and I was performing in front of them". Now, Abramović proposed, "I will be like a conductor in the exhibition space, but it will be the public who will take the physical and emotional journey… My function in this new kind of performance situation is to show you, through the Abramović Method, what you can do for yourself".
Within view of the iconic Sydney Harbour Bridge, Pier 2/3 became a pop-up venue, housing Abramović's extraordinary project, along with a series of public talks and special events, and a live-in artists' residency program. For the duration of the project, twelve Australian artists lived and worked upstairs at the Pier, where they were mentored by Abramović and leading international performance experts, and engaged with the public in the context of a working studio.
The artist described her audience as the "living material" of the work. Across twelve days, an audience of over 31,000 visited the Pier, with many staying for hours at a time, to participate in Abramović's durational and meditative exercises. Abramović and her team were present on-site each day, guiding participants through an experience designed to shift their focus, challenge their preconceptions and change the way they look at art.
MARINA ABRAMOVIĆ
born 1946 in Belgrade, former Yugoslavia
lives and works in New York, US
Marina Abramović: In Residence
24 June – 5 July 2015
Pier 2/3, Walsh Bay, Sydney
RESIDENCY ARTISTS
Natalie Abbott, Frances Barrett, Clark Beaumont, Lottie Consalvo, Nicola Gunn, George (Poonkhin) Khut, SJ Norman, Sarah Rodigari, Christian Thompson, zin
AUSTRALIAN ARTISTS' RESIDENCY PROGRAM
Upstairs at Pier 2/3, Marina Abramović mentored twelve Australian performance practitioners for the duration of Marina Abramović: In Residence. The artists participated in an intensive live-in residency program, exploring the Marina Abramović Method and developing their own performative practice through research, workshops, discussion and debate.
Download the full guide for the Residency and Public Program here.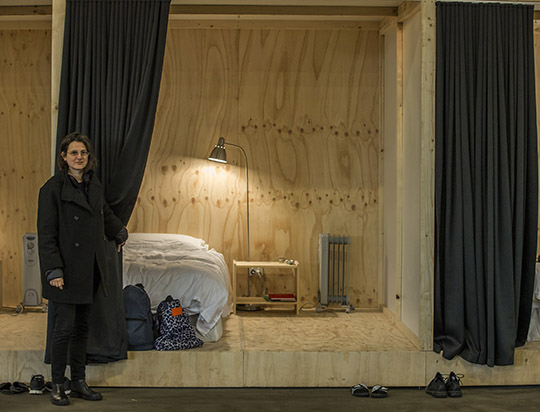 Marina Abramović: In Residence
Kaldor Public Art Projects, 2015
Contributions by Marina Abramović, David Jaffe, Hetti Perkins, Sophie O'Brien and Talia Linz
Edited by Sophie Forbat
A hardcover, 109-page colour publication produced to accompany Marina Abramović: In Residence. Focusing on the exercises that comprise the project, with short texts on each, the catalogue explores historical and scientific perspectives, from diverse cultures and traditions, that inform our understanding of these simple actions and activities. More detailed essays include: David Jaffe on the tradition of the gaze in western art, Hetti Perkins on Abramović's connection with Australia and Sophie O'Brien on the artist's long history of collaboration through residencies and workshops.
Born in Belgrade, Serbia, Marina Abramović has pioneered performance as a visual art form since the 1970s and has become one of the most celebrated and iconic artists of our time. The body has always been both subject and medium for Abramović, exploring her physical and mental limits in works that ritualise the simple actions of everyday life. Abramović has withstood pain, exhaustion and danger in her quest for emotional and spiritual transformation.
Abramović has presented solo exhibitions at leading institutions around the world and her work has also been included in many large-scale international exhibitions including the Venice Biennale (1976 and 1997) and documenta 6, 7 and 9, Kassel, Germany (1977, 1982 and 1992). In 2010, the Museum of Modern Art in New York held a major retrospective, The Artist is Present, which attracted over 850,000 visitors. In 2014, 512 hours at The Serpentine Galleries in London was a huge success and transformed the way people looked at art.
Photo: Marina Abramović, © Marco Anelli, 2013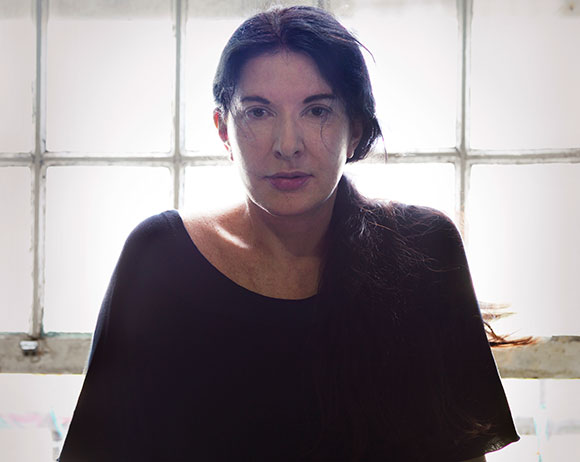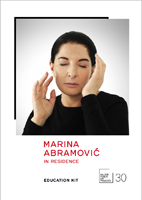 The Education Kit for Project 30, Marina Abramović: In Residence is a resource to guide student learning and encounters with performance art. It includes an overview of the Project, Marina Abramović's biography and practice, historical and contextual framework, and classroom activities designed to trigger ideas, debates, extended research and the creation of artworks.
ARCHIVE for Project 30 - Marina Abramovic
The Kaldor Public Art Projects archive has been collected over more than 50 years, and features rare and original documentation on the process of realising large-scale, temporary art projects. With thousands of items accessible online through the Digital Archive, it serves as a valuable resource for artists, students, teachers and researchers.
The Project 30 archive traces the development of Marina Abramović's remarkable participatory Project, In Residence, presented at Pier 2/3, Walsh Bay, in 2015. The archive details the planning and realisation of the Project, and covers the selection of Australian artists for the live-in residency, facilitator training, and the extraordinary critical and popular response to the project, including written testimonials by Project visitors. Emails, schedules, design concepts, architectural plans and material samples are complemented by press clippings, publications and photographs. Featured items include photographic documentation of work developed by Abramović and Ulay during their visits to Australia in 1979 and 1981.
John Kaldor shares his personal recollections of working with artist Marina Abramović to realise the 30th Kaldor Public Art Project at Pier 2/3, Walsh Bay, Sydney, in 2015. (15:58, Kaldor Public Art Projects, 2021)
Lead Patrons


Lead Corporate Partner

Corporate Partner

Government Partners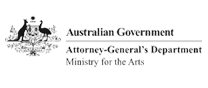 Philanthropic Partners

  ANONYMOUS

PROJECT BENEFACTORS
Danny & Lisa Goldberg
Judith Neilson
Mark & Louise Nelson
CORPORATE SUPPORTERS


LEAD TERTIARY PARTNER

ARCHITECTURE AND CONSTRUCTION PARTNERS


Construction Supporters



Event Styling Partner

Accommodation Partner

Official Airline Partner

Hospitality Partner

Education Partner

Regional Engagement Collaborators


Public Program Collaborator

Public Programs Affiliates


Keynote Supporter

In-Kind Supporters













Media Partners





PARTNERS
Geoff Ainsworth AM & Johanna Featherstone
Liz Cacciottolo & Walter Lewin
Andrew Cameron AM & Cathy Cameron
David Gonski AC & Prof. Orli Wargon OAM
Julian & Lizanne Knights
Tony & Roslyn Oxley
Penelope Seidler AM
PATRONS
B.E. Architecture
Barry & Suzi Carp
Jillian Broadbent AO & Olev Rahn
Andrew Rothery & Julia Champtaloup
Ginny & Leslie Green
Robert & Ruth Magid
Andrew Michael & Michele Brooks
Andrew & Andrea Roberts
Skrzynski Family Sky Foundation
Ivan & Karel Wheen
SUPPORTERS
David Baffsky AO & Helen Baffsky
Santo Cilauro & Morena Buffon
Daniel & Lyndell Droga
Barbara Flynn
Jenny & John M. Green
Rupert Myer AM & Annabel Myer
Scanlon Foundation
Dr Gene Sherman AM & Dr Brian Sherman AM
Rees Family Foundation