In 1984, John Kaldor took the opportunity provided by a wave of international interest in Australian film and literature to curate an exhibition of Australian art in New York, An Australian Accent, featuring Australian artists Mike Parr, Imants Tillers and Ken Unsworth.
An Australian Accent drew more visitors to New York's P.S.1 (Project Studios 1) than any previous exhibition staged by the contemporary art centre since its opening eight years earlier, marking a new appreciation for Australian contemporary art in the US and Australia. The New York Times critic John Russell praised the exhibition's "exceptional expressive power", enthusing it was "freighted with dreams, often of a complex and disquieting kind".
Parr presented fourteen large, detailed self-portraits in charcoal and pastel, shaped by elaborate anamorphic perspectives, confined to a strict grid. The right side of each work is split, as if representing the Cartesian mind and body, a riot of unconfined forces.
Tillers created ten large works composed of hundreds of small canvasboards, painted with layered references of appropriated imagery, and "Stacks" of painted canvasboards. The exhibition included his now well-known Pataphysical Man, 1984, and Spirit of Place, 1983, which overlays Indigenous themes with images from the European canon.
Unsworth's eleven large works in bitumen and paint and four series of smaller drawings, including studies for his performance works The Body as Object and Five Secular Settings for Sculpture as Ritual, combine styles and references, from European expressionism and Arte Povera to Japanese Gaki painting.
The artists, none of whom had previously shown in America, travelled to New York for the exhibition. Among the opening's guests was the director of Washington DC's Corcoran Gallery of Art, Michael Botwinick, who asked to bring the exhibition to the Corcoran, to be shown alongside a group exhibition of German artists, Expressions, which featured Jörg Immendorff, Georg Baselitz and Anselm Kiefer.
On returning to Australia, An Australian Accent was exhibited at the Art Gallery of Western Australia, Perth, and the Art Gallery of New South Wales, Sydney, where it "precipitated a major change in Australian art". For Parr, Tillers and Unsworth, An Australian Accent provided a "breakthrough, with real impact", and launched a series of major exhibitions, in Australia and internationally.
Mike Parr
born 1945 in Sydney, Australia
lives and works in Sydney, Australia
Imants Tillers
born 1950 in Sydney, Australia
lives and works in Cooma, Australia
Ken Unsworth
born 1931 in Melbourne, Australia
lives and works in Sydney, Australia
An Australian Accent
15 April – 10 June 1984
P.S.1, New York
30 June – 26 August 1984
Corcoran Gallery of Art, Washington DC
22 September – 11 November 1984
Art Gallery of Western Australia, Perth
1 December 1984 – 31 January 1985
Art Gallery of New South Wales, Sydney
Mike Parr, Imants Tillers and Ken Unsworth
MIKE PARR
Widely known as a performance artist, Mike Parr's career has produced videos, photographs, drawings and installations. In 1970 Parr along with Peter Kennedy organised the first artist-run space in Australia, Inhibodress, as a rejection of the commercial gallery system. Much of Parr's work is an attempt to address identity and self-representation while pushing the boundaries of his own physical limits. Parr is known as one of the most outstanding artists of his generation.

IMANTS TILLERS
Imants Tillers was an architecture student at when he participated with Christo and Jeanne-Claude's Wrapped Coast in 1969. Inspired by his experience working on the project, Tillers is now regarded as one of Australia's most important artists of his generation. A child of immigrant Latvian parents who met in a displaced persons' camp, many of his large-scale paintings address the complexities of migration and displacement within contemporary concepts of place.

KEN UNSWORTH
Ken Unsworth's art is founded in the magic and mystery of hidden forces. His work spans four decades in many different mediums: site-specific land-based art, performance (with his own body used as a component in the presentation), motorised relief works, work with river stones (his Suspended stone circle II in the Art Gallery of New South Wales is one of Australia's most popular public works), large bitumen drawings, maquettes, and room-sized installations.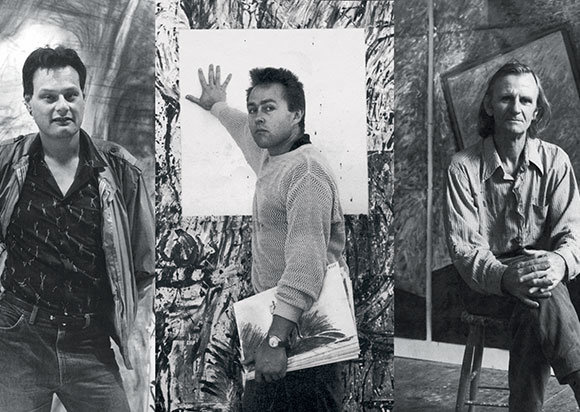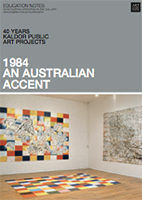 This Education Kit explores the practice of three Australian artists – Mike Parr, Imants Tillers and Ken Unsworth – and their groundbreaking exhibition at P.S.1, New York.
LEARNING STAGES: Senior secondary (Stages 5-6) | Tertiary
CONTENTS: Introduction | Artist bio | Project outline | World events 1984 | Theme: Regionalism vs internationalism | Art Gallery of NSW Collection connections | Selected references | Issues for discussion
ARCHIVE for Project 08 - An Australian Accent
The Kaldor Public Art Projects archive has been collected over more than 50 years, and features rare and original documentation on the process of realising large-scale, temporary art projects. With thousands of items accessible through the Digital Archive, it serves as a valuable online resource for artists, students, teachers and researchers
The Project 8 archive details John Kaldor's efforts to realise an exhibition of outstanding contemporary Australian art in the United States in 1984-1985. Through a range of correspondence, catalogues and exhibition guides, invitations, press clippings, photographic slides and proof sheets, the archive reveals the process of planning and installing An Australian Accent in New York, Washington DC, Perth and Sydney. Original archival material includes the glowing critical response to the work of Mike Parr, Imants Tillers and Ken Unsworth in the US press.
John Kaldor shares his personal recollections of working with artists Mike Parr, Imants Tillers, and Ken Unsworth to realise the 8th Kaldor Public Art Project in the USA and Australia in 1984. (5:59, Kaldor Public Art Projects, 2021)