CHRISTO AND JEANNE-CLAUDE
Wrapped Coast – One Million Square Feet, Little Bay, Sydney, Australia, 1968–69 was the largest single artwork that had ever been made. Bigger than Mount Rushmore, it was so vast that a complete view was impossible; visitors had to walk for an hour to cross its surface. Two-and-a-half kilometres of coast were shrouded in fabric and rope, transformed by sweeping winds into billowing sails. Part monument and part event, Wrapped Coast has had an enormous impact on Australian art.
Artists Christo and Jeanne-Claude are now world-famous for their environmental projects, including Running Fence in California, 1972–76; Surrounded Islands in Miami, 1980–83; The Pont Neuf Wrapped in Paris, 1975–85; The Umbrellas in Japan and California, 1984–91; Wrapped Reichstag in Berlin, 1972–95; The Gates in New York's Central Park, 1979–2005; The Floating Piers at Italy's Lake Iseo, 2014–16; The London Mastaba on London's Serpentine Lake, 2016–18, and L'Arc de Triomphe Wrapped in Paris, 1961–2021. "We use cloth because it conveys this fleeting, nomadic quality of the work", Christo explained. "All our projects challenge this idea of the immortality of art."
In 1968, Christo and Jeanne-Claude welcomed the young Australian collector John Kaldor to their New York loft. Working for Universal Textiles, Kaldor had initiated the Alcorso-Sekers Travelling Scholarship for Australian artists. After proposing to bring an international artist to Australia, he invited Christo and Jeanne-Claude to lecture. Instead, they asked him to find them a coastline to wrap.
It was the first Australian visit by international artists to make new work. Kaldor said of the wrapping, "If it's successful, there could be other equally important artists brought here, perhaps every second year, and other companies might co-operate".
After being rebuffed by numerous government departments, Kaldor finally secured a site at Little Bay, 14.5 kilometres south-east of Sydney. A team of more than 100 workers and 11 volunteers spent four weeks climbing, wrapping, sewing and securing the work in an atmosphere of camaraderie.
One major setback came during installation, when gale-force winds lacerated huge swathes of the fabric. Yet Wrapped Coast was completed and on 28 October 1969, thousands gathered for the official opening.
Visitor reactions were complex. As the Sun-Herald's Adrian McGregor observed: "Most come to confirm their suspicion that 'Christo is crazy', stay for many minutes longer than they intended, perplexed, and then drive off (it could be) almost with an air of enthusiasm".
In addition to the installation, an exhibition was held at Central Street Gallery in Sydney, showing Christo's preparatory drawings and Harry Shunk's photographs of Wrapped Coast in progress, wrapped roses, and 70 bales of hay packaged in black plastic.
Christo and Jeanne-Claude created a second work for the National Gallery of Victoria in Melbourne. During November 1969, Wool Works saw two truckloads of wool bales arranged and wrapped outside in the gallery's Murdoch Court.
CHRISTO AND JEANNE-CLAUDE
Christo Vladimirov Javacheff
born 13 June 1935, in Gabrovo, Bulgaria
died 2020 in New York, US
Jeanne-Claude Denat de Guillebon
born 13 June 1935, in Casablanca, Morocco
died 2009 in New York, US
Wrapped Coast
28 October – 14 December 1969
Little Bay, Sydney
Drawings and Collages
22 October – 8 November 1969
Central Street Gallery, Sydney
Wool Works
1 – 30 November 1969
National Gallery of Victoria, Melbourne
Christo and Jeanne-Claude
Husband-and-wife team Christo and Jeanne-Claude are widely known for their public art projects. From 1961, they proposed ambitious alterations of public places. The duo created temporary large-scale environmental works (in both urban and rural settings), often wrapping buildings and landscapes in fabric. In doing so the artists faced resistance from governments and the public alike. However their ability to build a constituency of supporters allowed them to maintain artistic freedom. Following the death of Jeanne-Claude in 2009, Christo continued to make work under the name of both artists, until his death in 2020.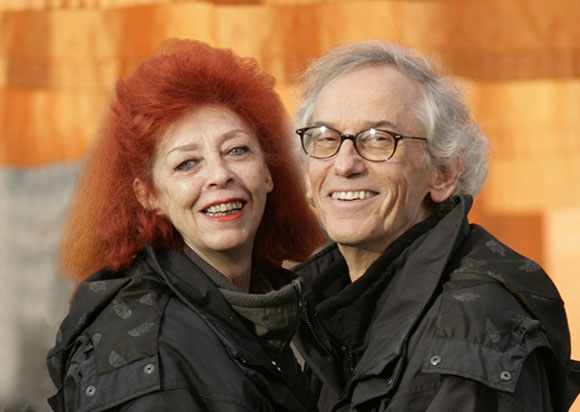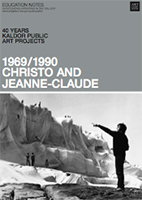 Designed for both the 1st and 9th Kaldor Public Art Projects, this Education Kit includes information about Christo and Jeanne-Claude's collaborative practice and the creation and documentation of large-scale environmental artworks.
LEARNING STAGES: Senior secondary (Stages 5-6) | Tertiary
CONTENTS: Introduction | Artists' bio | Project: 1969 | Project: 1990 | World events 1969 | World events 1990 | Theme: Photo documentation | Art Gallery of NSW Collection connections | Selected references | Issues for discussion
ARCHIVE for Project 01 - Christo & Jeanne Claude
The Kaldor Public Art Projects archive has been collected over more than 50 years, and features rare and original documentation on the process of realising large-scale, temporary art projects. With thousands of items accessible through the Digital Archive, it serves as a valuable online resource for artists, students, teachers and researchers.
The Project 1 archive details the process of realising Christo and Jeanne-Claude's idea for a "Packed Coast" in Australia in 1968-69. Through more than 450 items, including letters, telegrams, maps, press clippings, objects and photographs, the archive reveals the difficult planning negotiations for the Project, and the range of collaborators involved, from architecture students to military personnel and professional rock climbers. Original archival material includes samples of fabric and rope used in the creation of Wrapped Coast.
John Kaldor shares his personal recollections of working with artists Christo and Jeanne-Claude to realise the 1st Kaldor Public Art Project at Little Bay, Sydney, in 1969. (13:13, Kaldor Public Art Projects, 2021)