Drawing from the iconography of fashion, film and painting, Vanessa Beecroft's human tableaux provoke admiration, criticism and debate, becoming a collective portrait of idealised femininity and desire in consumer culture.
Beecroft's Kaldor project, VB40, was the fortieth in the Italian artist's series of works, most using nude and semi-nude women presented in formation. Twenty models, recruited from modelling agencies and surf lifesaving clubs, positioned by Beecroft and following rules of deportment, stood for a period of two-and-a-half hours at the Museum of Contemporary Art, Sydney. Conforming to an ideal image of "Australian athleticism", the models were tall, broad-shouldered and of Anglo-Celtic appearance. They were dressed identically in red Wolford stockings, flesh-toned bras and red Prada heels. One of the models wore heels only, standing nude in the centre of the group. For Beecroft, the purpose was to "create an image or a portrait that has the effect of a monument, even if it lasts briefly".
Beecroft cites as her influences the film auteurs Rainer Werner Fassbinder, Jean-Luc Godard and Luchino Visconti and makes references to the painters Rembrandt, Holbein, Caravaggio and de Chirico through lighting, costume and composition.
VB01, 1993, Beecroft's first work, shown at the Accademia di Belle Arti di Brera in Milan, represented the artist's obsessions with body image and diet. Since then, Beecroft has staged more than eighty performances around the world. The models' hair and make-up have become increasingly stylised, while shoes and accessories have been supplied by international designers such as Manolo Blahnik, Prada or Gucci, accentuating and subverting Beecroft's fascination with the disjuncture between discipline and disorder, observation and self-obsession, uniformity and individuality.
Unmediated by film or photography, the models visibly tired during VB40, shifting in their high heels and taking rest in self-conscious positions. Beecroft explained, "I position them in a circle or square, generally symmetrically. It will then be their job to undo the composition. I make the girls responsible for the final disorder that will be created".
500 people witnessed each of the two public performances. Critic Sebastian Smee described the experience as "a cross between the repetitive, Brecht-influenced choreography of Pina Bausch and the glamorous, obsessive, charged-up photographs of Helmut Newton".
"But as the sexual charge drained away...viewers started to empathise with the women", Smee explained in a subsequent article, "seeing more clearly all the giveaway expressions that women 'on display' are prone to everywhere. Every posture seemed loaded".
Vanessa Beecroft
born 1969 in Genoa, Italy
lives and works in Los Angeles, US
VB40
2 – 5 August 1999
Museum of Contemporary Art, Sydney
Documentation of Vanessa Beecroft's VB40 at the Museum of Contemporary Art, Sydney, 1999 (silent)
Vanessa Beecroft's work stands at the crossroads of postmodern sexuality and politics of representation. Her durational performance pieces predominantly employ women in near-nude or nude states. The extended duration of these performances has the disorienting effect of the traditionally objectified female form rejecting and returning the gaze. Beecroft's site-specific works extend these ideas, commenting on local notions of class, beauty, politics and taste.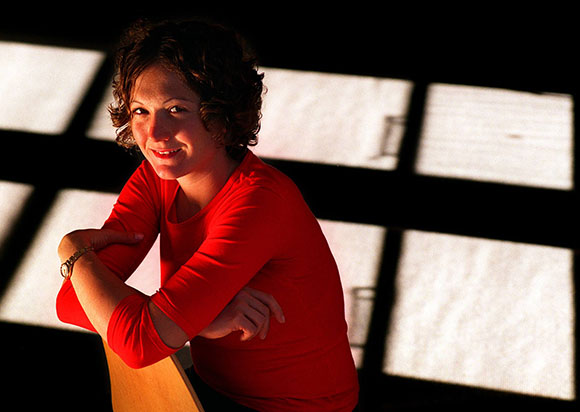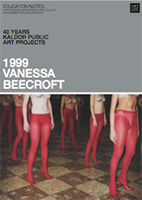 This Education Kit includes information about Vanessa Beecroft's practice, and the role of the "gaze" in contemporary art.
LEARNING STAGES: Senior secondary (Stages 5-6) | Tertiary
CONTENTS: Introduction | Artist bio | Project outline | World events 1999 | Theme: The "gaze" and the politics of representation | Art Gallery of NSW Collection connections | Selected references | Issues for discussion
ARCHIVE for Project 12 - Vanessa Beecroft
The Kaldor Public Art Projects archive has been collected over more than 50 years, and features rare and original documentation on the process of realising large-scale, temporary art projects. With thousands of items accessible online through the Digital Archive, it serves as a valuable resource for artists, students, teachers and researchers.
The Project 12 archive traces the development of Vanessa Beecroft's VB40, from press clippings of Beecroft's past works, through to faxes, schedules and artist specifications for the realisation of the Project in Sydney in 1999. Featured items¬ include a faxed drawing of a Prada high-heeled shoe to be worn by models performing in the work.
Click images below to view those items in the Archive
John Kaldor shares his personal recollections of working with artist Vanessa Beecroft to realise the 12th Kaldor Public Art Project at the Museum of Contemporary Art, Sydney, in 1999. (3:21, Kaldor Public Art Projects, 2021)