Miralda was one of the first artists to create large-scale public spectacles and media events. For more than fifty years, he has staged displays and parades for exhibitions, biennales, festivals and public events across the world, including the Munich Olympics in 1972 and documenta 6 in Kassel, 1977. His feasts and processions reclaim ritual and celebration to fashion new festivals and events with inventive themes and luminous colour.
Having moved from Barcelona to Paris as a young man, Miralda created his first artworks in France, amid the Vietnam War and May 1968 protests. Later celebrations and rituals were rendered in rainbow colours to inspire free movement and interaction. With his then-wife, Dorothée Selz, he launched his first open-air event in collaboration with Joan Rabascall and Jaume Xifra in 1969. Memorial was a purple and black banquet staged on All Souls' Day and accompanied by rituals and music.
A year later, in the same location, the artists collaborated on Fête en blanc (Festival in white). Fashion designer Paco Rabanne designed white costumes for the procession, and white doves were released, while twenty-two brides served an enormous white banquet that continued until dawn.
One of the artists' first large-scale multicoloured events was Rituel en quatre couleurs (Ritual in four colours) at the 1971 Biennale of Paris. Bread, cauliflower, corn and rice were dyed red, yellow, green and blue. Stacked and arranged on a vast table, they appeared like an altar display and were served to guests by masked figures each dressed in a single colour.
In 1972 Miralda moved to New York. Befriending Christo and Jeanne-Claude, he met John Kaldor at their apartment that year, and Kaldor invited Miralda to create a feast for the opening of his new fabric showrooms in Surry Hills on 18 September 1973.
In Sydney, Miralda covered an enormous tiered table in a patchwork display of colours inspired by John Kaldor Fabricmaker fabrics, and created a feast including aspics, salads and canapés in an array of patterns, textures and colours for 300 guests. Bowls made from coloured ice in blue, red, purple, green and yellow held chilled gazpacho and fruit salad. Kaldor described the feast as an exciting and celebratory experience.
Daniel Thomas, then–senior curator at the Art Gallery of New South Wales, invited Miralda to present Coloured bread at the Gallery. An 8.5-metre banquet table was laden with green, red, blue and yellow plaited breads, horseshoe rolls and wreaths in pink and green, and multicoloured sliced loaves. The Australian's Sandra McGrath called it "a splendid spectacle that is truly a feast of forms, colour and texture".
Antoni Miralda
born 1942 in Barcelona, Spain
lives and works in Barcelona and Miami, US
Coloured feast
18 September 1973
John Kaldor Fabricmaker showrooms, Sydney
Coloured bread
21 September – 4 October 1973
Art Gallery of New South Wales, Sydney
Miralda, Five Feastables, at the Art Gallery of New South Wales, 2019
Miralda creates events that are based on everyday rituals, and explore the connection between art and culture. He is well known for his edible artworks, which seek to examine the intersection of the personal and the shared, combining childhood habits and adult fantasies. Miralda plays on the belief that sharing food has often been more concerned with diplomacy than with satisfying hunger.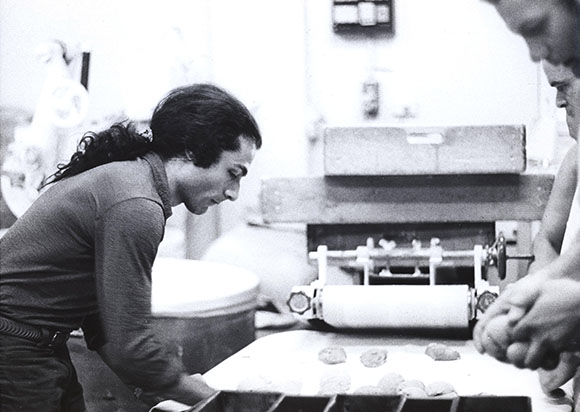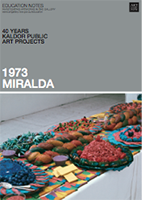 This Education Kit discusses Spanish artist Miralda and his works Coloured feast and Coloured bread, presented for the 4th Kaldor Public Art Project. Perhaps best known for his edible artworks, the artist stages events which explore the connections between art and everyday rituals.
LEARNING STAGES: Senior secondary (Stages 5-6) | Tertiary
CONTENTS: Introduction | Artist bio | Project | World events 1973 | Theme: Food and art | Art Gallery of NSW Collection connections | Selected references | Issues for discussion
ARCHIVE for Project 04 - Miralda
The Kaldor Public Art Projects archive has been collected over more than 50 years, and features rare and original documentation on the process of realising large-scale, temporary art projects. With thousands of items accessible through the Digital Archive, it serves as a valuable online resource for artists, students, teachers and researchers.
The Project 4 archive tells the story of Miralda's Coloured feast and Coloured bread, presented in Sydney in 1973. Through press clippings, photographs, drawings, posters, postcards and menus, the archive covers the artist's past works, and the collaboration with local bakers to realise his edible artworks at the John Kaldor Fabricmaker Showrooms and AGNSW. Highlights include exquisite hand-coloured prints and sketches of coloured foods by Miralda.
John Kaldor shares his personal recollections of working with artist Miralda to realise the 4th Kaldor Public Art Project in Sydney in 1973. (5:13, Kaldor Public Art Projects, 2021)