In 2007, the celebrated German artist Gregor Schneider transformed Sydney's iconic Bondi Beach with 21 beach cells, a giant cage complex of 4 × 4 metre cells. In their leisurely, littoral context, the cells could be mistaken for a beach folly. Displaced and disconnected, like the shadow image of Guantánamo Bay's Camp X-Ray and Australia's immigration detention centres, 21 beach cells captured the atmosphere of the time, fraught with global terrorism, indefinite detention of refugees and racial tensions.
Schneider's work explores uncanny architectural environments, transforming familiar places from refuges of shelter, community and belonging to prisons of confinement, confusion and dislocation. "When you're in front of a painting, you still recognise it as a painting", Schneider said of his approach. "Rooms are different. You don't see a room completely. All the time, there is something behind you."
Since 1985, Schneider has worked on reconstructing an abandoned residential block next to his father's Rheydt lead factory with constant additions, which has now become the complex organic structure Haus u r. Rooms within rooms, crawl spaces, paths leading to dead ends and blocked doors leave visitors unsure of where they are and what they are seeing. In 1996, Schneider began transporting the house's rooms to different locations, most memorably for the German Pavilion of the 49th Venice Biennale in 2001, where he was awarded the coveted Golden Lion.
Contrasting with Schneider's past works, which transform interior environments, 21 beach cells transposed an enclosed, labyrinthine space onto the sands of Bondi Beach, a site synonymous with Australian ideals of freedom and egalitarianism. Schneider stated that the influence for the work was the 2005 Cronulla race riots, when nearly 5,000 young Anglo-Australians descended on the southern Sydney suburb to "reclaim the beach" with violent attacks on people of Middle Eastern appearance.
The twenty-one wire-mesh cells, constructed from temporary fencing materials, each contained an air mattress, beach umbrella and black plastic garbage bag, a recurring motif in Schneider's rooms, tied shut and positioned in the corner of the cell, its contents unknown. Some doors were locked, requiring visitors to re-trace their steps to the exit; others led into open cells, creating confusing paths and passageways. As The Australian's critic Sebastian Smee recounted, "The grid of cells is a form that frames and regulates perception. On the one hand, everything is transparent, leaving no place to hide. On the other, the walls of the cell continually fragment and disperse one's perceptions. Panoramic vision becomes impossible".
Following the success of the project, Schneider's work was re-created in June 2009 on Acadia Beach in Herzliya, Israel.
Gregor Schneider
born 1969 in Rheydt, Germany
lives and works in Rheydt, Germany
21 beach cells
28 September – 21 October 2007
Bondi Beach, Sydney
Gregor Schneider: Interview, 2012
Since 1985, Gregor Schneider's work has focused on the creation of uncanny architectural environments, cavernous depths and labyrinths that evoke a dark individual or collective psyche. Between 1985 and 1997, from his mid-teens, he compulsively refigured a former residential block next-door to his father's lead factory in Rheydt, Germany, for the work he has renamed Haus u r. Drawing from a place between the seen and constructed experiences of the world and the unseen and unfathomable, Schneider's works activate physical and psychological impulses. Inspired by the architecture of Guantánamo Bay for a number of works, clear identification and orientation are denied and visitors are left unsure of where they are and what they are seeing.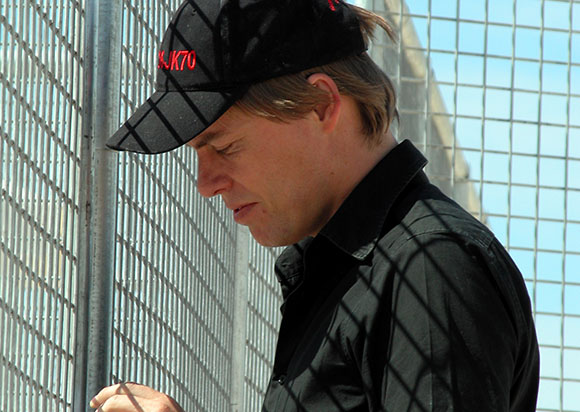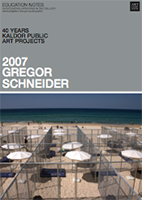 This Education Kit discusses the provocative installation works of German artist Gregor Schneider, and the shifting role of the audience from spectator to participant.
LEARNING STAGES: Senior secondary (Stages 5-6) | Tertiary
CONTENTS: Introduction | Artist bio | Project outline | World events 2007 | Theme: Installation art | Art Gallery of NSW Collection connections | Selected references | Issues for discussion
ARCHIVE for Project 16 - Gregor Schneider
The Kaldor Public Art Projects archive has been collected over more than 50 years, and features rare and original documentation on the process of realising large-scale, temporary art projects. With thousands of items accessible online through the Digital Archive, it serves as a valuable resource for artists, students, teachers and researchers.
The Project 16 archive traces the development of Gregor Schneider's 21 Beach Cells, presented at Bondi Beach in 2007, through documents, maps, press clippings and photographs. Featured in the archive are Schneider's past works, the process of negotiating council approval for the project—amid concerns over tidal conditions and the needs of local beachgoers—and the re-presentation of the work in Herzliya, Israel. Highlights include a range of photographs documenting the installation and public response to the work on Sydney's most popular beach.
John Kaldor shares his personal recollections of working with artist Gregor Schneider to realise the 16th Kaldor Public Art Project at Bondi Beach, Sydney, in 2007. (10:43, Kaldor Public Art Projects, 2021)