Urs Fischer works across a wide range of media to create poetic images, objects and installations drawn from all levels of culture, often combining philosophical themes with pop, punk and kitsch elements that lend an absurd and at times comic effect. In the Swiss artist's work, meditations on life's brevity—memento mori such as skulls and skeletons, hands and feet, and rotting fruit and flowers—form a funeral march of macabre fragments. Transforming over time, destruction becomes part of their creation.
Fischer invites flux and change into his deliberately unsystematic creative process. Installations are only roughly conceived, absorbing marks and mistakes as they are realised through spontaneous gestures and improvisations.
For Project 15, Fischer created a new installation on Sydney Harbour's storied Cockatoo Island, an eerie, dreamlike collection of sculptures invoking the island's long and tragic past as a prison and shipyard. The prison on the island closed in 1869 after public outrage over conditions, then became a reform school and facility for homeless, orphaned and delinquent children. Today the site is layered with forgotten tragedies.
Visitors to Fischer's installation were greeted in the central courtyard by sinuous, branch-like forms shaped from fragile, ivory-coloured fibreglass and suspended mid-air, casting shadows in motion. Curator Adam Free described the shifting organic appearance as "bleached-bone, tree-root and then alternately intestinal, arterial, extruded from yet other vantages".
Visitors explored the empty rooms of the former prison, searching for each work in an atmosphere of suspense. Beyond one door, casts of two powder-white hands were nailed together and strung from the ceiling; one hand blackened with spray-paint, they seemed aged and decayed. Elsewhere, more dislocated body parts hung mid-air: the textured surface of the skin smooth in parts, as if eroded, like the weathered patina of the surrounding walls. An old dressing table and chair were balanced on the floor, a porcelain washbowl inserted into a drawer; shattered and reconstructed, their forms were marked by fractures, gashes, tears and breaks. As if caught between worlds, a life-sized fibreglass skeleton hung from the ceiling, its head bent and skeletal arms pushing away from the cardboard moving boxes stacked on the floor.
Inside the roofless remains of an old stone military guardhouse sat the cast of a grey cabinet, its heavy form contrasting with the light, fragile sculptures encountered thus far. Atop the cabinet, Fischer added tufts of the island's wild long grass, blending the object with its surroundings. Critic Sebastian Smee said of this work, "It responds sensitively to its location … it has something monumental, something resolute and independent about it that you can't help but admire".
Urs Fischer
born 1973 in Zurich, Switzerland
lives and works in New York, US
Cockatoo Island installation
20 April – 3 June 2007
Cockatoo Island, Sydney
Urs Fischer's Cockatoo Island installation, Cockatoo Island, Sydney, 2007
Through Urs Fischer's ad hoc creative process he configures poetic drawings, sculptures and large-scale installations using cast-off materials or whatever may be at hand. His works are committed more to the creative means than the ends. Beginning with traditional genres—such as still life, portraiture or landscape—Fischer displaces these established classifications by his use of unconventional and unstable materials (from foodstuffs to soft wax), which introduces time as an additional medium. The form's ephemerality becomes the object.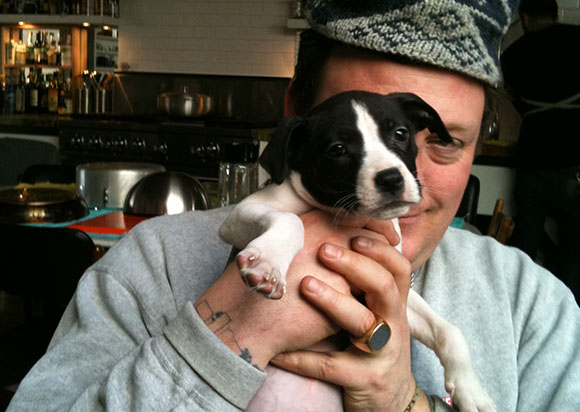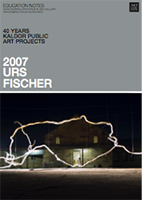 This Education Kit looks at the practice of German artist Urs Fischer, who works across a variety of media, often using unlikely materials that reveal his artistic process.
LEARNING STAGES: Senior secondary (Stages 5-6) | Tertiary
CONTENTS: Introduction | Artist bio | Project outline | World events 2007 | Theme: Installation art | Art Gallery of NSW Collection connections | Selected references | Issues for discussion
ARCHIVE for Project 15 - Urs Fischer
The Kaldor Public Art Projects archive has been collected over more than 50 years, and features rare and original documentation on the process of realising large-scale, temporary art projects. With thousands of items accessible online through the Digital Archive, it serves as a valuable resource for artists, students, teachers and researchers.
The Project 15 archive details the planning and realisation of Urs Fischer's installation on Cockatoo Island, Sydney. From schedules and budgets through to catalogues, press clippings and photographs, the archive covers the logistics of transporting and installing works on the island. Featured items¬ include Fischer's original proposal for the project.
John Kaldor shares his personal recollections of working with artist Urs Fischer to realise the 15th Kaldor Public Art Project at Cockatoo Island, Sydney, in 2007. (6:50, Kaldor Public Art Projects, 2021)