After the resounding success of his 2008 project in Sydney, the American video artist Bill Viola returned to Australia in 2010, in conjunction with the Melbourne International Arts Festival and the Australian Centre for the Moving Image (ACMI), to present his acclaimed installations Fire Woman and Tristan's Ascension (The Sound of a Mountain Under a Waterfall), from his 2005 series The Tristan Project, at St Carthage's Church in the Melbourne suburb of Parkville, as well as The Raft, 2004, at ACMI.
"When I show in a church, that work is automatically set into a context that encourages contemplation, and contemplation is a special human trait", Viola explained. "It's people just quietly absorbing a presence in the space. That's part and parcel of what art has been, whether it's used for religious or secular purposes."
At the age of six, Viola almost drowned in a lake. He remembers the experience as being "probably the most peaceful moment of my life". Such moments of intense personal experience, of life and death, are represented in many of Viola's works through ethereal abstractions, rippling pools of water or burning clouds—expressions of vast, imperceptible forces.
Fire Woman and Tristan's Ascension were created for the Los Angeles Philharmonic production of Wagner's 1865 opera Tristan und Isolde and featured in the opera's final act, in which the two lovers are united in death. Drawing on the elemental transformations described in the Bardo Thodol (Tibetan Book of the Dead), Fire Woman depicts "an image seen in the mind's eye of a dying man". A dark-robed silhouette approaches, raising her arms slowly, as she falls into her reflection and dissolves like a mirage. Tristan's Ascension projects "the ascent of the soul in the space after death". The image of a man's body, white-robed against a grey tomb, lies in cloudy, painterly light. The whisper of falling droplets of water gradually becomes louder, until it forms a streaming torrent, like a waterfall in reverse, crashing upwards as the figure ascends into space, accompanied by a deafening, climactic roar.
The third work of Viola's 2010 Kaldor project, The Raft, shows a group of people of different ethnic and economic backgrounds waiting in line. Suddenly, they are struck by a massive onslaught of water that crushes some, while others brace themselves against the deluge. Then, as suddenly as it arrived, the water stops, leaving a band of bewildered and battered individuals. Described by Viola as "an image of destruction and survival", The Raft unfolds in slow motion to reveal subtle nuances of light and colour, and the individual expressions and gestures of the figures faced with the overwhelming assault.
Bill Viola
born 1951 in New York, US
lives and works in Long Beach, California, US
Fire Woman
Tristan's Ascension (The Sound of a Mountain Under a Waterfall)
8 October – 23 October 2010
St Carthage's Church, Melbourne
The Raft 
8 October – 23 October 2010
Australian Centre for the Moving Image, Melbourne
Bill Viola: ABC Art Nation Interview, 2010
Bill Viola has been experimenting with video art since the early 1970s, and has been instrumental in its development as a major contemporary artform. Viola's unique style and imagery, expressed through his extraordinary range of works, has defined a new language for the moving image, using its fluid, ephemeral nature as a means to explore life and death, the reach and limitations of perception and cognition. In exploring universal elements of spiritual themes, his works often echo medieval and Renaissance paintings, seeming at once contemporary and timeless, meditations on the human experience.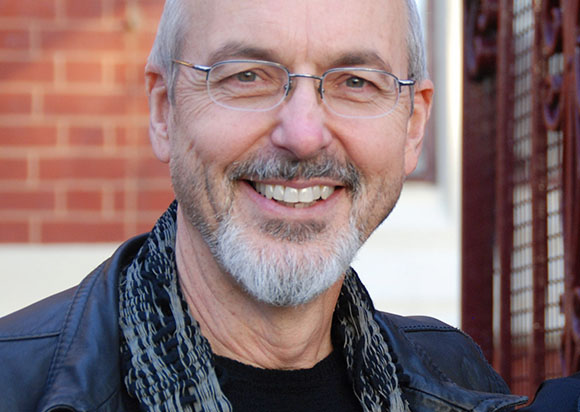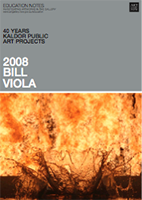 This Education Kit discusses the practice of Bill Viola, renowned as one of the pioneers of video art.
LEARNING STAGES: Senior secondary (Stages 5-6) | Tertiary
CONTENTS: Introduction | Artist bio | Project outline | World events 2008 | Theme: Video art | Art Gallery of NSW Collection connections | Selected references | Issues for discussion
ARCHIVE for Project 21 - Bill Viola
The Kaldor Public Art Projects archive has been collected over more than 50 years, and features rare and original documentation on the process of realising large-scale, temporary art projects. With thousands of items accessible online through the Digital Archive, it serves as a valuable resource for artists, students, teachers and researchers.
The Project 21 archive offers insights into the second of Bill Viola's projects in Australia, and the realisation of his video installations at St Carthage's Church and the Australian Centre for the Moving Image (ACMI), Melbourne, in 2010. Through emails, documents, diagrams, brochures and photographs, the archive details the process of installing the Project inside the heritage building, with the support of the church, and in collaboration with ACMI. Featured items include a special edition print of a drawing by Viola.
John Kaldor shares his personal recollections of working with artist Bill Viola to realise the 17th and 21st Kaldor Public Art Projects in Sydney and Melbourne, in 2008 and 2010. (4:48, Kaldor Public Art Projects, 2021)