The pop artist Andy Warhol famously predicted, "In the future, everyone will be world-famous for fifteen minutes".
"Warhol is so yesterday", declared lauded American conceptual artist John Baldessari, when announcing his major new work, Your Name in Lights. "Be a celebrity for fifteen seconds! Experience the thrill of seeing your name in lights!"
Presented in conjunction with the 2011 Sydney Festival and displayed on the William Street façade of the Australian Museum, Your Name in Lights recalled the garish neon of Broadway hoardings and Hollywood cinema marquees to comment on contemporary society's cult of celebrities and the conflation of the artist and celebrity. To those who registered their names, Your Name in Lights offered a glittering and fleeting moment of fame.
Baldessari was born and grew up in southern California. His Danish mother and Italian father came from very different backgrounds, and neither spoke the other's language. This context echoes through the artist's fascination with language and the power of semiotics. He started as a painter before destroying all the works he had created between 1953 and 1966 for Cremation Project with Corpus Wafers (Version 2), 1970, and baking the ashes into cookies. Baldessari became a central figure in the conceptual art movement and is widely regarded as one of the most influential artists of the last fifty years. Winner of the 53rd Venice Biennale's Golden Lion for Lifetime Achievement in 2009, he developed a practice extending across a range of media, from paintings, photographs and videos, to books, prints, sculptures and installations, exploring the relationship between image and text and challenging the conventions and codes of mass-media culture.
In the sixties and seventies, Baldessari experimented with games and actions, text paintings and photographs, assembling images using storyboard formats and sequential frames. He drew from Hollywood archives of film stills, becoming instrumental in the development of appropriation art in the process. He often staged interventions in other artists' work, such as his 1972 film Baldessari Sings LeWitt, in which the artist sings from Sol LeWitt's seminal 1967 manifesto "Paragraphs on Conceptual Art".
Your Name in Lights became one of Sydney Festival's most popular events, attracting around 100,000 participants and countless spectators, gathering at all hours opposite the Australian Museum to photograph and witness their fifteen seconds of fame. Each registered name was displayed for fifteen seconds on a 30-metre-long LED marquee, twenty-four hours a day for three weeks. The work was later presented to great acclaim in Amsterdam and Paris.
John Baldessari
born 1931 in National City, California, US
died 2020 in Venice, California, US
Your Name in Lights
8 – 30 January 2011
Australian Museum façade, Sydney
John Baldessari in conversation with Caroline Baum at the Sydney Opera House, 2011
"One of the most important artists of our time", John Baldessari was awarded the Golden Lion for lifetime achievement at the Venice Biennale in 2009. His defiance of traditional classification and use of mixed-media imagery have had a profound impact on the way art is being created. Over the course of five decades Baldessari has used a variety of mediums from phototext to collage and installation.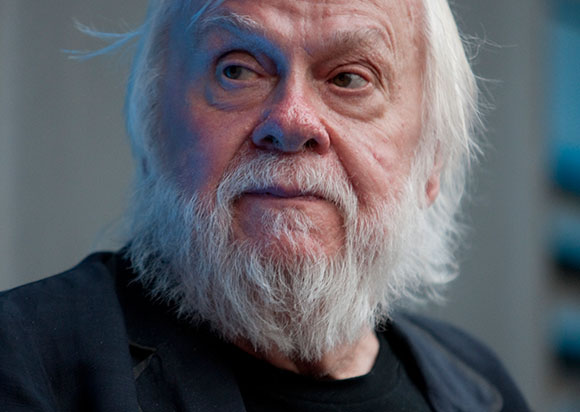 ARCHIVE for Project 23 - John Baldessari
The Kaldor Public Art Projects archive has been collected over more than 50 years, and features rare and original documentation on the process of realising large-scale, temporary art projects. With thousands of items accessible online through the Digital Archive, it serves as a valuable resource for artists, students, teachers and researchers.
The archive for John Baldessari's Your Name in Lights traces the development of one of Australia's most popular public artworks. Through emails, schedules, architectural drawings, design concepts, press clippings and photographs, it covers Baldessari's past works and the logistics of producing the Project, as part of the Sydney Festival in 2011. The archive details the process of collecting participant names, and the design and installation of Your Name in Lights on the rooftop of the Australian Museum façade, along with the re-presentation of the work in Amsterdam and Paris. Original archival material includes a signed copy of the artist's book Baldessari Sings LeWitt.
John Kaldor shares his personal recollections of working with artist John Baldessari to realise the 23rd Kaldor Public Art Project at the Australian Museum, Sydney, in 2011. (6:39, Kaldor Public Art Projects, 2021)