Harald Szeemann was the late twentieth century's most celebrated and influential curator. He pioneered the display of conceptual art and performance, created some of the first cross-disciplinary, non-chronological exhibitions, and experimented with non-museum spaces. Blurring the boundary between artist and curator, Szeemann forged many of the basic premises of contemporary art exhibition today.
As director of the Kunsthalle Bern in Switzerland over 1961–69, curator of the groundbreaking documenta 5 in Kassel in 1972, and curator of the Venice Biennale in 1999 and 2001, Szeemann presented innovative shows throughout his career. His 1969 exhibition When Attitudes Become Form: Live in Your Head is known for pioneering conceptual art.
In 1971, John Kaldor invited Szeemann to curate an exhibition in Sydney and Melbourne promoting cultural exchange and engaging with "dominant international trends". Over two weeks, Szeemann visited studios, galleries, museums and private collections in Sydney, Adelaide and Melbourne to view the work of seventy artists.
The result of Szeemann's visit was I want to leave a nice well-done child here, a dynamic exhibition of works by twenty-two young artists at Sydney's Bonython Gallery and, later, with additional work by Mike Brown, at the National Gallery of Victoria in Melbourne. It was the largest exhibition of conceptual art ever staged in an Australian museum.
Ti Parks, John Armstrong, Tony Coleing, Tony Bishop, Margaret Dodd, Ross Grounds and Nigel Lendon exhibited a range of large-scale works and small, detailed objects. Gunter Christmann and Dale Hickey were represented by abstract paintings, Guy Stuart by mixed-media constructions and Robert Boyne by figurative fragments in acrylic. William Pidgeon, Brett Whiteley and Tony Woods collaborated on a linked portrait on a 4-metre canvas.
Photographic works included Aleks Danko's slide project and Warren Knight's prints covered in hand-drawn patterns. Interactive works, such as Ian Milliss' Circle game, in which a ring of cloth becomes a circular tug of war, Alec Tzannes' Contact, with 221 perspex discs that are moved across the floor, and Peter Kennedy's sound recordings, also featured.
Mike Parr created the exhibition invitation and presented Shadow piece. Tim Johnson's Light (event) installation saw the artist systematically smash six fluorescent lights. Neil Evans performed Wait for two hours with a catalogue number around his neck.
The Sun's James Gleeson asserted, "The Szeemann selection isn't the exhibition for the eye – it is intended for the mind. One must approach it without prejudices and with one's sensory equipment stretched to the utmost in an effort to reach the purpose deep within the unfamiliar forms".
HARALD SZEEMANN
born 1933 in Bern, Switzerland
died 2005 in Tegna, Ticino, Switzerland
I want to leave a nice well-done child here
29 April – 13 May 1971
Bonython Gallery, Sydney
4 June – 4 July 1971
National Gallery of Victoria, Melbourne
JOHN ARMSTRONG
born 1948 in Sydney, Australia
lives and works in Brisbane and Mornington Is., Australia
TONY BISHOP
born 1940 in Sydney, Australia
lives and works in Adelaide, Australia
ROBERT BOYNES
born 1942 in Adelaide, Australia
lives and works in Canberra, Australia
MIKE BROWN
born 1938 in Sydney, Australia
died 1997 in Melbourne, Australia
GUNTER CHRISTMANN
born 1936 in Berlin, Germany
died 2013 in Sydney, Australia
TONY COLEING
born 1942 in Warnambool, Australia
lives and works on North Coast NSW, Australia
ALEKS DANKO
born 1950 in Adelaide, Australia
lives and works in Daylesford, Australia
MARGARET DODD
born 1941 in Berri, Australia
lives and works in Adelaide, Australia
NEIL EVANS
born 1951 in Sydney, Australia
lives and works in Sydney, Australia
ROSS GROUNDS
born 1949 in Montmorency, Australia
died 1998 in Wangaratta, Australia
DALE HICKEY
born 1937 in Melbourne, Australia
lives and works in Melbourne, Australia
TIM JOHNSON
born 1947 in Sydney, Australia
lives and works in Sydney, Australia
PETER KENNEDY
born 1945 in Brisbane, Australia
lives and works in Melbourne, Australia
WARREN KNIGHT
born 1941 in Minneapolis, US
NIGEL LENDON
born 1944 in Adelaide, Australia
died 2021 in Wamboin, Australia
IAN MILLISS
born 1950 in Sydney, Australia
lives and works in Blue Mountains, Australia
TI PARKS
born 1939 in Sevenoaks, England
died 2017 in London, England
MIKE PARR
born 1945 in Sydney, Australia
lives and works in Sydney, Australia
WILLIAM PIDGEON
born 1909 in Sydney, Australia
died 1981 in Sydney, Australia
GUY STUART
born 1942 in Canberra, Australia
lives and works in Geelong, Australia
ALEC TZANNES
born 1950 in Sydney, Australia
lives and works in Sydney, Australia
BRETT WHITELEY
born 1939 in Sydney, Australia
died 1992 in Thirroul, Australia
TONY WOODS
born 1940 in Hobart, Australia
died 2017 in Melbourne, Australia
Harald Szeemann proposed the notion of the independent curator, radically altering the future of curatorial practice. Szeemann developed the idea of the "great exhibition" in which works were brought together by a central cross-disciplinary theme. This is perhaps best exemplified by his work as the curator of documenta 5, 1972, where he established the current notion of the international biennale. Szeemann saw his ground-breaking new style of curating as creating "poems in space".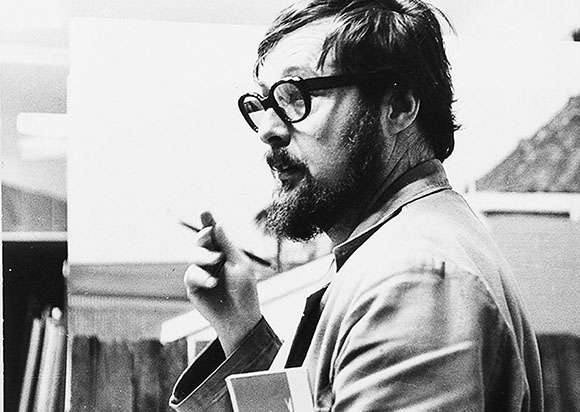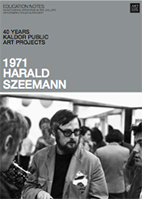 This Education Kit explores the groundbreaking curatorial practice of Harald Szeemann, known for pioneering the role of the "independent curator", and his time spent in Australia in 1971.
LEARNING STAGES: Senior secondary (Stages 5-6) | Tertiary
CONTENTS: Introduction | Artist bio | Project | World events 1971 | Theme: The role of the curator | Art Gallery of NSW Collection connections | Selected references | Issues for discussion
ARCHIVE for Project 02 - Harald Szeemann
The Kaldor Public Art Projects archive has been collected over more than 50 years, and features rare and original documentation on the process of realising large-scale, temporary art projects. With thousands of items accessible through the Digital Archive, it serves as a valuable online resource for artists, students, teachers and researchers.
The Project 2 archive offers insights into Harald Szeemann's 1971 visit to Australia, and the realisation of the exhibition I want to leave a nice well-done child here, through letters, invitations, schedules and press releases. Highlights include a series of photographic prints by ABC TV producer Brian Adams, documenting the visit and Szeemann's meetings with Australian artists.
John Kaldor shares his personal recollections of working with Harald Szeemann to realise the 2nd Kaldor Public Art Project in 1971. (4:38, Kaldor Public Art Projects, 2021)