Jeff Koons' work fuses pop and surrealist traditions with baroque and rococo excess. Working with a studio of assistants and team of master artisans, the iconic American artist assumes the role of composer or director, creating mythical new amalgams from popular consumer forms. Novelties, souvenirs, toys, erotica and advertising imagery are recodified as contemporary icons.
Animals and flowers form an important aspect of Koons's vocabulary, and come together in Puppy, a giant West Highland white terrier sculpted in live flowering plants. Puppy is based on Koons's small wooden sculpture White Terrier, 1991, and was chosen for its endearing appearance, unthreatening at any scale. It formed a new archetype for the modern world, according to Koons: "Puppy communicates love, warmth and happiness to everyone. I created a contemporary Sacred Heart of Jesus".
The first Puppy was created outside a baroque castle in Arolsen, Germany, in 1992. The wood and steel structure was destroyed after being exhibited. Sydney's Puppy, outside the Museum of Contemporary Art (MCA), engineered and constructed by D.W. Knox & Partners, stood 12.4 metres high and supported 55 tonnes of soil and 60,000 cascading plants. Three-dimensional modelling and the latest computer technologies were used to build the enormous structure in thirteen levels, before the form was overlaid with moulded mesh to make the folds of Puppy's fur.
After nearly a year of planning and fabricating, installation took more than a month. Concrete foundations were poured, with segments positioned and hydraulics installed before soil and plants were inserted.
The plants, chosen by Koons, were impatiens, begonias, marigolds and petunias in several colours, along with chrysanthemums, brachyscome and erigeron. Darker flowers were used for the shadows, lighter blooms the highlights. The finished effect was painterly, but would change over time. "What it's going to look like is really out of my hands and in the hands of nature", said Koons.
Celebrating twenty-five years of Kaldor projects, Puppy was presented as part of the 1995 Sydney Festival, while the MCA staged an exhibition of John Kaldor's collection and projects, Koons' past works, and the making of Puppy. More than 1.8 million people saw Puppy and it remains Australia's most popular contemporary art project. Millions more have since enjoyed the work at its permanent home outside the Guggenheim Museum Bilbao.
Jeff Koons
born 1955 in York, Pennsylvania, US
lives and works in New York, US
Puppy
12 December 1995 – 17 March 1996
Museum of Contemporary Art, Sydney
Jeff Koons confuses traditional understandings of art with his particular fusion of fine art and mass produced objects. By elevating unapologetically kitsch objects to the status of fine art, Koons explores contemporary obsessions with sexuality and desire, celebrity, advertising and the media. His incomparably nuanced take on contemporary cultural marketing and consumption serves to disconcert and revitalise viewers' thinking about art.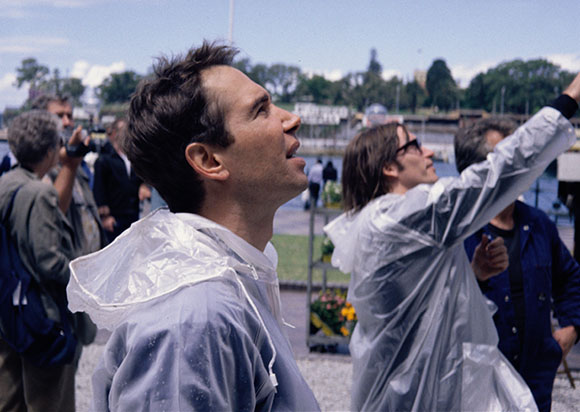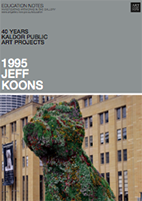 This Education Kit discusses the controversial practice of Jeff Koons and his exploration of contemporary obsessions with sexuality, desire, advertising, media and pop culture.
LEARNING STAGES: Senior secondary (Stages 5-6) | Tertiary
CONTENTS: Introduction | Artist bio | Project outline | World events 1995 | Theme: Pop and neo-pop/post-pop art | Art Gallery of NSW Collection connections | Selected references | Issues for discussion
ARCHIVE for Project 10 - Jeff Koons
The Kaldor Public Art Projects archive has been collected over more than 50 years, and features rare and original documentation on the process of realising large-scale, temporary art projects. With thousands of items accessible online through the Digital Archive, it serves as a valuable resource for artists, students, teachers and researchers.
The archive for Jeff Koons' Puppy traces the development of Australia's most-loved public artwork. Through over 209 documents, press clippings and photographs, it covers Koons' past works, the complex logistics of production, irrigation and labour, and the process of relocating the work to the Guggenheim Museum Bilbao. The archive details the advanced engineering that went into Puppy, including technical drawings of the 12.4metre steel armature.
John Kaldor shares his personal recollections of working with artist Jeff Koons to realise the 10th Kaldor Public Art Project at the Museum of Contemporary Art, Sydney, in 1995. (7:55, Kaldor Public Art Projects, 2021)