5 Questions with Asad Raza
26 March 2019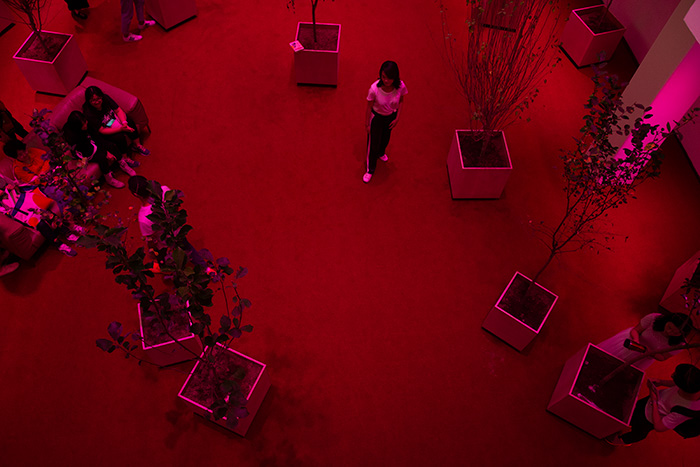 Last month we announced our next major project would be created by artist Asad Raza. Hailing from Buffalo, New York, Raza divides his time between New York City and Germany, creating artworks that move between disciplines and draw upon collaborations with artist-friends and family members. We sat down with Raza to find out more about his art practice, past works, and what he has planned for Project 34.
Your artworks often exist between the categories of performance, situation and installation. How would you describe your art practice?
I think of them as metabolisms—sets of processes that connect subjects, objects and experiences. Like a fire burning, or the Krebs cycle in chemistry: they're a set of materials but also an active transformation or exchange that's underway. For that reason, they include the site where a work happens, that always contributes meaning to the situation, and can't be excluded. I use groups of people as a force of connection between the various elements, a mechanism of exchange. Another word I like is holobiont—that's a term from Lynn Margulis that she invented to describe a set of relationships between agents in an environment.
The image we've been using to promote your project so far is from a work you made inside a deconsecrated church in Milan titled untitled (plot for dialogue), 2017. You installed a large orange tennis court within the 16th–century church, and primed the space with tennis players, an urn of iced tea, racquets, balls and a custom scent. What happened once visitors stepped inside?
A young tennis player would approach them and say, "Hi, the object of this piece is to meditate by hitting the ball back and forth. Would you like to try?" The visitor would almost always say, "No, I'm just here to look." Then the player would say, "Well, the only way to experience this piece is to hit the ball at least one or two times." We would coax them. Once they started, the visitor would usually keep hitting and not want to stop.
The tennis players' job was to adjust to the level of the visitor, never higher, to keep the ball going back and forth without a feeling of anxiety or competition. I had noticed that during the warm-up to a tennis match, before you start competing, before you start the actual competition part, there's a meditation that happens between the two about-to-be opponents, when they have to hit with each other so that they get warmed up. And I thought that was a beautiful moment. Because the very first time I attended a pro tennis match, and I saw them doing that, I was like, "Oh, my God. You never see this on TV!" You just see when they're trying to win. And actually, these two people had to help each other get a little bit better. That belongs in a church, to me.
Anyway, after they would hit for a while they could go to the altar, where I had placed a large samovar or vessel with an iced jasmine tea, and a scent, and a blank book. They could drink the tea and watch other visitors play, and write in the book. It was kind of a cycle.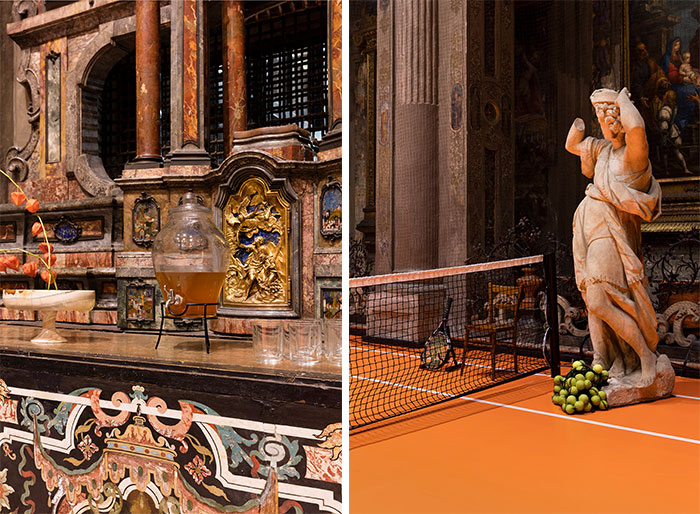 A number of your artworks make use of scent as a component of their installation. What interests you about incorporating scent into your work?
I've been trying to make holistic experiences that go beyond the purely visual sense, and beyond perception, into proprioception, the feeling of your body as you move in the world. Five or six years ago, Dorothea von Hantelmann and Tino Sehgal showed me a text by Margaret Mead where she writes that in the 20th century, the arts have been fragmented into different disciplines for the five senses, where in the past, for instance in a medieval cathedral mass, all five senses were stimulated: architecture, visual art, the organ and singing, incense, communion, etc. That made an impact on me. I like to use scent in particular and usually work on scents with my sister Alia—she's a perfumer.
Another common feature of your works is collaboration. Who do you usually work with as collaborators, and why?
I work with whoever seems appropriate to the project at hand. Young tennis players in Milan, for example.
When I did a show in my apartment, it was about my own life, not just my place as an abstract space, so I asked artists who were friends to contribute works, instructions, rituals. Rachel Rose edited and rearranged all of my possessions as a work, and Sophia Al-Maria prescribed a morning witchcraft practice that started with writing a sigil and ended with me clogging my shower drain with her hair. I often include my family members in shows, too.
I co-curate a series of shows about Edouard Glissant, with Hans Ulrich Obrist. I think of curating as another not completely dissimilar form of exhibition-making, another way to cook experiences. I'm trying to get away from operating as a supposedly autonomous individual—maybe that construct doesn't seem as in tune as it used to. This is relevant to something the sociologist David Riesman wrote about. In 1960, he predicted a change in orientation from tradition-directed (pre-20th century) to inner-directed (20th century) to outer-directed as we get used to a world that reaches its limits of resources and material to exploit. But also, it's more psychologically motivating to be part of a team, and more fun not to able to fully control what's happening. So when I initiate a project I look for ways to do that. And I still do projects initiated by others—for instance, I'm the dramaturge of some exhibitions by Philippe Parreno.
What can audiences expect of your work for Project 34, Absorption?
It's a collaboration with scientists, gardeners, architects, and other artists in Sydney, mixing organic and inorganic materials. We are taking various materials from this area that aren't needed and using them to create a medium, a landscape, which the visitor can engage with very directly. Ian Cheng talks about making worlds in which other characters can engage and create drama. In some of his senses, the project builds a world that can allow for other protagonists to act. At the end, everything will be given away.
Interview by Monique Leslie Watkins
---
Image 1: Asad Raza, Root sequence. Mother tongue, 2017, The Rockbund Art Museum, Shanghai, 2017, Courtesy: The Rockbund Art Museum, Photo: Ray Stonada
Images 2 & 3: Asad Raza, Untitled (plot for dialogue), 2017, CONVERSO, Milan, 2017, © Asad Raza, Photo Credit: Andrea Rossetti