All Schools Should be Art Schools: Reflections from our Symposium
23 November 2018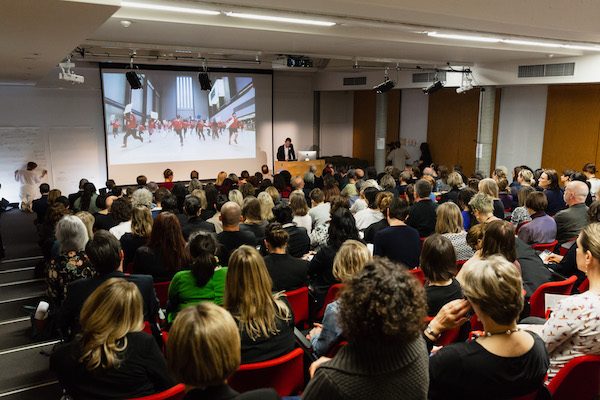 On 24 October 2018, Kaldor Public Art Projects presented All Schools Should be Art Schools, a one-day symposium for art education professionals in partnership with UNSW Art & Design. Representatives from the NSW government sector, schools, nation-wide universities and major regional and metropolitan institutions in NSW, ACT and VIC attended the event. Speakers and attendees engaged in critical discussion on the importance of creative learning, with a focus on primary and secondary schools, and institutions for arts and culture.
Sir Nicholas Serota CH, Chair of Arts Council England and former Director of Tate, opened the symposium with an inspiring keynote address advocating for school curricula and education policies that recognise the importance of creative learning in schools, as outlined in reports such as Tate's Tracking Arts Learning and Engagement, and the Durham Commission on Creativity and Education.
Sir Nicholas noted that while STEM subjects are often prioritised by teachers: "the skills associated with the arts are equally vital, as we move beyond an age of information to one in which invention is critical." Sir Nicholas also discussed his views on the future of museum engagement in a brilliant interview with the Australian Financial Review.
The first session of the day included Mark Scott AO (NSW Department of Education), Dr Christine Evans (NESA), Dr Karen Maras (UNSW), Meredith Melville-Jones (Bradfield Senior College) and artist/educator Howard Matthew. The speakers unpacked the creative changes that need to be made within the classroom and in school curricula. Dr Karen Maras, Deputy Head of School and Convenor of Visual Arts & Design Education at UNSW's School of Education made a strong case for rigorous professional training: "We need to overcome this idea of 'the arts' as some kind of generic blancmange. Art is complex. We need discipline-specific professional learning. And we need to devote good time to teachers to learn how to teach art—time to develop courageous perspectives."
The second panel looked beyond the classroom and included valuable presentations by Nick Mitzevich (NGA), Deborah Ely (Bundanon Trust), artist Tony Albert and Frank Newman (Sydney Opera House). Panellists offered insights into how schools can sustain meaningful, collaborative partnerships with cultural institutions on a local and national level.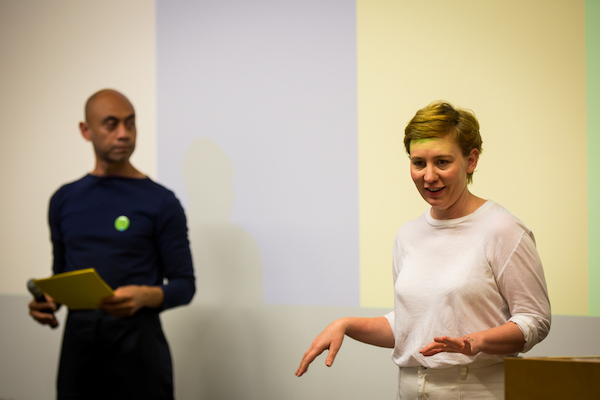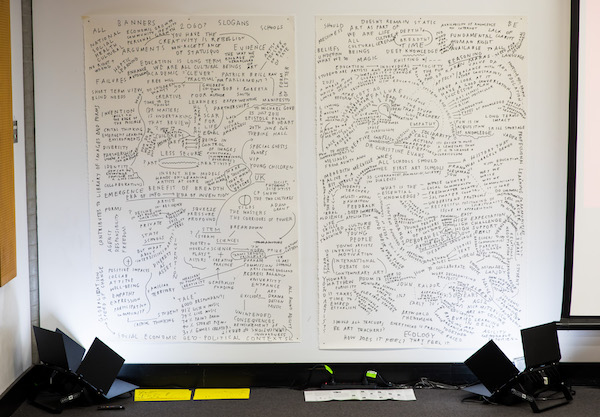 Artist Agatha Gothe-Snape documented the energy and activity of the keynote address and each speaker's presentation through a live text-based drawing. In the afternoon, Gothe-Snape presented a compelling PowerPoint presentation performance and facilitated a dynamic workshop. Participants were asked to reflect upon a transformative encounter with creativity in their lives, which was then discussed within the group and documented through text and drawing on a set of limited-edition posters. We were thrilled to see all participants deeply engaged in the process and sharing life experiences with their peers.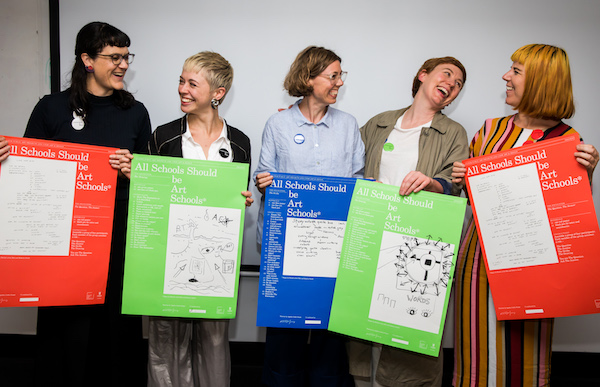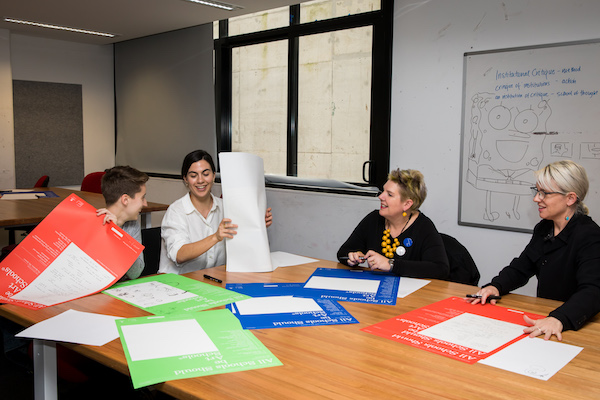 In 2019 Kaldor Public Art Projects will showcase 50 years of projects at the Art Gallery of New South Wales, with the aim of developing new models of creative learning and teaching, collaboration and community engagement. All Schools Should be Art Schools provided a unique opportunity for Kaldor Public Art Projects to showcase the latest developments in art education and artist-led pedagogy, informed by extensive research into best-practice learning and engagement programs. It also enabled our education team to connect with pioneering creative learning specialists and build new knowledge to feed into future programming within the anniversary exhibition.
For those who couldn't be there on the day, video recordings of Nicholas Serota's keynote address, along with the full range of presentations and panel discussions, are now available to watch on the Kaldor Public Art Projects Vimeo channel.
Words by Lleah Smith, Education and Public Programs Coordinator
---
Photo 1: Jacquie Manning
Photos 2-5: Anna Kucera