Making Art Public with Michael Landy
8 July 2019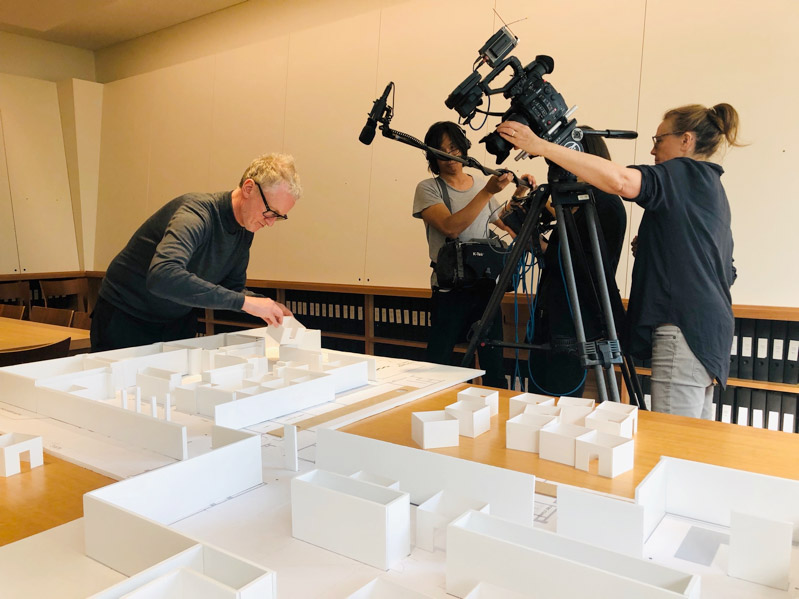 Over the past year acclaimed British artist Michael Landy has been visiting the Kaldor Public Art Projects archive to delve deep into our 50-year history.
Landy has drawn upon our rich collection of letters, artist sketches, photography, personal notes, press clippings and mementos to create Making Art Public: 50 Years of Kaldor Public Art Projects, which reimagines our archive in a surprising new exhibition at the Art Gallery of NSW.
How did you first come to work with the Kaldor Public Art Projects archive?
John came to me first of all a couple of years ago, maybe 2017, and he talked about his idea, about how to celebrate the 50th anniversary that was going to be on at the New South Wales Art Gallery.
At that juncture John was thinking about showing the [John Kaldor Family Collection] and the archives together. I persuaded John just to concentrate on the archives. How does one make that into an exhibition, a physical exhibition? I think that was the first issue. I came up with the idea of showing each and every one of the archives. How do you turn that into something that's not the project, but at the same time you want it to be interesting.
I came up with the idea of creating boxes to take on the actual space in the New South Wales Art Gallery, which I found is a bit sprawling. I thought, if we actually create physical things, then we've got something to put the information into. The idea was to create 34 archive boxes, 4 x 4 metres, 3 metres high. A box is something you open up and you find out what's inside.
We're not trying to replicate the projects because we can't do that, you can't recreate Little Bay or Gilbert & George's Singing Sculpture. We're trying to do it in a different way. Not all the information we're trying to do it [with] is immersive, so sometimes it's a bit more playful. I came here—twice, I think I've been here—and I looked at all the archives and I tried to find what essence is the most interesting.
Most people think of archives as a set of precious documents stored somewhere within the annals of a library or museum. Was this your experience of the Kaldor Public Art Projects archive? What form does it take?
I've been to other archives in Switzerland and in New York, and you have to wear white gloves and there's normally an archivist looking at you the whole time. Everything's normally laid out for you, you have to ask them beforehand, so you have to know what you're looking for. Well, can't I just go over there and have a poke through your archives, please? It's more informal here. It becomes more like a material then in a way, and that's what I liked about it.
Part of the archive is dedicated to your own project from 2011, Project 24: Michael Landy, Acts of Kindness. What's in your own archive and how will you go about re-working it for the exhibition?
We collected 200 stories to make the work, so there's stories in there. We got the brochure where people could read about the project and they could tear off the perforated part and fill in the story if they'd witnessed or taken part in an act of kindness. And then there's lots of images of innocuous parts of the CBD, which we had to get permission to use, like a lamp post or a side of a building. We had to find out who owned that lamp post or side of the building, and then get their permission to put one of the jigsaw puzzle pieces onto it.
With all the other 33 archives, I'm trying to create some kind of artwork in each box. Coming to my own, suddenly I felt it would be quite nice for another artist to deal with that information. Like a swap.
But it's not a definite. If we're not going to have another artist deal with it, then the box is going to be like a space where people can actually bring Acts of Kindness stories and pin them on the wall. So it's kind of like an updated version. That's what we're trying to do in all the boxes, trying to somehow add, if not literal participation, then some way for people to take part.
What is the biggest challenge when thinking about how to translate 50 years worth of archival material into an exhibition?
I guess it's trying not to replicate the same experience for the spectator each and every time. I've read about Jeff Koons' Puppy and how it's the most popular artwork Kaldor Public Art Projects have ever done as far as numbers are concerned. I also remember the idea that when people saw it they smiled. And that really stuck with me. Somehow I'd like to try and replicate that. Like I said earlier on, we're not going to remake Puppy. We're not going to revamp Little Bay. We're not going to perform Underneath the Arches. It's trying to convey that information in a different way, but an interesting way.
Which object stood out to you the most?
The initial correspondence between John and Christo. John says, oh, I'd love you to come over to Australia and give some talks. Then Christo says, my English is not so great, but what I'd really like you to do is find a piece of shoreline to wrap. I think that kind of sums it all up in a sense. That very direct conversation that John has with Christo. That's basically what starts the whole thing off, John's interest in doing public art projects.
Making Art Public: 50 Years of Kaldor Public Art Projects opens at the Art Gallery of NSW on 7 September 2019 and runs until 16 February 2020.
Interview by Monique Leslie Watkins