10 QUESTIONS with Jonathan Jones
17 April 2016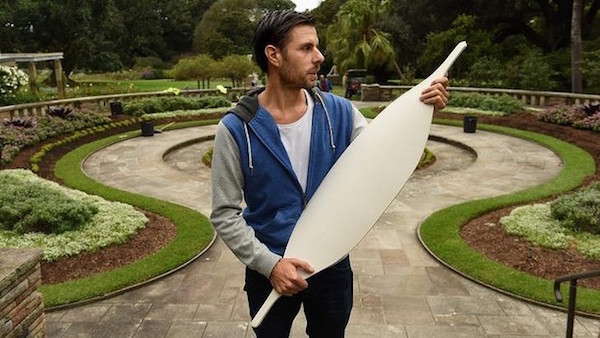 In 2014, Jonathan Jones was chosen as the winner of Kaldor Public Art Projects' competition Your Very Good Idea. Nearly two years on, Jonathan's project is nearing its realisation as one of our most ambitious projects to date, and will soon be open to the public as a vast installation and program of events transforming Sydney's historic Royal Botanic Garden.
We spoke to Jonathan Jones about his art practice, research, and his project barrangal dyara (skin and bones). 
What made you start researching the Garden Palace?
I first went looking for cultural material from where my family is from, so Wiradjuri and Kamilaroi in central New South Wales. I went to Phil Gordon at the Australian Museum, I think while I was at school, only to find that much of this material was lost in the Garden Palace fire. Ever since, I've been struck with the loss of our cultural material, and what that loss means for our communities, and how you can move forward as a culture when you can't point to your cultural heritage in museums. These issues are sadly becoming the status quo in a time when refugee experiences dominate our globe. 
Phil Gordon, the senior Aboriginal officer at the Australian Museum, has provided an enormous amount of leadership within the industry, played an influential role in the way Aboriginal people can work in museums, and has been enormously supportive of this project. I also started working with my then-lecturer and current supervisor Dr Ilaria Vanni, who did her PhD on the display of Aboriginal material in world's fairs, including at the Garden Palace. Ilaria's research is also pivotal to this project and essential to understanding the historical politicisation of Aboriginal cultural material.

What aspect of the building or exhibition would you have most liked to see in person?

The 'ethnological court', as it was then known, was displayed in the upper level of the eastern transept. It contained countless cultural objects—objects that will never be seen again, objects our ancestors made and used, objects that our communities could have built upon. It's the material from Wiradjuri and Kamilaroi artists that I would have liked to connect to.  
What is the most bizarre display you've come across in your research on Sydney's International Exhibition of 1879?
Within the cultural material in the 'ethnographic court' were many ancestral remains—bones and body parts that had been grave-robbed. The concepts of the day framed Aboriginals as sub-human, the lowest rung of Darwin's social theory, in order to support the fabrication of terra nullius. I can't imagine what it would have been like to have seen your ancestors' remains on display while the rest of Australia celebrated their prosperity. 
What did it mean for a building like this to burn down?
The loss of this building is enormous. After the world's fair it became Sydney's cultural centre and housed many collections. Not only did it hold early Aboriginal collections, but it was the foundation for all the cultural institutions in Sydney—collections including the NSW Arts Society, the Technological and Mining Museum, the NSW branch of the Linnean Society, the Colonial Archives etc., and it's these histories that have also been lost. 
What is the significance of the project title, barrangal dyara (skin and bones)?
'barrangal dyara' in the local Sydney Gadigal language means 'skin and bones', which refers to the corporeal nature of country. Embedded within the landscape are our ancestors, our past, and, like the Garden Palace, their skin and bones make up our environment. If we see our landscape as our past then it really is skin and bones, as we have such limited understanding and appreciation of our history. The title also connects to the work of Judy Watson, whose critique of museums led to the 1997 print series our bones in your collections, our hair in your collections and our skin in your collections. 
What will visitors see or experience when they visit the site?
The project will physically be made up of three components: a native meadow of kangaroo grass (Themeda australis) at the heart of the building, thousands of ceramic shields marking the original building's perimeter, and a soundscape in language made in collaboration with south-eastern communities. In addition to the physical artwork, we will have a number of invigilators who will engage the audience in the lost history of the Garden Palace through oral history. We'll also have an array of programs and events from music to bread-making that will activate the site and the story. 
Where does the project fit into your practice? 
barrangal dyara follows a number of projects and concepts that I've been working on. Highlighting the ongoing Aboriginal knowledge in country, working with local histories, working on multiples and developing language are all key ideas that I've worked with before. However this is the most extensive example of all these concepts, and more, coming together.  
barrangal dyara (skin and bones) is a large-scale installation, with elements of sculpture and sound, as well as public programs and performances. Did you always envision the project as a multidisciplinary work?
My initial concept was to re-vision the Garden Palace and understand the loss, which is what we are doing. I also wanted to have interpretive guiding, which I had yet to determine, and I think the combination of engaging local community to work with their language on site and engaging the invigilators has also captured that concept. However I didn't anticipate that John and the Kaldor team would embrace the story as deeply as they have. 
You recently curated the exhibition Murruwaygu: following in the footsteps of our ancestors at the Art Gallery of New South Wales. Is there a connection between between Murruwaygu and barrangal dyara (skin and bones)?  
Murruwaygu: following in the footsteps of our ancestors was a project that was also a long time in development—over ten years of research went into highlighting the enduring cultural traditions of the south-east. Both projects take their names from language and use language as a way of understanding cultural survival. Both projects work with south-eastern shields—they are one of the most significant cultural objects made in this region, and they help identify us as a people and tell our stories. In Murruwaygu, the shields were borrowed from historical public collections across the south-east, including the Australian Museum, which collected a handful of shields after the Garden Palace Fire; in barrangal dyara the shields will tell the story of loss and resilience. 
What do you hope will be the outcome of the project?
Something beautiful.