< Living Archives
SWAPPING FOR A SILVER ANKLET
"Being part of Swap was nice in that I was included in this world that isn't traditionally for children. I got an experience there that not many people had given me."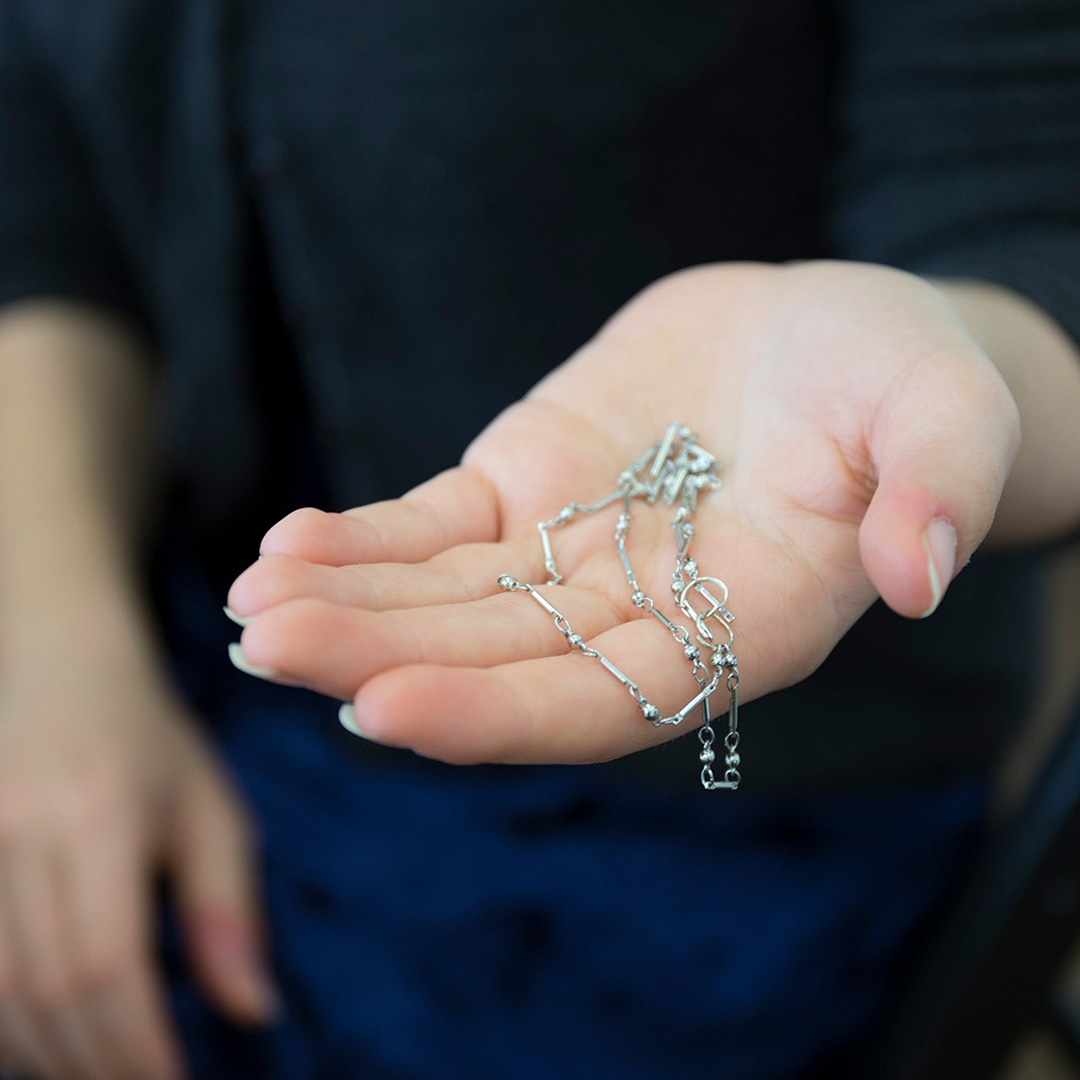 Zoe Gross was 12 years old when her grandmother Robin Stern took her to Project 27: 13 Rooms in 2013. She recalls many of the performances she saw that day—a war veteran facing a wall, twins on chairs, a woman lying back suspended, a tanning bed—but her most vivid memory is of Roman Ondak's Swap.
Zoe remembers watching the performer at the table for at least half an hour. Too shy to take part, her grandmother gave her something to swap just in case. It was a Baker's Delight card, crumpled with two stamps.
Everything changed when she saw a woman swap a pretty silver anklet.
"I just stepped forward. I think [the performer] probably would have refused my Baker's Delight card if it wasn't from a 12-year-old."
"So I stood there, and he made me work for it I guess, because he asked me why it was valuable and why he should swap for it. And I was so shy, I didn't want to have to say anything. But also I liked drama, so I started inventing a story. I said, 'Well, my grandmother, she's a princess'. And then I might have said something else, but I just stopped!"
Zoe was given the given the anklet, despite her shyness.
"Seeing it as a kid, I had none of the knowledge of art that I have now, so everything I saw was something new, and something that didn't compute with my idea of art."
"Being part of Swap was nice in that I was included in this world that isn't traditionally for children. I got an experience there that not many people had given me."
"I love art now, it's my favourite subject.
Photo Carousel - click on image to view full frame
1. Zoe Gross participating in Swap at 13 Rooms. Photo: Robin Stern
2. Zoe Gross holding the silver anklet she received as part of Roman Ondak's Swap. Photo: Michael Waite
3. Project 27: 13 Rooms, Roman Ondak, Swap, 2011, Pier 2/3, Walsh Bay, 2013. Photo: Jamie North
4. Project 27: 13 Rooms, Roman Ondak, Swap, 2011, Pier 2/3, Walsh Bay, 2013. Photo: Jamie North

5. Zoe Gross at 13 Rooms, Xu Zhen, In Just a Blink of an Eye, 2005. Photo: Robin Stern
View Other Living Archive Stories