< Living Archives
The Engineer Who Made Puppy
I'd never designed a dog before, so you just get a fresh sheet of paper, and that's how it started.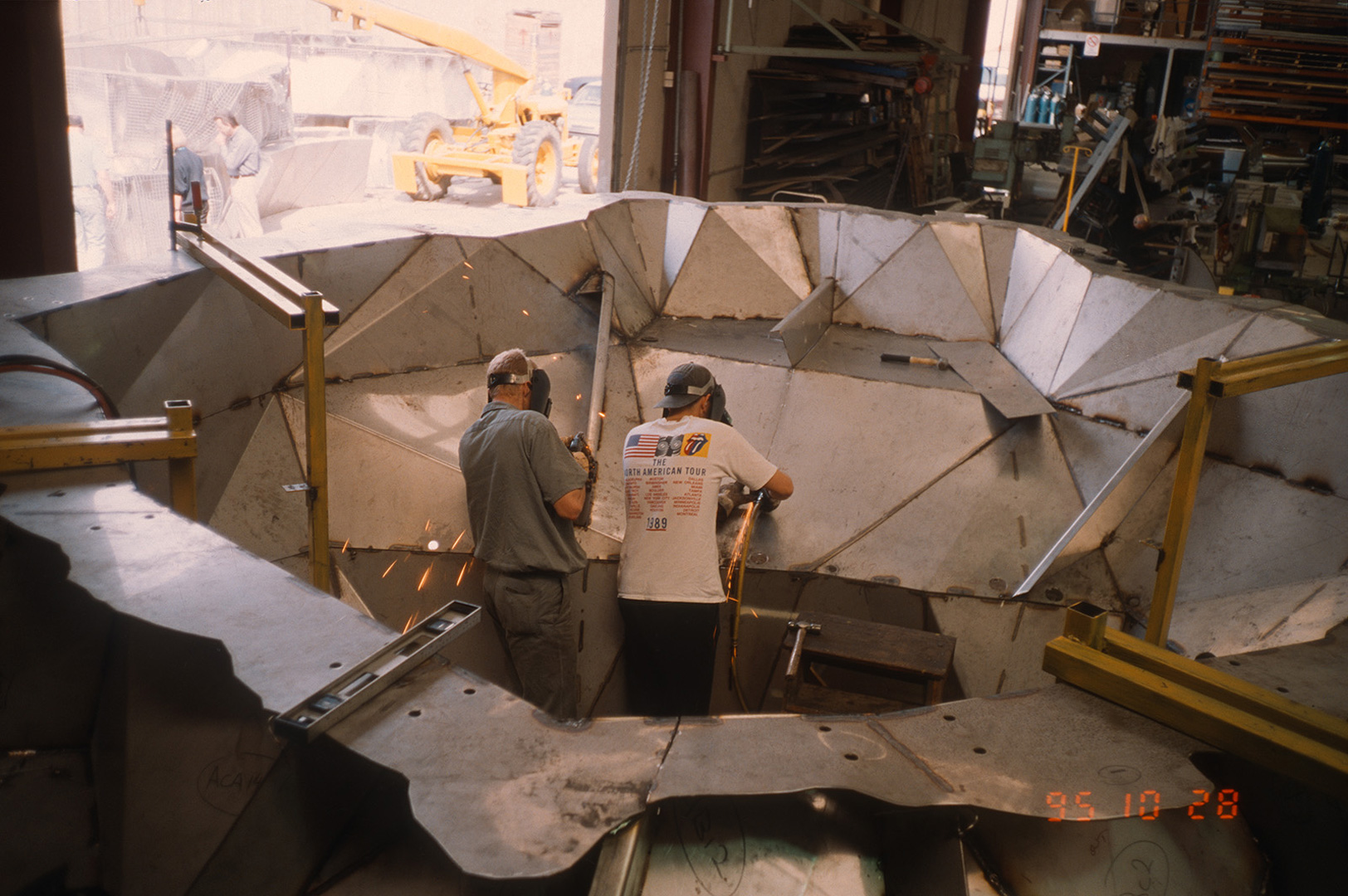 Doug Knox is an engineer who works closely with artists to help them realise technically challenging projects. His first involvement with the art world was in 1988 when he was commissioned to design the modifications that transformed the old Maritime Services Board building at Circular Quay into the Museum of Contemporary Art. Doug returned to the MCA in 1995—the 25th anniversary of Kaldor Public Art Projects—for Project 10: Jeff Koons' Puppy. Standing 12.4 metres high and covered in 60,000 brightly coloured living flowers, Puppy sat in front of the MCA from 12 December 1995 until 17 March 1996, and remains one of our most-seen and best-loved projects.
There had been an earlier version of Puppy in Germany. However this used fewer flowers, which provided less detail, and had a wooden structure that deteriorated due to the watering required to keep the flowers alive. Doug's brief was to make a new Puppy that would hold its shape, be able to keep the flowers alive for extended periods, and be transportable. With only some photos and rough dimensions to work from, Doug was essentially starting from scratch:
I'd never designed a dog before, so you just get a fresh sheet of paper, and that's how it started.
In 1995, 3D modelling was a new and expensive technology that was beyond the budget of the project. To get the correct dimensions, a fibreglass model was made from Koons' original 1991 wooden sculpture of a West Highland white terrier puppy. Doug cut this model at scaled intervals of one metre, with the slices then traced onto a sheet of paper from which a computer model was created. The key design concept was that the support frame be made from stainless steel in sections that could be broken down to fit into shipping containers. There was also a complex internal irrigation system that included an underground tank to collect and recycle excess water.
Many people and organisations contributed to the successful realisation of Puppy. Over 60,000 flowers were grown at Newports Nursery in the Blue Mountains, with the growing commencing in March to be ready for planting in late November. Over 100 student volunteers worked to place the flowers into the soil-filled outer mesh over a two–week period. Presented as part of Sydney Festival, Puppy was seen by more than 1.8 million people in Sydney. Although the initial plan had been for Puppy to be put into storage and returned for the 2000 Olympics, an offer from the Guggenheim Bilbao resulted in its purchase by the museum, where it remains to this day and is re-planted twice a year.
Projects like Puppy don't happen without the skills and commitment of people like Doug Knox. As Doug said:
I did the design, I did the inspections, arranged the fabrication, had regular inspections, and then we built it.
Subsequently Doug went on to work on other sculptures with Jeff Koons, including a second Puppy for a private collector in the USA and Split-Rocker, another large flowering sculpture for a collector in France. Working with artists can present engineers with challenges that are rarely encountered in traditional commercial and industrial commissions, as they have to apply their technical knowledge to an understanding of the artist's intentions. In relation to Puppy, Doug reflects:
It was a great experience. I'd never done anything like that before. It worked out, it was successful. It was nice to be part of.
View Other Living Archive Stories