< Living Archives
SPACE AGE FABRICS AND CONTEMPORARY ART
"John's passion was contemporary art and I think that he wanted to break a few of the barriers to get people more involved at a time that everything was fairly traditional. He was pushing boundaries, as he did with his fabrics."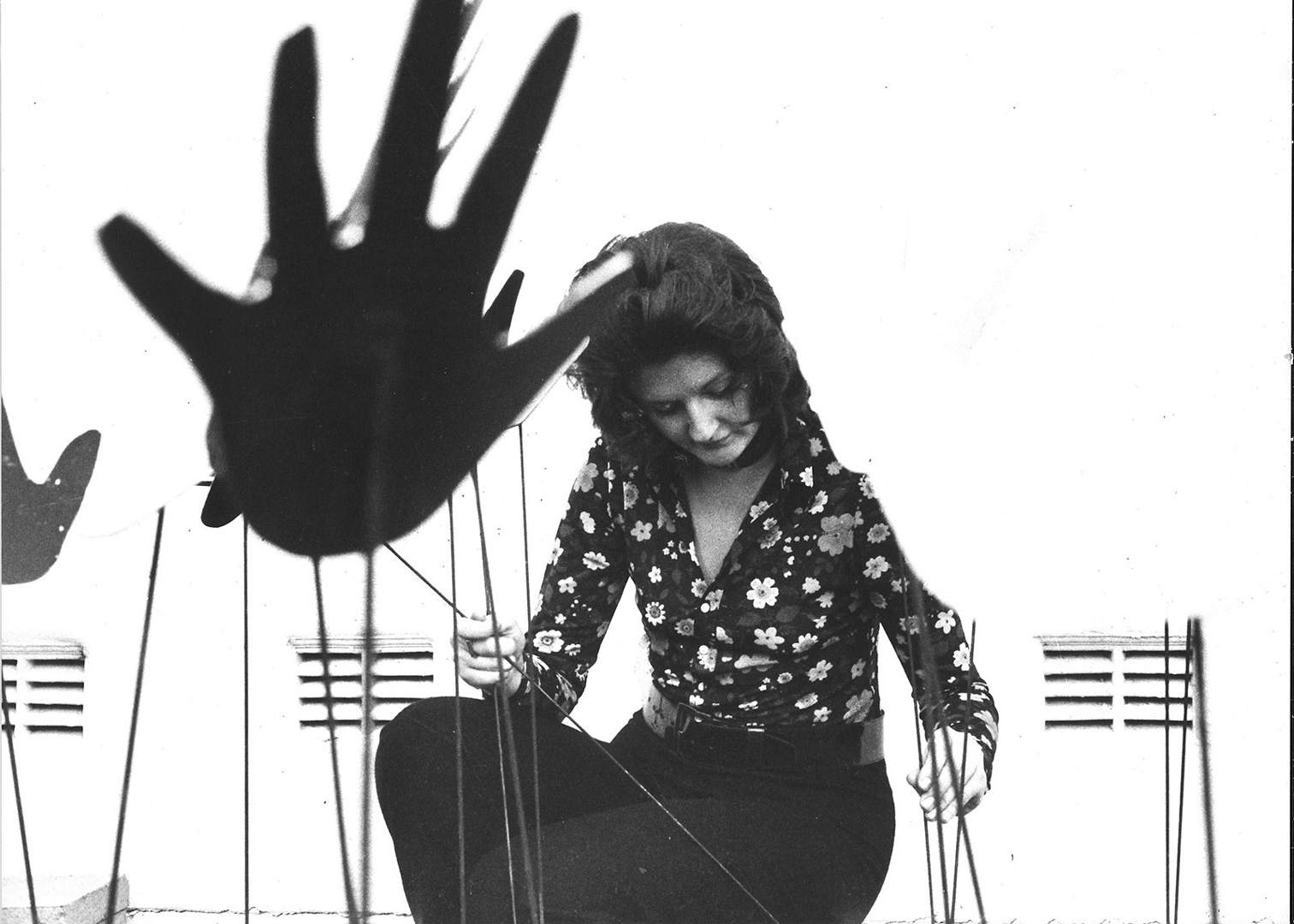 Helen Glad was Personal Assistant to John Kaldor between the years 1970–71. John had recently begun his textile business John Kaldor Fabricmaker, and had invited Australian artist Mike Kitching to transform the showroom into a contemporary, futuristic space. Visitors would walk out of the lift into a bright, deep blue room. Beyond this was a mirrored room with grey carpet, a mirrored ceiling, and a little hole where Helen would sit at the reception desk.
"This was often disorientating for visitors!"
A milky blue Perspex tunnel would deliver clients into a black Perspex office with Perspex chairs. One fabric range was even called 'Moon Rock', as everyone was interested in the moon. Helen sees a synergy between John's vision for the fabric showroom, and his burgeoning art projects.
"I think it came down very much to John's ability to be brave about things."
A photograph taken in the showroom in 1971 shows Helen and John wearing outfits in matching print fabric.
"They were absolutely beautiful fabrics. John's sense of design was so unique at the time that it was a pleasure to wear them."
In 1971 John invited international curator Harald Szeemann to Australia to curate an exhibition of Australian artists in Sydney and Melbourne. Helen remembers how pleased the Australian artists were to be around him. Harald was, "heavily accented, English. Very male, entirely pleasant. He had a job to do."
Helen was the one to drive Harald to appointments in Sydney, write his itineraries, and even help to install the exhibition at Bonython Gallery.
While installing the exhibition, the boys in the storeroom played a prank with Aleks Danko's sculpture Log dog: a log of wood on four wheels with a collar and chain. Helen found it tied to a handrail with a bowl of water. They told her that it wasn't house trained.
Helen sees John's vision as singular at a time when contemporary art was far from a household topic.
"John's passion was contemporary art and I think that he wanted to break a few of the barriers to get people more involved at a time that everything was fairly traditional. He was pushing boundaries, as he did with his fabrics."
Photo Carousel - click on image to view full frame
1. Helen Glad installing work by Tony Bishop at Bonython Gallery, 1971. Photo: Brian Adams
2. Helen Glad and John Kaldor install work by Tony Bishop at Bonython Gallery, 1971. Photo: Brian Adams
3. Helen Glad and John Kaldor at party for Harald Szeemann to meet Sydney artists, April 1971, Photo: Brian Adams
4. Helen Glad with Harald Szeemann, April 1971. Photo: Brian Adams
5. Helen Glad and Harald Szeemann on studio visit with artist John Armstrong, April 1971. Photo: Brian Adams
6. Helen Glad viewing the Project 2 archive, 2019. Photo: Michael Waite
7. News clipping about John Kaldor from 1970, kept by Helen Glad.
View Other Living Archive Stories