< Living Archives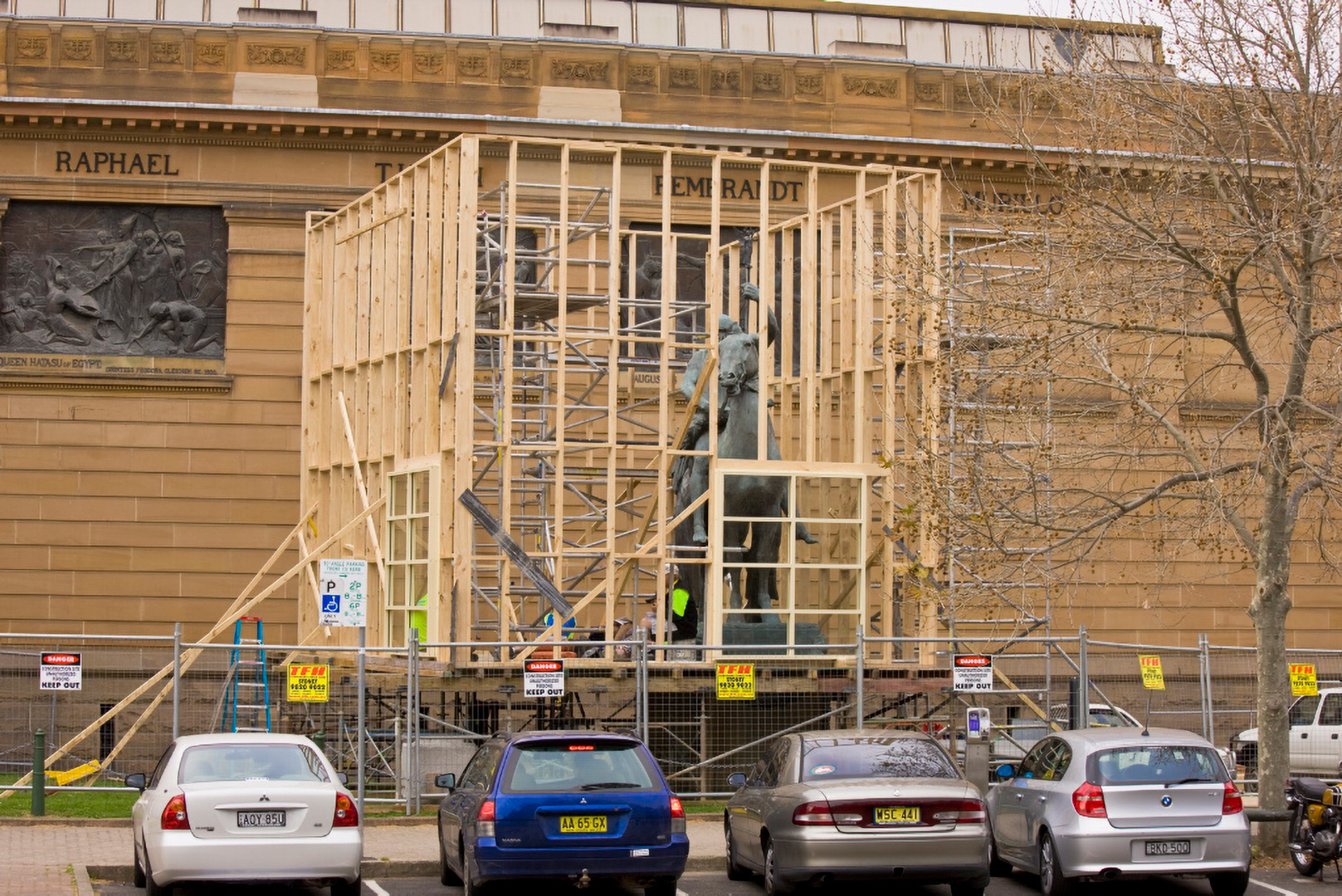 For Project 19 in 2009, artist Tatzu Nishi transformed two equestrian statues in front of the Art Gallery of NSW by enclosing them in rooms furnished like domestic interiors. Visitors were surprised and delighted by the disturbance of Gilbert Bayes' familiar bronze figures and were invited to encounter monuments usually viewed at a distance. Titled War and peace and in between, the project was typical of Nishi's practice of working with public statues so familiar that they pass unnoticed, until he prompts us to see them with fresh eyes.
Sean Claridge benefited from special insight as lead builder on the project, working closely with Nishi to construct both of the rooms. Sean usually works on commercial renovations and when asked to quote on the build, he was keen to participate in the realisation of such a unique idea. There were particular challenges in this job, such as customising furniture to fit exactly around the sculptures while taking care not to cause any damage.
Appreciative of the builders' efforts, Nishi had his photo taken with the group, and displayed it in one of the rooms. As Sean recalls, "The boys got a great kick about the photo." Once the project was complete the structures were disassembled and the materials recycled into other jobs, meaning that the elements of this project are now included in a range of buildings across Sydney.
Although Sean was familiar with every detail of the construction, when he took his family to visit the finished work he could still experience the magic, saying, "It was like I was seeing it for the first time through them."
Ten years later, each time Sean passes by the Gallery, he looks at the statues and remembers their transformation. He pays renewed attention to other statues around the city and speculates on what could be built around them.
View Other Living Archive Stories