< Living Archives
Wrapped Coast in Colour: Discovering a Lecturer's Slides
There's so much potential in art, and people are free to do anything now.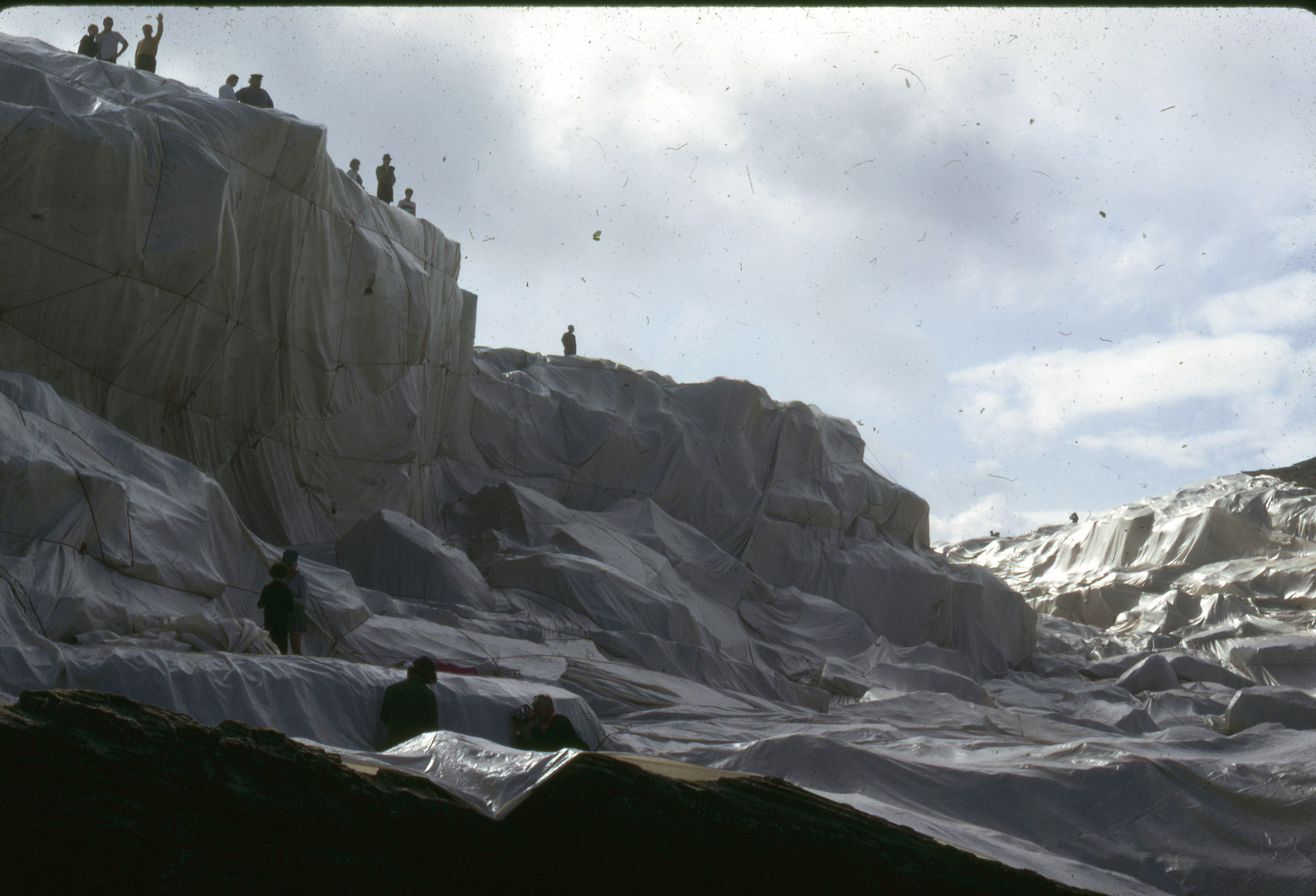 When Ellen Waugh first visited the site where Christo and Jeanne-Claude's Wrapped Coast was due to be installed, it was because she heard talk that the artwork would ruin the coast of Little Bay. When she went to see for herself, she saw that the area was already being used as a rubbish dump. It was the public who were ruining the site.
In 1969 Ellen was an art education lecturer at Alexander Mackie College and the University of Sydney. A proponent of art from the Asia Pacific region, Ellen encouraged her students to study contemporary art close to home, and recalls their cheers when she advised that there would be "no more Renaissance" art taught in her classes:
There's so much potential in art, and people are free to do anything now.
Ellen visited the site at Little Bay several times, taking photos of the coast before and after the artwork was installed. She used Kodachrome film so she could project her photographs as slides for teaching. When asked how she contextualised the slides in her lectures, she says:
My approach to it really was that Australian artists had gone to Europe, and here was someone from Europe coming and using the Australian landscape to provide an art that belonged in Australia.
Ellen's slides are a treasure trove of colour photographs of Wrapped Coast, which until recently had only ever been seen by her students. The photographs reveal dynamic images of Christo working on the cliffs, a film crew covering the progress of the installation, and spectacular shots of the fabric stretched across the coastline. Ellen also captured striking details of the polypropylene fabric and bright orange rope, and visitors sitting on the wrapped cliff face.
After the project concluded, the public were invited to take pieces of fabric and rope used in the installation. Ellen collected her own chest of fabric and length of rope for their value as teaching resources, but also as historical objects.
When asked about the relevance of Wrapped Coast 50 years on, Ellen reflects:
[Christo] wasn't ruining a coastline, he was showing the sculptural possibilities of a coastline.
View Other Living Archive Stories