< Living Archives
"There were things that happened before you and things that are going to happen afterwards and you're part of a continuity, and I think that's a liberating perspective to have."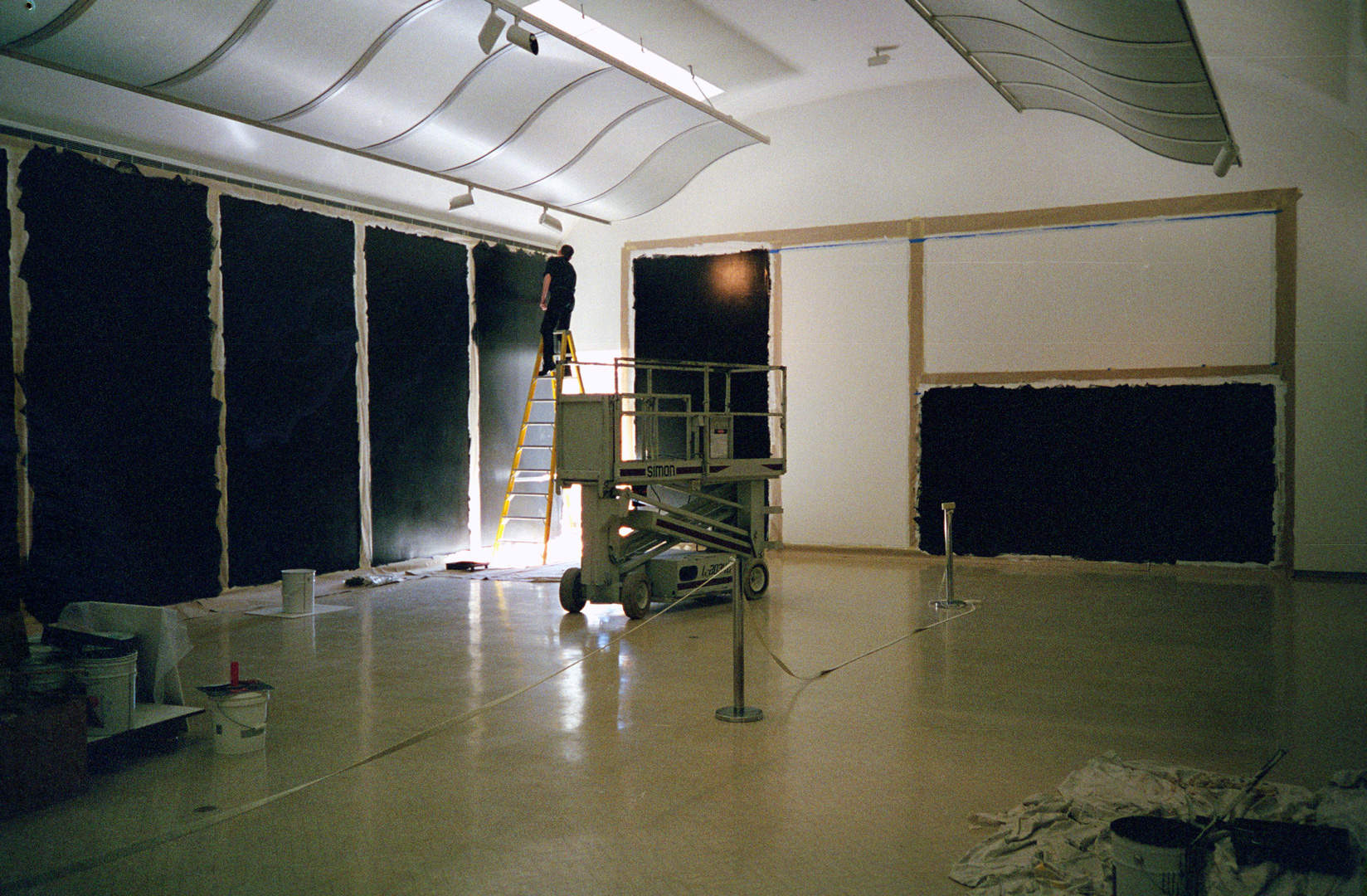 Sol LeWitt created two Kaldor Public Art Projects, the first in 1977 and the second in 1998. Both were large scale, impermanent wall works in prominent art museums that provided opportunities for student volunteers to gain experience through carrying out Sol's instructions. Matthew Kentmann, a third year painting major at UNSW College of Fine Arts, was one of the participants in Project 11, Wall Pieces at the Museum of Contemporary Art in 1998. Working alongside three other volunteers and MCA preparators, Matthew spent two weeks painting the gallery walls with a mix of vibrantly coloured panels, as well as black on black works in matte and gloss paint.
Although he was a volunteer, Matthew decided to undertake the project as if he was a full time preparator, starting and finishing each day at the same time as the MCA staff. Matthew came to the project as an artist with a studio practice, however he also had a background in street art. The duration of the work gave him time to think about the tradition of painting directly onto walls, from cave art through to frescos and illegal street art.
"There were things that happened before you and things that are going to happen afterwards and you're part of a continuity, and I think that's a liberating perspective to have."
Matthew listens to music when he paints, and for the Sol LeWitt project he made customised playlists for the preparators' work on the black on black walls. 'Paint it Black' by the Rolling Stones and 'Man in Black' by Johnny Cash both featured, as did songs by Nick Cave and Leonard Cohen that he felt resonated. "There was a comic aspect to this selection and a good sense of humour among the preparators. I underestimated the combined effect of painting black that encompassed my field of vision and listening to the above mentioned music for long periods of time. I remember having bouts of insomnia. It is seriously funny in hindsight."
At the conclusion of the project, Matthew and everyone else who had worked on it received gift paintings from Sol: A4 sized gouaches on card, each one a different colour combination. These echoed the gift drawings that Sol gave to the students who participated in the wall drawing at the Art Gallery of NSW in 1977 as part of Project 6. Today Matthew is an established artist who exhibits regularly at Piermarq gallery in Paddington.
Photo Carousel - click on image to view full frame
1. Install for Project 11: Sol LeWitt, Wall Pieces, Museum of Contemporary Art, Sydney, 1998. Photo: Matthew Kentmann
2. Install for Project 11: Sol LeWitt, Wall Pieces, Museum of Contemporary Art, Sydney, 1998. Photo: Matthew Kentmann
3. Install for Project 11: Sol LeWitt, Wall Pieces, Museum of Contemporary Art, Sydney, 1998. Photo: Matthew Kentmann
4. Install for Project 11: Sol LeWitt, Wall Pieces, Museum of Contemporary Art, Sydney, 1998. Photo: Matthew Kentmann
5. Post project gouache gifted to Matthew Kentmnann by Sol LeWitt. Photo: Michael Waite
View Other Living Archive Stories