< Go back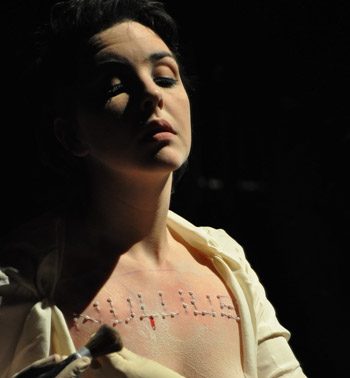 S.J Norman
born 1984 in Sydney, Australia
Wannarua/Wiradjuri, South-East region
lives and works in Australia, Germany and the UK
S.J Norman was a participating artist in the Australian Artists' Residency Program as part of Marina Abramović: In Residence, 2015.
S.J Norman is an Australian artist and writer of British and Indigenous Australian heritage with ties to both Wannarua and Wiradjuri Nations, currently working between Australia, Germany and the United Kingdom. Trained originally in devised theatre and movement practices, their work traverses performance, installation, sculpture, video, text and sound. Norman's primary medium is the body: the body as a spectacle of truth and a theatre of fantasy; a siphon of personal and collective memory; an organism with which we are infinitely familiar and eternally estranged; a site which is equally loaded and empty of meaning, where histories, narratives, desires and discourses converge and collapse.
Their work has been presented widely, including Venice International Performance Week (IT), Spill Festival of Live Art (UK), Fierce Festival (UK), In Between Time (UK), Arnolfini (UK), Performance Space (AU), Next Wave (AU), the Australian Experimental Art Foundation (AU), Edinburgh Festival (UK) and Brisbane International Festival (AU).