< Go back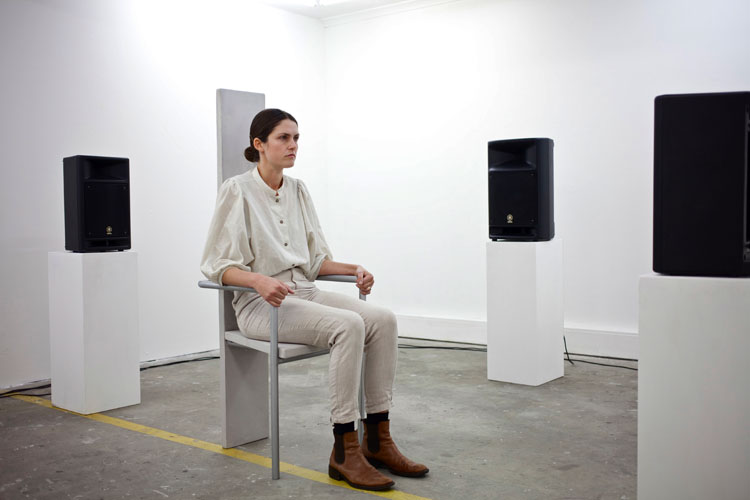 Lottie Consalvo
born 1985 in Melbourne, Australia
lives and works in Newcastle, Australia
Lottie Consalvo was a participating artist in the Australian Artists' Residency Program as part of Marina Abramović: In Residence, 2015.
Lottie Consalvo's practice traverses performance, video, photography, installation, painting and sculpture; she explores emotional and psychological conditions. Created from fragments of the everyday and fractures from significant life events, her work deals with tragedy and longing. In her long durational and endurance based performances, Lottie endures discomfort both physically and psychologically. She re-lives past events where audience often witnesses her undergoing a psychological change in real time.
Consalvo's most recent live performances at Alaska Projects, Tiny Stadiums Live Art Festival, The Lock-Up, Newcastle, and Lake Macquarie City Art Gallery. These works have positioned her in seemingly comfortable domestic environments almost still or moving occasionally, however often slumped and in discomfort. In her performances, tragedy, desire and longing are all present. Consalvo also makes what she calls 'life performances'. Her most recent being Compartmentalise 2013-2014, a year-long performance where the artist lived with minimal possessions in an attempt to gain psychological control after a significant life shift.
The engagement in conversations with Abramović about the processing of ideas, performance in everyday life and the documentation of temporal work are key hopes for Lottie throughout the residency program. The opportunity to undertake the Abramović Method will impact on Lottie's habitual life that will ultimately become her work. Spending time in conversation with the other artists in the residency, individuals working on the project and those who are part of the public program are also great prospects for her time at the Pier.