< Go back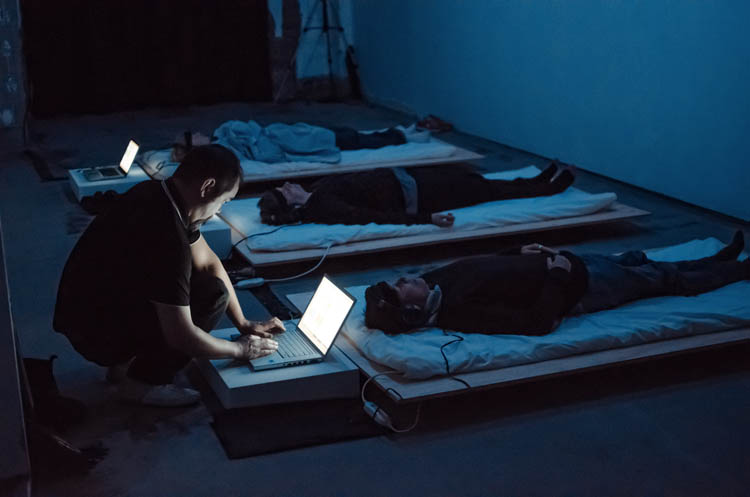 George (Poonkhin) Khut
born 1969 in Adelaide, Australia
lives and works in Sydney, Australia
George Khut was a participating artist in the Australian Artists' Residency Program as part of Marina Abramović: In Residence, 2015.
George (Poonkhin) Khut is an Australian artist and academic at UNSW Art and Design, working across the fields of electronic and participatory art, interaction design and health. For the past 12 years he has been working with biofeedback technologies, creating intimate, body-focussed participatory artworks, that re-frame our experiences and representations of embodiment, presentness and body-mind interactions. Khut works with biofeedback technologies to challenge popular assumptions about the impact of digital technologies on the body. He challenges the idea that technology minimises our ability to pay attention and uses technology instead to slow down and focus our attention into our body, the bodies of others, and the psycho-physiological dimensions of our being.
In 2012 Khut was awarded the Queensland Art Gallery, Gallery of Modern Art, National New Media Art Award, for his heart rate controlled interactive artwork Distillery: Waveforming – a work developed as part of his residency at the Children's Hospital at Westmead (Sydney), where he collaborated with Brain Injury Specialist Dr Angela Morrow on a heart rate controlled application for use with children undergoing painful procedures. Recent exhibitions include The Heart Library Project, exhibited this year in the Group Therapy group exhibition at FACT (Liverpool, UK), and MoCA Taipei (Taiwan, 2012), ThetaLab presented at ISEA2013 (Sydney), and Cardiomorphologies presented at the Biennale of Electronic Arts Perth, 2007, and InBetweenTime 2006, at Arnolfini (UK).
For the residency program, Khut will be developing a new work combining brainwave-controlled sound-designs, with audience participation and story-sharing, working with experiences of stillness and presentness frequently reported by people undergoing Alpha neurofeedback training, and the experiential narratives and visualisations that arise from these interactions. Khut's interest here is in the potential of neurofeedback technologies to facilitate experiences of presentness and stillness, the artistic implications for working with (interactive) sound in this way, and what it can mean for people when they observe that they can voluntarily focus and sustain their attention and presence in this way.