< Go back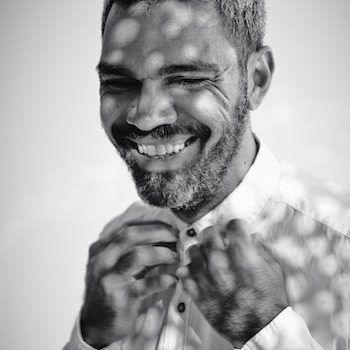 Daniel Boyd
born 1982 in Cairns, Australia
Kudjla/Gangalu, North-East region
lives and works in Cairns, Australia
Untitled (-33.894728, 151.189099), 2019
Window installation, adhesive vinyl on glass
23 panels
Photographs by Pedro Greig
Commissioned as part of Kaldor Public Art Project 34, Asad Raza,
Absorption
, The Clothing Store, Carriageworks, Sydney, 3–19 May 2019
Images courtesy the artist, Kaldor Public Art Projects and Roslyn Oxley9 Gallery, Sydney
Daniel Boyd's practice is internationally recognized for its manifold engagement with the colonial history of the Australia-Pacific region. Dynamic historical compositions are revealed only through the hundreds of pixelated "lenses" applied to the canvas. These lenses allow us to look at the spaces between them thus highlighting the liminal space between black and white, the "other" and the "enlightened". Boyd has both Aboriginal and Pacific Islander heritage and his work traces this cultural and visual ancestry in relation to the broader history of Western art.
Boyd has been exhibiting in numerous solo and group exhibitions in Australia and overseas since 2005. Boyd was recently included in Adelaide Biennial of Australian Art: Divided Worlds, 2018, and the travelling exhibition 3rd National Indigenous Art Triennial: Defying Empire, National Gallery of Australia, Canberra, 2018. He has held solo exhibitions at the Institute of Modern Art, Brisbane, 2016, Artspace, Sydney, 2013, and at the Natural History Museum, London, 2012. Boyd's paintings are held in major public collections in Australia as well as notable international collections such as the Samdani Art Foundation, Dhaka, Bangladesh, and the Kadist Collection in Paris, France.
Photo: Liz Ham