Kaldor Public Art Projects is committed to providing opportunities for students and teachers to engage with groundbreaking contemporary art.
Learning resources are available for each of our projects, from 1969 to the present, spanning artforms and themes such as Aboriginal culture and language, artistic collaboration, audience participation, site-specific installation, performance art and video.
Browse the full range of free learning resources below, or customise your search by project, by resource type or by theme.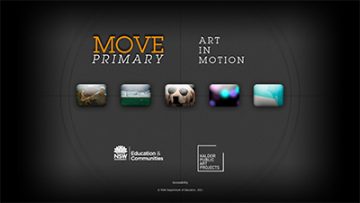 MOVE Primary: Art in Motion
INTERACTIVE
Encounter video art with MOVE Primary: Art in Motion.
Showcasing work by Shaun Gladwell, Jess MacNeil, Joan Ross, Grant Stevens and Daniel von Sturmer, and produced in partnership with the NSW Department of Education, this interactive website introduces primary students to the possibilities of video art.